There was a time when customized solutions and personalized care were the norm in almost every service industry. As modern technology progressed, service became more streamlined for the sake of cost and convenience. With the advent of new software and web development tools however, that service trend has come full circle all the way back to personalized care.
These days, that often takes the form of conversational marketing. We'll be talking about conversational marketing for plumbers today, exploring the concept and how you can adapt it for stronger lead generation! If you've struggled with leads this year, be sure to read along carefully.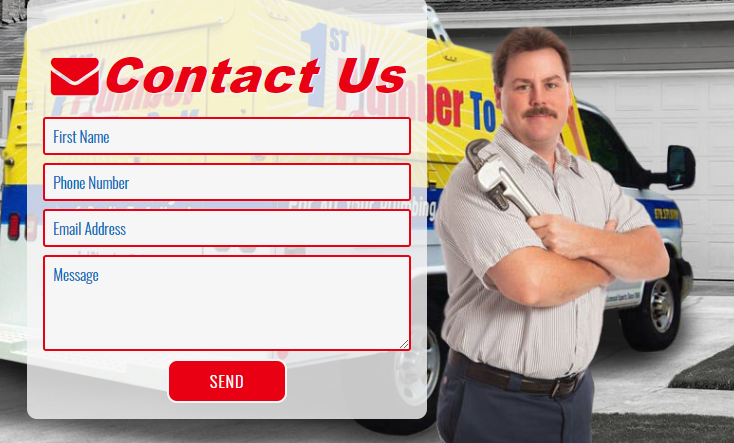 Some Consumers (Especially Younger Ages) Prefer to Instant Message Over Calling.
What is Conversational Marketing?
Conversational marketing creates stronger ties with prospective and existing clients by placing greater emphasis on personal conversation with each individual. That may seem like a very simple idea, especially in the plumbing industry where in-person service is such a core aspect. With conversational marketing however, we take that principle online and adopt it for each of our primary points of interaction with clients.
Key Areas of Conversational Marketing for Plumbers
It's Personal Interaction
For most plumbers, conversational marketing will primarily involve direct correspondence with prospective clients prior to them hiring your service. The more direct, the better! A chat bot is better than an email. An instant message tool is greater than chat bots, and a direct phone call is absolutely amazing!
At some point during the sales process – this matters whether the consumer needs fast repairs or a system installation – there has to be direct interaction between the client and a dedicated member of your staff. That's personal service! Your challenge is making sure that each client is directed to the appropriate member of your staff. Callers needing a water heater installation should be directed to an experienced plumber or a knowledgeable sales team, whereas a typical repair call should go straight to your office staff or your cell (depending on the size of your business).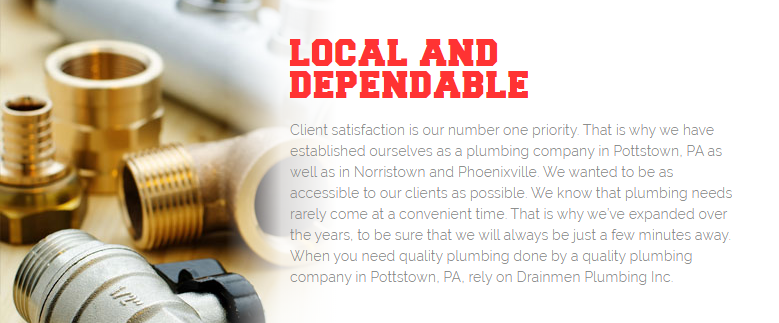 Plumbing Companies That Focus on a Highly Positive Customer Experience Earn the Best Long-Term Success!
It's Tailored Service
Not every client's needs are the same. In metropolitan areas where contracting businesses are plentiful, conversational marketing for plumbers stands out. That's because plumbers who incorporate this strategy into their marketing provide spectacularly tailored customer service!
What does that look like for a small business? It means offering multiple convenient ways for consumers to contact your business and inquire about your services. When a homeowner or commercial prospect lands on your website, they get the 5 star user experience with all the helpful insights and contact information they need.
It's Timely Interaction
This may be the most crucial aspect of conversational marketing contributing to your success. Consumers have grown more and more demanding in their essential services. If a prospective client can't gain direct contact with a member of your team within a matter of minutes (sometimes seconds) there's a real chance of losing the lead! So it's essential that your business is ready to interact with these online consumers in real time.
How to Use Conversational Marketing
So what can your business do to take the concept of conversational marketing for plumbers and really nail it for your customers? First, you'll need to understand how your clients prefer to interact with your business, such as whether they prefer instant messaging or service forms (or both). Next, you'll need to have the systems in place to support these communication channels.
Don't worry! You shouldn't have to spend thousands of dollars on some complex organizational system (unless you want to). There are very simple ways to make sure your business is ready to handle these potential leads.
In Fast Plumbing Repair Service
When it comes to small scale repair projects, consumers don't need that much time to investigate their local services. Most likely, they'll be eager to contact the first highly-rated plumber located in their community. Your Google My Business (GMB) profile plays a critical role in whether your company shows up first in a consumer's local map pack!
Make sure your GMB profile is up to date with your latest contact information. If you haven't already, you should download the GMB app on your phone and enable instant messaging for your business. This creates a "Message" button on your GMB profile that consumers can use for immediate contact. Considering the high percentage of consumers that use a phone as their primary search device, this is a great tool to have!
For Larger Home Projects
Home projects, such as water heater replacement, may require more steps between a consumer's initial research and calling your business. With that being said, conversational marketing provides consumers with means to conveniently contact your business at any phase of the sales funnel. For homeowners not quite invested in a particular solution, a contact forms and instant messaging tools allow them to inquire about their options without calling your business.
You can easily provide a general quote for these prospects, and allow them to follow up at their own speed. Just make sure your website is ready with dedicated service pages for those projects, be they water heater replacement, water restoration, or pump installation. Your sales professionals can also follow up with questions and helpful information!
With Commercial Solutions
Do you provide specialized services for local businesses and non-profit organizations? When it comes to commercial-oriented projects, clear communication is essential. You need to be able to provide accurate documentation of the projected costs for the project, as well as the timeframe.
While chatbots and instant messaging could save you time, your commercial clients will appreciate direct communication. Make sure your GMB is set up to receive calls! Having a documented quote will also speed bidding for any major projects, so it's great to follow up with a personalized email.
Website Integration
For many consumers, the first point of interaction with your business is on your company website. For others, it may begin on a GMB knowledge graph with your company information. Conversational marketing for plumbers demands that both your website and GMB be ready to handle these interactions in a timely, convenient manner.
There are several tools worth integrating into your website to ensure your customers can easily contact you as they need. If you haven't already added these features into your site, now's the time to consider them!
Linking Your Chatbot
Chatbots have come a long way in the last decade. A long way! Through the use of artificial learning programs, they can better understand conversational subtext. Put simply, chatbots understand the sort of language we use everyday in order to provide better service for clients. If your clients need to ask questions about your plumbing services after hours, they can engage with the chatbot.
Image Source: Acquire – If a Chatbot Can't Answer a Question, it Gets Routed to a Staff Member.
In the event of an emergency, the chatbot can redirect the prospect to a staff member on standby. Otherwise, they can answer many of the typical questions your clients have to ask. According to the experts from Convince & Convert, "25% of consumers say that basic details about the business are hard to find!" Chatbots can relay this sort of information quickly.
Chatbots are by no means a replacement for dedicated, informed staff members. However, they can reduce the number of informational calls coming into your office. Clever companies can also use the chatbot to link to important resources, blogs, and galleries, making it easier for prospects to find the details they need for their project.
Some programs can even service appointments for your clients, though that function may come at a premium to your business! If you're interested in learning more about chatbot technology, Drift and Intercom are two of the top names in the industry, though you can find other popular tools in this helpful list from New Breed.
Setting Up Instant Messaging
As we've said before, there's no replacement for quality human interaction. If you've ever struggled through an automated service call, you know how much comfort a real person can provide! At the same time, not everyone likes to communicate through phone calls (especially younger age groups). That's where instant messaging comes into play.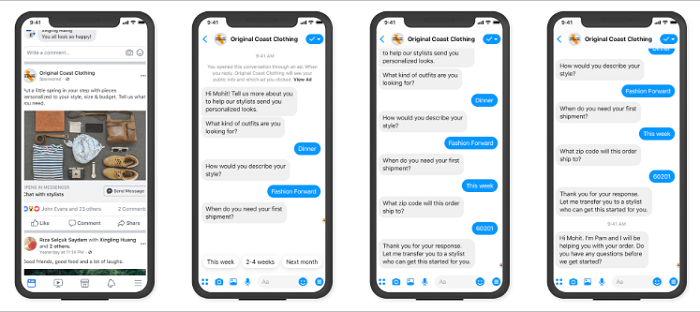 Image Source: Facebook – Facebook Messenger Already Has Over 1.3 Billion Users to Pursue!
Instant messaging, be it through Facebook Messenger or WhatsApp, provides direct access between your business and your clients. That connection can be dangerous if you aren't ready to handle the conversation, but it can be a tremendous source of higher lead conversion. If you aren't ready for an integrated website feature yet, the Google My Business app allows you to set up instant messaging for your clients to your phone. You can also arrange instant messaging for your website.
Preparing Your Team
Now, it's going to take a little work to make sure your team is ready to engage people in this highly-personalized manner. After all, communicating through multiple platforms can be a challenge for smaller teams. With proper planning however, you can achieve outstanding results with conversational marketing for plumbers!
There are several aspects of this marketing strategy that you'll need to prepare for.
Receiving messages and calls through new channels
Delivering personalized care for each client.
Creating a process for collecting client feedback and reviews.
Process Training
For every line of communication that you open with clients, your staff needs proper training to receive them. Chatbots, for instance, can handle many of the initial questions that a homeowner has regarding your services.
When the time comes for the handoff to a live staff member, that process needs to happen quickly to avoid losing the prospective client. Some chatbot service providers offer training to help get your team acquainted with the capabilities and uses of their software. Be sure to take full advantage!
If you install an instant messaging system to communicate directly with homeowners and needy businesses, your staff will need to be able to write about services in detail. It may take some time to get use to each channel of communication, but success only comes from dedication and thorough preparation.
Personalized Care Training
Like we mentioned before, there's no substitute for the personal touch a human provides! As your staff members learn each new channel of communication, it's crucial that they also grasp how to listen to the needs of each individual prospect.
At Plumbing Webmasters, we've witnessed so many high-quality leads lost due to miscommunication (or inexperience) from the call handler. We've also seen would-be clients turn away because of rude staff members!
If you want to provide the sort of personalized care that leaves clients wanting more interaction with your business, train your staff well. Teach them how to talk about your services, handle questions about pricing, and how to work best with each channel. If you do, you'll see much stronger returns in your conversational marketing.
Preparing for Glowing Reviews
When you have dedicated staff providing exceptional service, outstanding results are sure to follow! For many homeowners, customer service is almost as important as the plumbing work itself. If you nail conversational marketing by providing the personalized service consumers so strongly desire, glowing reviews are the natural result. That is, if you know how to ask for them!
Historically, consumers haven't been very good at providing positive feedback for the services they receive. Only a small percentage ever take the time to leave a review, while a larger number of consumers jump at the chance to leave an angry review!
That's why your team must take every opportunity to ask for reviews, especially after a job well done. This ensures a steady stream of happy 4 to 5 star reviews, which does wonders for your local SEO! If you haven't listened to it yet, be sure to check out our podcast "The Coolest Review Software Ever", which dives into how to further enhance your reviews.
Long-Term Strategy
When it comes to any marketing strategy, it's always important to keep both eyes open for problems. While conversational marketing for plumbers is based on long standing principles of customer service, it does come with it's own share of obstacles to overcome. For instance…
How will customers react to the new communication channels?
How will your staff respond to learning a new process?
How will you examine / measure your results to determine success?
What will you do if customers struggle to use the new tools?
How will your team respond if the new channels are wildly popular?
Use the Analytics Behavior Flow Chart to Inspire Your Conversational Marketing Plan!
You will naturally find ways to improve your service over time, identifying areas of weak performance and opportunities for growth. Your staff may need to talk with clients and see how they like whatever chatbots, instant messaging, or form submissions you add to the website. Don't be afraid of making mistakes! As long as you continue to treat customers with respect (and provide good plumbing services), your clients will keep coming back.
On the other end of the spectrum, don't shy away from rejecting a new technology if it fails to provide measurable returns after long-term use. Not every plumbing business needs a chatbot, even if many companies benefit from the technology. Only cling to conversational marketing strategies that actively grow your business and serve your clients' needs.
Measuring Success in Conversational Marketing
It's exciting to try out new tactics and tools! However, it's crucial for your long-term success to measure the effectiveness of each channel you open. If you install a chatbot on your website, for instance, you can gauge the effect it has on your sales.
Do you see a higher or lower number of people calling in for service? You may find that the volume of people calling into your office for service stays the same, while the number of informational calls drops. That frees up more phones in the office, a definite win for your staff!
If your company sets up an instant messaging system, keep track of how many inquiries result in scheduled service. If instant messaging ends up taking more of your staff's time than you'd like, that's another important factor to consider in your overall strategy. Conversational marketing for plumbers requires tinkering to ensure peak performance!
Adapting Your Strategy Over Time
As a plumber's client base grows, there's always the risk of losing hold of the customer service quality that brought people to that business in the first place. Your plumbing experts don't have the time to answer every call for information. To meet the needs of both your clients and staff, an effective conversational marketing strategy must be able to gradually expand over time.
Google Analytics Will Help You Track Your Marketing Effectiveness Over Time.
For example, instant messaging through your phone may become a serious challenge to keep up with once your client base grows large enough. This may lead your team towards a more integrated messaging system for your website, or even a chatbot. That's just one more reason to routinely examine the effectiveness of your customer service!
Before You Get Started
Jumping into a new form of customer care without preparation is a recipe for disaster. No business is exactly the same as the next. Take the time to determine which channels will work best for your customers. Determine which members of your staff are likeliest to provide exceptional service. Have them champion the new technology and processes, so they can train other people how to do it too!
How to Adopt Conversational Marketing for Plumbers
Research, test, and adapt the right conversational tools for your clients' needs.
Make sure you have the time, energy, and resources for each new channel.
Pick capable team members to try out the new technology.
Train other staff on how to deliver personalized care through the new channels.
Reassess performance every month, including Google Analytics.
Adjust your strategy as needed.
Again, we can't stress enough how important it is to have the right people handling the customer service side of conversational marketing for plumbers. Well-spoken, courteous staff members make a huge difference in both the client experience and your lead generation. If a rude or ignorant staff member handles the conversation, it could permanently marr the prospect's view of your business. It might even result in a very public low-star review on Google.
On the other hand, skilled and friendly staff members turn interested homeowners into lifelong clients! That means recurring business and a steady stream of outstanding reviews coming into your brand. Stronger customer experience is one of the top 10 marketing trends of 2023!
Consumers are looking to develop deeper relationships with the companies they do business with. With a team of seasoned customer service experts driving your conversational marketing, you'll create an experience unlike any your clients have seen in plumbing!

Our DataPins Check-in System Works Really Well With Conversational Marketing.
Support from the Plumbing Webmasters
Homeowners and commercial consumers demand better customer service than ever before. Thankfully, conversational marketing allows your plumbing company to uphold that premium standard of service. We're here to help you adopt this strategy into your online marketing for stronger results than ever before!
Adapting new technologies and strategies can be a challenging process. Integrating them into your website is just as difficult. At Plumbing Webmasters, our website design team makes it easy to develop a custom site perfectly tailored to your team's needs. Not only do we make it easy for your staff to interact with plumbing prospects, we also produce stronger performance from local Google Search results!
Learn more about how conversational marketing for plumbers and plumbing SEO work hand in hand by calling us at (877) 388-9884.
Additional Resources for Study
Related Podcasts and Articles
– Being Social on Google (Podcast)
– 10 Really Awesome Email Marketing Tips for Plumbers (Article)
– How to Expand Your Plumbing Business in 2022 (Article)
Services From Plumbing Webmasters
– Plumbing SEO Lead Generation
– Google My Business for Plumbers
– Plumber Reputation Management