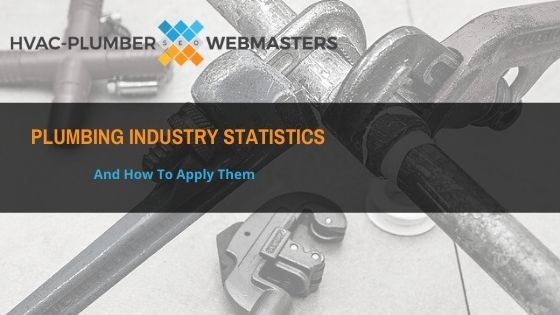 HVAC-Plumber SEO Webmasters reveals some relevant plumbing industry statistics in the following post. We will analyze each stat to show you how you can leverage recent trends to modernize your business and keep an edge over your competitors. 
The world has gone through some pretty drastic changes just in the last year. These changes have trickled down to almost every industry imaginable. Through the pandemic, with technological advances and the preferences of consumers and homeowners, the plumbing industry's demands are different.
Top Plumbing Industry Statistics for 2023
The U.S. plumbing sector is a 92-billion-dollar industry
There are approximately 106,000 plumbing businesses in the U.S.
Plumbers earn a median salary of $59,880 and $28.79 per hour
The plumbing and pipe-fitting industries will grow by 4% over the next eight years.
About 70% of plumbers with a marketing agency are unhappy with the results
The smart bathroom fixture market will be worth $6.6 billion by the year 2027
48% of consumers report that their first contact with companies they are looking to hire comes via a mobile device
Analyzing Plumbing Industry Statistics
The Industry is Healthy
The plumbing industry is healthy and profitable in 2023. Business owners can feel comfortable that there is money to earn with good marketing and performance. The median salary for plumbers is just under $60,000 allowing for it to remain as an appealing employment option.
Furthermore, the industry itself is worth 92 billion. In addition, the industry is expected to grow by 4% over the next eight years.
Plumbers Don't Trust Marketing Agencies
Nearly 70% of plumbing companies with a marketing agency are unhappy with the results. This is a troubling statistic because competing in 2023 requires optimizing their SEO for local keywords. Most clicks come from either Google Maps 3-Pack results or traditional organic results.
Smart Bathroom Fixtures are Booming
Experts estimate that the smart bathroom fixture market will be worth $6.6 billion by the year 2027. What does this mean for plumbers? It means that the demand for smart fixtures like Bluetooth showerheads and digital faucets is rising.
Suppose you aren't already familiar with installing and servicing these types of fixtures. In that case, you could get left in the dust in 2023 and beyond. Plumbers should also be ready to explain the benefits of these types of fixtures to millennial homeowners. 
Mobile Users Are Ready to Buy
69% of smartphone users report they will purchase from companies that answer queries and concerns via a mobile website. In other words, more people are now using mobile devices to search for home services than ever before.
So what can you do as a plumber? Make sure that your website and landing pages are accessible and optimized for mobile users. 
Final Thoughts on Plumbing Industry Statistics
The plumbing industry is in a good place and primed for companies to profit in 2023. However, the formula for success requires a strong digital marketing presence, which is difficult to achieve with low-quality agencies. Plumbing businesses that invest in the highest quality marketing will find themselves in an exclusive percentile of business owners that are dominating the industry.