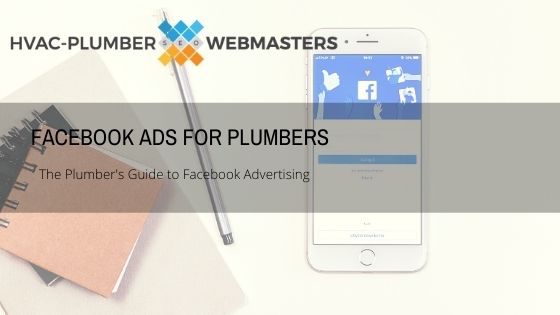 What are Facebook Ads for Plumbers?
Plumbing Facebook Ads are advertisements appearing in the Facebook News Feed and right-hand column of the social platform. Ads may appear alongside friends' specific actions, such as one of them liking a plumbing page, for example. 
How Much Do Plumber Facebook Ads Cost?
A typical Facebook ad for plumbing companies costs $7 per 100 impressions or $1 per click. However, cost varies based on factors like location, prominence, and brand recognition.
Expert Analysis
Plumbers can invest in Facebook Lead Ads to acquire new local customers for an affordable cost per lead.
Facebook Plumbing Ads Examples
Types of Facebook Ads
Image 
Plumbers can use image ads in the News Feed to showcase services. Branded images displaying your team and staff create the most engagement and clicks. 
Video
Plumbing companies can also utilize video ads in Facebook's News Feed to showcase services. The most encouraging videos include your team at work accompanied by audio and subtitles.
Carasoul
Plumbing contractors can go with carousel ads for multiple images in the News Feed. You can add up to 10 photos or videos for your ad, and each can possess a separate link. Carousel ads are ideal for promoting multiple service types in a single ad.
Instant Experience 
Plumbers can use Facebook Instant Experience ads (formerly Canvas ads) to present instantaneous mobile advertisements that capture your audience's attention. Users can engage with videos, photos, and carousels within a single ad. 
Collection
Plumbing professionals may not need Collection ads since they target product-based sales, which most plumbers avoid. Like Instant Experience ads, Collection ads reach users on their mobile devices. 
Facebook Advertising Objectives for Plumbers
Before crafting a Facebook ad, plumbers must set a business goal. Your objective should reflect how you want users to act once seeing your promotion. For instance, if your goal is to showcase your new plumbing website, you can launch an ad that gets traffic to your URL.
Check out the list of objectives below.
Awareness
Awareness objectives create interest in your plumbing services. Producing more awareness showcases your brand and its value.
One example is a plumber looking to expand their service area to a nearby town. By using the brand awareness goal, you can launch a campaign that inspires locals to choose your plumbing company.
Consideration
Consideration objectives get users thinking about your overall brand. One example might be a local plumber with a new website who uses a traffic objective to streamline new visitors to the website and allow your on-site conversion optimization to do the rest.
Conversions
Conversion objectives cater more towards storefront business. A conversion objective typically produces store traffic, but plumbers can still creatively utilize them to get on-site sign-ups and other exciting engagements.
For most plumbing companies, objectives evolve. New plumbers may focus primarily on awareness at first. As you build more customers, your goals may progress toward capturing new clients in other service areas. Of course, your company's budget may also dictate its objectives.
Facebook Ads work best in unison with other digital marketing techniques, such as SEO, and yield the best ROI in 2023.
Facebook Lead Ads for Plumbing Companies
Some plumbers may hope to convert new customers directly on Facebook. Sometimes businesses lose out on leads when they visit your website or landing page. As a solution, Facebook Lead Ads create a more straightforward process.
The social platform pre-fills lead forms with the user's information, like name, phone number, etc., so that more people complete the submission. 
Mobile Consideration
Submitting forms on mobile can be a significant deterrence for prospects. Facebook's pre-filled mobile forms eliminate one of the most significant causes of drop-offs.
Audience Targeting
Not everyone needs your plumbing services. Spending your advertising money on the right audience can streamline lead generation to focus on the most probable clients.
Survey Application
Qualify your leads further with custom forms that eliminate false leads and spam. Filter out wasted resources and focus on ROI.
CRM Integration
Get plumbing leads to send directly to your 3rd party CRM so you can complete your standard sales process with each prospect. 
Facebook Ad Budget for Plumbing Businesses
Your budget is how much you spend on ads and helps you control spending for a specific ad set or campaign. You can either choose an overall campaign budget or assign individual funds to each ad set. Facebook's built-in CBO tool automatically optimizes your budget if you utilize its presence.
Campaign Budgets
Campaign budgets utilize CBO by default, which automatically optimizes your campaign budget in real time. The tool allows advertisers to focus on other areas while the algorithm does the heavy lifting of budget management.
Ad Set Budgets
Alternatively, plumbers may set specific budgets for each ad set, which gives advertisers more control but more work. For companies with dynamic objectives, manual ad-set budgeting can be helpful. 
Daily Budgets
Your daily budget is how much you spend on a set or campaign each day. If you're looking for consistent results, daily budgets often work best. It can also eliminate complications of distributing separate fund amounts each day. Keep in mind that daily budgets have no hard cap.
Lifetime Budgets
A lifetime budget is what you'll spend over a campaign or ad set's entire span. Unlike daily funds, lifetime budgets do have a hard cap. If you can't exceed a specific number, lifetime budgets work best. Your daily spending will likely vary, however, despite the lifetime cap.
Get The Most Out of Your Plumber Facebook Ads
According to Statista, Facebook Advertising grossed 2.99 million in ad spend in 2021. It's no secret that businesses spend on Facebook. However, many of these dollars ultimately created zero returns.
Plumbers must be clever with their ad spend and focus on their creativity to maximize results.
Consider partnering with HVAC-Plumber SEO Webmasters for your Facebook Advertising needs in 2023 and beyond.