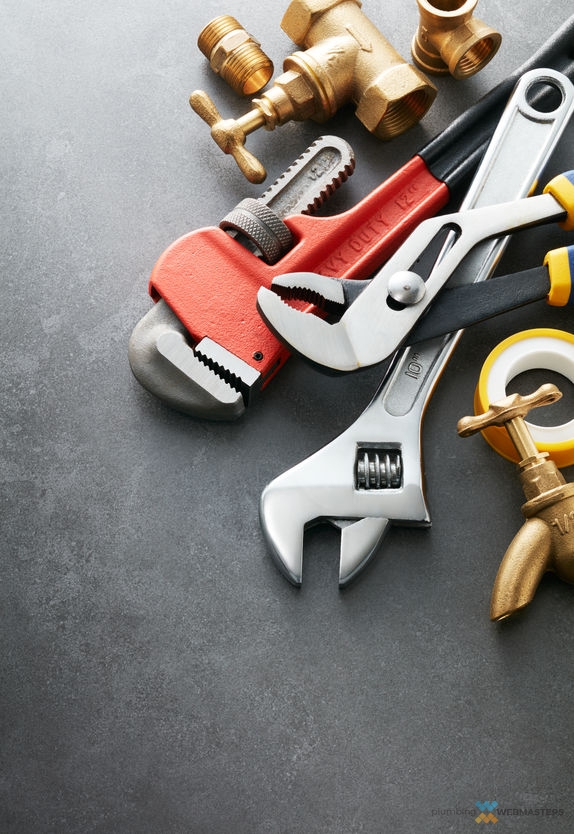 Being a plumber or a plumbing contractor is a tricky business. While our team talks a lot about plumbing advertising and other marketing tools, your physical tools are just as crucial to your success.
Customers have a wide variety of problems that they depend on you to address.
As a plumber or contractor, you must have all the necessary equipment at your disposal to ensure that you can get the job – any job – done with the utmost quality and efficiency.
An array of tools combine multiple operations to ensure that you get versatility and reliability without spending a ton or having a lot of storage space for separate tools.
No more having to carry a ton of tools with only one specific use again. No more having to sift and sort through those tools to find the right one for the job.
These are ten of the newest and must-have tools on the market today for plumbers and plumbing contractors, tools that no professional should be without.
Bosch 1/4" Hex Impact Driver
While several are currently on the market, the brushless impact driver is a must-have for anyone in the plumbing industry, with a torque of 975 in.-lbs. You can't beat the level of power that comes out of such a small package and a weight of just under two pounds.
The customers have spoken: this is a must-have. Don't ever leave home without an impact driver like this one. You will have most of the battle won with this hex impact driver and won't need much else in your tool bag.
The hex impact driver delivers in all aspects with the ultimate versatility, reliability, and power. Make any job more accessible and more convenient than ever before.
Hilti Cordless Rotary Hammer
The hammer has been a staple of any handyman's tool belt for the longest time. But as the times have changed, the hammer had to follow. The traditional hammer you held and swung at your target got the job done for a long time, but they have evolved.
The Hilti cordless rotary hammer can deliver even more power in tighter spaces than ever before. It is perfect for drilling into masonry, concrete, wood, and steel for removing and driving screws. It also has a specially designed mechanism for hammering that can reach up to 5200 impacts per minute.
Your old hammer can't even begin to compete with the cordless rotary hammer. It provides far more power, range, and features than ever possible from a hammer. Make sure that you have one in your tool bag before you head out again, and you will never have to worry about having enough power for the job again.
Milwaukee LED Compact Site Light
The compact site light offers two lights for both tasking and area lighting. It has an output of 2,200 lumens while in area mode, which is made for illuminating larger work areas, and 1,000 lumens of floodlighting which are meant for task situations. There is no instance that this compact site light cannot handle.
Best of all, it offers up to 18 hours of total runtime, so you can be confident that you are getting all the light you need for the most time possible. It is also constructed of high-impact polycarbonate so that it will stand up to the maximum amount of abuse without breaking down.
With unmatched reliability and capability, it is little wonder that this is such a popular option among contractors and plumbers. You will always have the compact site light to guide your way.
Bosch Self-Leveling Cross-Line Laser with Plumb Points
If you still have a traditional level in your tool bag, throw that thing in the garbage right now. It is outdated in general, but especially when you can have a Bosch Self-Leveling Cross-Line Laser at your disposal. There are no other leveling options out there with the capabilities that this tool has.
This self-leveling cross-line laser delivers the ultimate versatility by providing evident laser lines and points. Additionally, these lines and points can be turned on both singularly or together to provide a vertical level, horizontal level, and plumb transfer applications.
Make measuring and leveling far more manageable than ever before when you implement the highly popular Bosch self-leveling cross-line laser with plumb points. You can cut a few outdated tools out of your tool belt and add this do-it-all tool.
Milwaukee Cheater Adaptable Pipe Wrench
There was once a time when it was necessary to carry a whole kit of wrenches for every situation. Sure, you were prepared, but you had to dig through your tools to find the proper wrench for the job and then go through the hassle of finding the correct wrench.
The Cheater is an adjustable, adaptable pipe wrench that offers two interchangeable handles that are threaded; they offer 10" length when used with no handles for the tighter spaces, an 18" length with a smaller handle for your general-purpose usage, and a 24" length that has a longer handle for maximum reach and leverage. There is quite literally nothing that you cannot do with the Cheater.
This is an absolute must-have for plumbers or contractors anywhere. It is incredibly versatile and can help you cut down on the number of tools that you need in your tool bag. What can be better than that?
DeWalt Press Tool
If you are in the plumbing industry, it goes without saying that fitting new pipes can be some of the most challenging work that you have to do. And like some of the other tools on this list that replace outdated tools, the DeWalt press tool will do the same.
This tool is capable of pressing pipe fittings from ½" to a whopping 4" in both stainless steel and copper piping. It can complete the full range of presses and a wide range of crimping heads and attachments for various applications and materials.
If you are a pipe fitter, this is a must-have for your toolbox. Don't ever leave home without the press tool at your disposal again.
Rothenberger ROCAM Inspection Camera
You sometimes need to perform an inspection before you ever start work. This ensures that you are of the utmost certainty where the issue lay and to ensure that there are not any spreading issues to be aware of.
This can be highly difficult without the right tools at your disposal. With the Rothenberger ROCAM inspection camera, you can be certain that you will find the problem every single time with the least amount of difficulty involved.
Suitable for pipework from 40-300 mm in diameter and a 30 m x 7 mm pushrod that can be extended an additional 8 m, you can get to just about any area possible. Twenty-five waterproof LEDs ensure you can get all the lighting that you need along the way.
There is no better tool on the market today when it comes to pipe fitting. What used to be a difficult task has now been made easier than ever because of this reliable and versatile camera. Never let a problem escape unseen ever again when you can have this excellent camera in your employ.
Milwaukee Drain Snake Kit
This is a necessity for any plumbers out there. Clogged drains are one of the most common issues that customers call in professionals for. With this drain snake kit, you can make short work of any clogged drain at a moment's notice.
Simply put, this is the ultimate service plumbing solution. With a weight of only 10 pounds, it is the lightest of any professional drain cleaner on the market today. It has a hybrid, unique design that can provide both the benefits of a floor-based drain cleaner and a handheld into one machine.
Traditional, manual snakes are fine and well, but the Milwaukee drain snake kit provides versatility and quality that has yet to be matched. Add one of these to your tool bag, and you will have a vast variety of problems taken care of thanks to one tool.
RIGID Straplock Pipe Handle
One of the most significant issues in maintaining and installing those larger diameter metal and plastic pipes is not the weight itself. Instead, the grip turns out to be the biggest issue for users. When you can't get the proper amount of grip and leverage, you can't get the adequate amount of force applied in all directions.
Never struggle with larger-diameter pipes again when you can implement the pipe handle into your tool bag. It is a favorite among plumbers for a good reason and will likely remain that way for a long time to come.
Milwaukee Sawzall Reciprocating Saw
As much as the entire plumbing process has changed for the better, there will still come a time when you need to get down to the nitty-gritty and do some old-fashioned grunt work. Thankfully, thanks to tools like the Milwaukee Sawzall, you don't have to grunt quite as much as you once did.
There is also a ONE-KEY component that lets users track and customize the tool's performance for unmatched productivity. You can even track and manage the tool through the associated app as well. Many manufacturers wish they had that kind of versatility and convenience.
The customers have spoken and made this sawzall a favorite among plumbers and plumbing contractors out there. Make sure that you add this one to your repertoire immediately.
Thankfully, times have changed, and technology has evolved to allow you to find the best job you possibly can with the most remarkable ease and convenience. You don't have to worry about lugging around a considerable amount of plumbing tools in some big, clustered van again; you can carry a handful of tools in your truck or car and have easy access to whatever job you might need.
Hopefully, this list of top-tier products inspires you to find powerful tools for your company's arsenal. Our Plumbing Webmasters team would love to be your go-to solution for all things related SEO-related.