Instagram Lives are a great way to get your target audience involved with your brand and create a brand-centered community. It's a chance to interact with them in real time. This allows you to showcase your personality and create stronger connections.
What if you work in the plumbing industry? How can you use Instagram Live to generate leads and prospects?
With so many different ways to use Instagram Live, it can be hard to know where to start. Here are four Instagram Live tips to help you get started:
1. Plan Ahead
You need to prepare for your Instagram Live before you go, well, live. You want everything to go smoothly, after all.
Begin by listing topics you can discuss in the Live video. The topics should be relevant to your plumbing business and understandable for viewers. At the same time, they should raise awareness of your brand and the services you offer. That said, possible topics could be how you can fix leaky faucets or address low water pressure.
Then, decide the best Instagram Live time for you and your audience. If you do the Live while working, put in place a strategy for the recording procedure. Ensure adequate room around you for viewers to see the details when you're fixing that faucet, for example.
Don't forget to develop a marketing strategy to promote your Live video. You might consider creating a blog post or landing page to promote your Instagram Live. Or, reach out to local businesses who may want to sponsor your IG live video. We'll talk more about promotional strategies later.
Also, develop a social media branding plan. You want to make your brand distinctive and stick in consumers' minds. Create a logo and use specific colors, for example.
Finally, create plans you'll implement in case something goes wrong. For instance, what do you do if you don't know the answer to a question or if someone leaves offensive comments? The more specific your plan for this, the better.
2. Promote Your Live Session
You may have the best video content in the world. However, it won't make any difference if no one knows about it. The same applies to your Live sessions. You have to promote them to get the most out of your Instagram Live.
There are several video strategies you can use. But, depending on your goals, size, and budget, these are the most important Instagram Live tips.
Post about your Live in the comments section of one of your viral videos related to plumbing.
Use hashtags such as #plumber, #plumbing, or #plumbingservice, and tag your location, city, state, or province. That will help you get more followers interested in plumbers in your location.
Invite influencers to join you for Live sessions. You can use social media platforms to reach out to them and ask if they are interested in attending.
Create a landing page on your website. Promote your Live on your social media profile, as @pbplumber does in his Instagram Stories: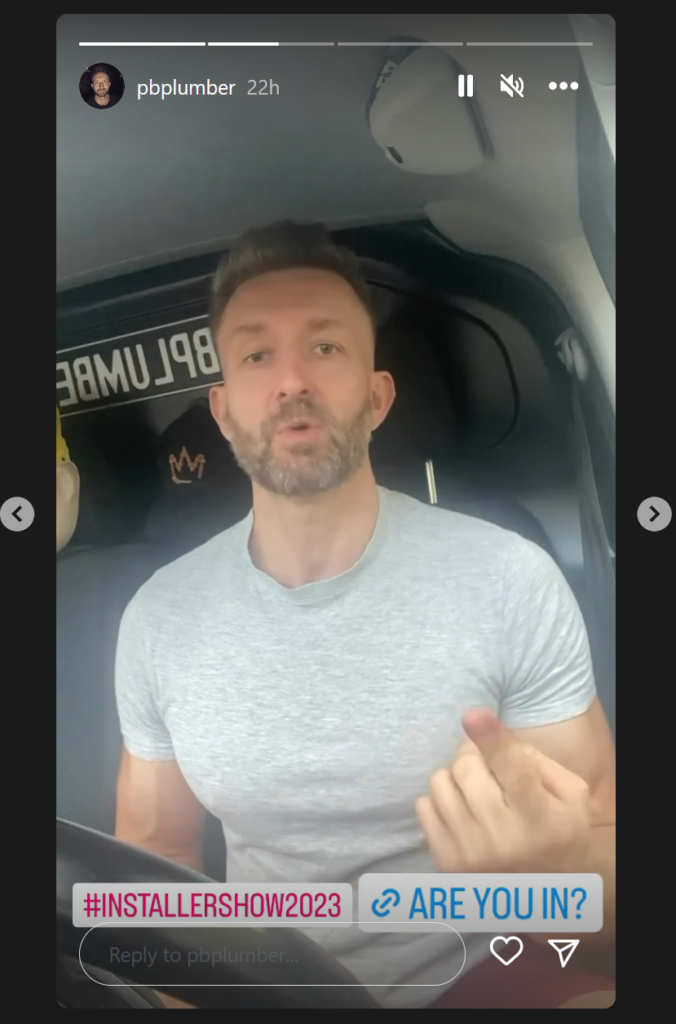 Likewise, collect email addresses to push notifications or invites to your next video session.
Create an ad that goes straight to your page with the link to watch the Live session.
Have a clear call to action encouraging people to watch your Live session. To gain more brand exposure, ideally, you should have many Instagram followers. So, find ways to increase your Instagram following. Some people buy Instagram followers, while others use referral marketing and other tactics. Some do a little bit of everything. Choose the strategies you can implement, given your resources.
3. Make Your Live Interactive
Interacting with your audience is one of the essential Instagram Live tips. It helps you create a positive, memorable brand experience for your audience.
Being yourself is the best way to interact with your audience during your Instagram Live. Be genuine, honest, and human so that viewers can relate to you personally.
You should also be willing to read their questions, concerns, and comments. Also, ask them questions about themselves or their experiences with plumbers. That is an excellent way to get customer feedback about your profession. That will also make them feel part of the conversation. They'll be more likely to engage with your brand's content going forward.
Don't forget to answer their questions. You can also share stories about yourself.
Finally, try running Instagram Live for more than 10 minutes. That will give interested parties plenty of time to join. But ensure you have some information ready to loop through for the duration of your Live.
4. Follow Up
Following up after your video broadcast is important. If you follow up after an Instagram Live, you show your followers that you appreciate them and value their time.
You want to reach out to your audience in a personal way, not merely bombard them with service ads. So, after an Instagram Live, continue interacting with your audience. Make it a part of your content strategy in email and social media marketing.
There are several ways to go about it.
Share your favorite parts of the session in an Instagram Story or in other social media posts.
Respond to comments from viewers on your post. Even if it's just a quick "Thanks so much!" or "I'm glad you liked it," responding will show people you care about what they say.
Ask questions about something discussed or shared during the Live session.
Share a link to related content, like a blog post or video, and ask them if they want to check it out.
Consider sending out a survey via email or text message that asks more detailed questions about the experience: What did they like most/least? What topics would they like covered in future broadcasts?
In Closing
Instagram Live is a great way to share your story and connect with your followers. It's an excellent tool for sales and marketing.
But getting started and getting people to engage with the Live video in real-time can be challenging.
The four tips above will help you get more from your Live video experience. Plan ahead and promote your Live. Don't forget to make your Live interactive. Finally, follow up.
Follow these tips, and you'll reap the best results. Good luck!