HVAC-Plumber SEO Webmasters offers plumbing SEO services to contractors throughout the United States. The whole point of marketing your plumbing business online is to increase traffic to your website and gain more plumbing leads. Organic search engine optimization (SEO) includes all the methods utilized to grow your business online without paying for advertising.
How does organic SEO work?
Organic SEO is tied directly to your website keyword strategy and your local listings. Using the plumbing keywords and phrases shown there, Google identifies your services and determines what type of searches your website is the best result for. The better you communicate and verify the type of work you provide, the better search results you'll get for them.
Why is organic SEO important for businesses?
Organic SEO is your number one tool for getting on the consumer map. Plumbers who optimize for organic search well generally earn a higher volume of traffic to their website. A percentage of that traffic turns into leads, or service calls. Without organic SEO, most local consumers will never find out about your plumbing company in the first place.
How long does organic SEO take?
For most plumbing professionals, the usual waiting time for organic SEO is two to three months. That's about the time it takes for a new, search-optimized website to get noticed by Google. Once the leads start to flow into your business, they should only increase as you provide service, earn glowing customer reviews, and produce more content.
SEO contrasts pay per click (PPC) in that the latter involves paying for advertisements on the top of Google search results. SEO rankings do not require payment and are instead based on Google's search algorithm. While Google does not make its algorithm publically available, SEO agencies like ours have decades of data tracking different strategies to influence rankings.
SEO Competitor Analysis
One of the best ways to help improve your plumbing businesses' organic SEO is to examine your competition in the area. If there is a small plumbing business that is succeeding where other companies are failing, we examine their online strategy to find out what's working for them so we can put it to work for you. We determine the best keyword placement and optimization strategy to give you an edge over your competitors. Our methods are designed to fully optimize your site for maximum organic growth and long-term gains so you can leave your competition behind.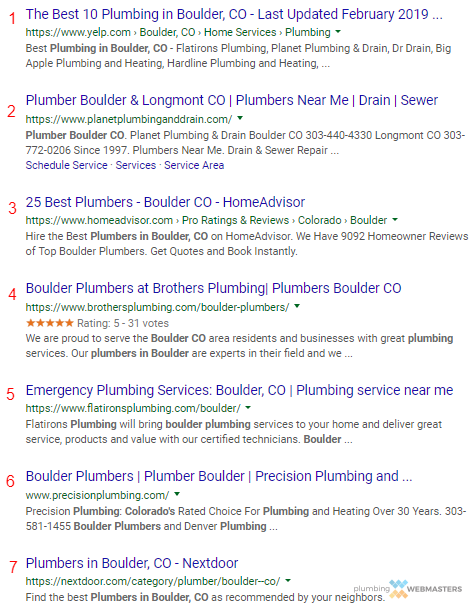 How Much Should You Spend on Plumbing SEO?
The best organic SEO services for plumbers are cost-efficient. It would help if you didn't have to look at your monthly expenses and wonder whether the SEO service you're paying for is worth it for your business. Your services' value depends on your business and how much making it to the top of your local plumbing service search results is worth. You have to weigh the costs of all of your combined ads, including PPC campaigns and social media ads, organic SEO methods, and how much you pay your plumbers and other employees to work while waiting for leads. The entire point of building your business with SEO is to get more leads. If your employees have too much downtime, then it may be worth it to put some money into organic SEO for your business in an attempt to bring in more business. If you decide to invest in organic SEO for your plumbing company, pick a team of experts who have years of experience performing search engine optimization for plumbing contractors.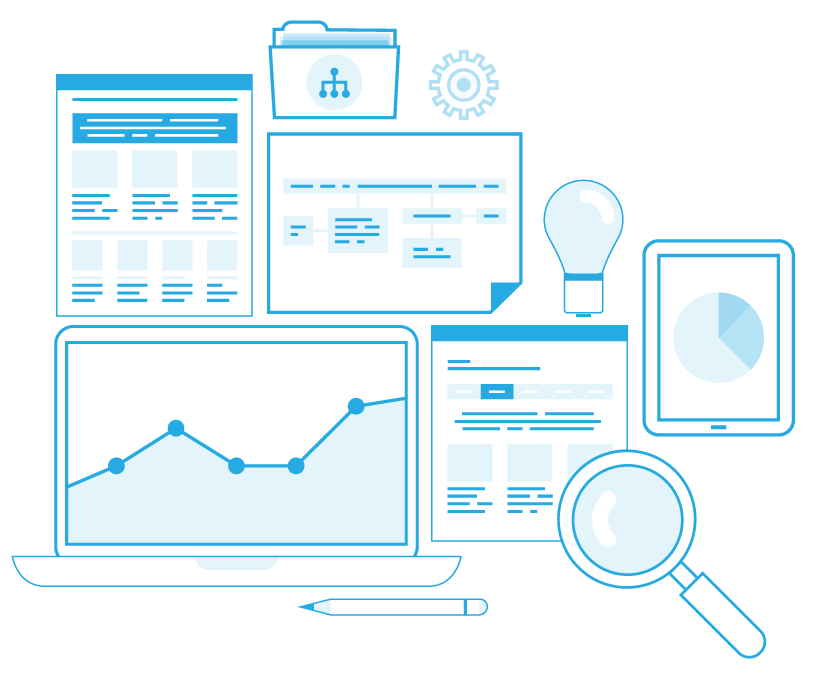 When you decide to start your path to organic SEO success, you should choose a completely comprehensive service. That means letting companies like Plumbing Webmasters worry about your online presence while you take care of your plumbing business' and clients' needs. When you hire Plumbing Webmasters, we take over your online social media advertising activity to promote your business to potential customers in your primary service area. That's because we employ a team that is fully dedicated to improving your online presence. That means web coders, graphic designers, and content writers will all be dedicated to optimizing your presence for tremendous search engine success. We offer different plans to fit every business' budget.
Who Should You Trust For SEO?
The SEO experts at Plumbing Webmasters have been learning about and perfecting organic optimization strategies for years. Google updates its algorithm several times every year to punish websites that use black hat SEO tactics. These updates punish all parties that violate content policies, regardless of if you knew you broke the rules or violated them by accident.
Another problem with these updates is that it usually takes a while for Google to catch perpetrators. Some cheaper SEO companies might try to lure you in with the promise of cheap SEO. They will probably deliver on this by violating Google policies on your website and in your content. You'll see a short-term boost in website traffic, but Google will eventually penalize your website. At that point, your SEO company may have taken your money and run, leaving you with a damaged online reputation.
Not every cheap SEO option practices black hat SEO, but why take the risk? At Plumbing Webmasters, our dedicated team of coders, graphic designers, and content writers are standing by to optimize your website and improve your local plumbing leads.
Google Search Quality Guidelines for Plumbers
Google has a definitive list of prohibited SEO practices. Black hat SEO will get your website penalized sooner or later. Every update Google has made over the past decade was to bring quality content to users who needed it. They wanted to give websites with unique, user-friendly, and valuable information to users searching for it. For instance, the Google Penguin update cracked down on keyword stuffing and link-building schemes. Plumbing contractors who throw random or repetitive keywords in unnatural places have their content devalued by Google, while contractors who use proper organic SEO methods are rated higher.
Properly optimized content ranks better on other search engines as well, so when you optimize your website for Google, you're also optimizing it for sites like Bing and Yahoo. Plumbing Webmasters offers full SEO services as part of our comprehensive content management service. When you hire us, we build you a fully customized website with locally optimized content for your service area. We also get to work researching proper keyword strategies for your business.

Adaptable Content and SEO
The algorithm is constantly changing, and keyword volume and optimization change with it. Your SEO team needs to stay on top of your continually evolving optimization needs. That's why you need a dedicated team of experts like Plumbing Webmasters. We offer comprehensive content marketing services that include organic SEO for your plumbing contractors. We localize all the content we produce for you while customizing your website. When trends in your service area shift, we notice and change your content based on emerging patterns. Our service includes an internal blog for your website. All of our blog posts contain valuable seasonal and local information. That means if your business is in Michigan and you are experiencing record low temperatures, our blog posts will incorporate that in some way. We may post an entry titled "How To Keep Your Pipes From Freezing" as a way to connect with locals experiencing or concerned with this issue.
We have different marketing management plans available for your business and will work with you to meet your plumbing companies budget needs. Our team also optimizes your site and all content for all platforms and devices. That means your site is accessible to anyone looking for routine plumbing or using their mobile phone to search for emergency plumbing service in your area frantically. This includes optimizing your online content for virtual assistants and voice recognition software if someone reads their web search phrase to a program that will search for them.
Your organic SEO needs to meet the needs of an ever-changing community. At Plumbing Webmasters' we stay on top of emerging trends in both SEO and the plumbing industry.
HTTPS, 404 Errors, and Conversion Rates
Your conversion rate is your critical defining trait for success. Your ability to convert website traffic into a sale or a client is the best tool to measure the benefits of your organic SEO. The entire point of organic SEO is increasing your leads and conversion rate, so most optimization tactics are based around. Websites that use HTTPS over HTTP or have 404 errors affect your Google ranking and overall optimization. Google ranks sites that use HTTPS, or Secure Hypertext Transfer Protocol, higher than sites that use standard HTTP. At the same time, websites with 404 errors lose value according to Google's algorithm. That's because 404 errors negatively impact user experience, and one of the key components of Google's quality content guidelines is how user-friendly it is.
When you hire our Plumber SEO Company, we worry about these things, so you don't have to. We use HTTPS for your website and ensure that every link is working. If something happens and one of your pages goes down, call us, and we'll fix the problem if it's on our end. We offer high-quality and comprehensive content management and online marketing to boost your conversion rate.