As part of our plumbing SEO services, The Webmasters provides organic SEO. Most people think about SEO in terms of a full-scale digital marketing presence, but organic SEO is the basis of every SEO campaign. In addition, over the years, industry professionals have expanded the meaning of SEO to include things that have nothing to do with search engines like Google. On this page, we detail organic search engine optimization for plumbers.
What is Organic SEO?
Organic SEO refers to a series of tasks to rank your plumbing company on free Google search results (not advertisements), including the traditional ten listings, the Local Map 3-Pack, and the Knowledge Graph.
Why Should Plumbers Care About Organic SEO?
Organic SEO generates free traffic, which is a phrase you should use loosely when considering your marketing budget. In comparison, organic search results don't require a fixed payment, like with Google Ads, for example. However, achieving those organic rankings requires an investment in time and often money. In addition, nearly 55% of all web traffic comes from organic search.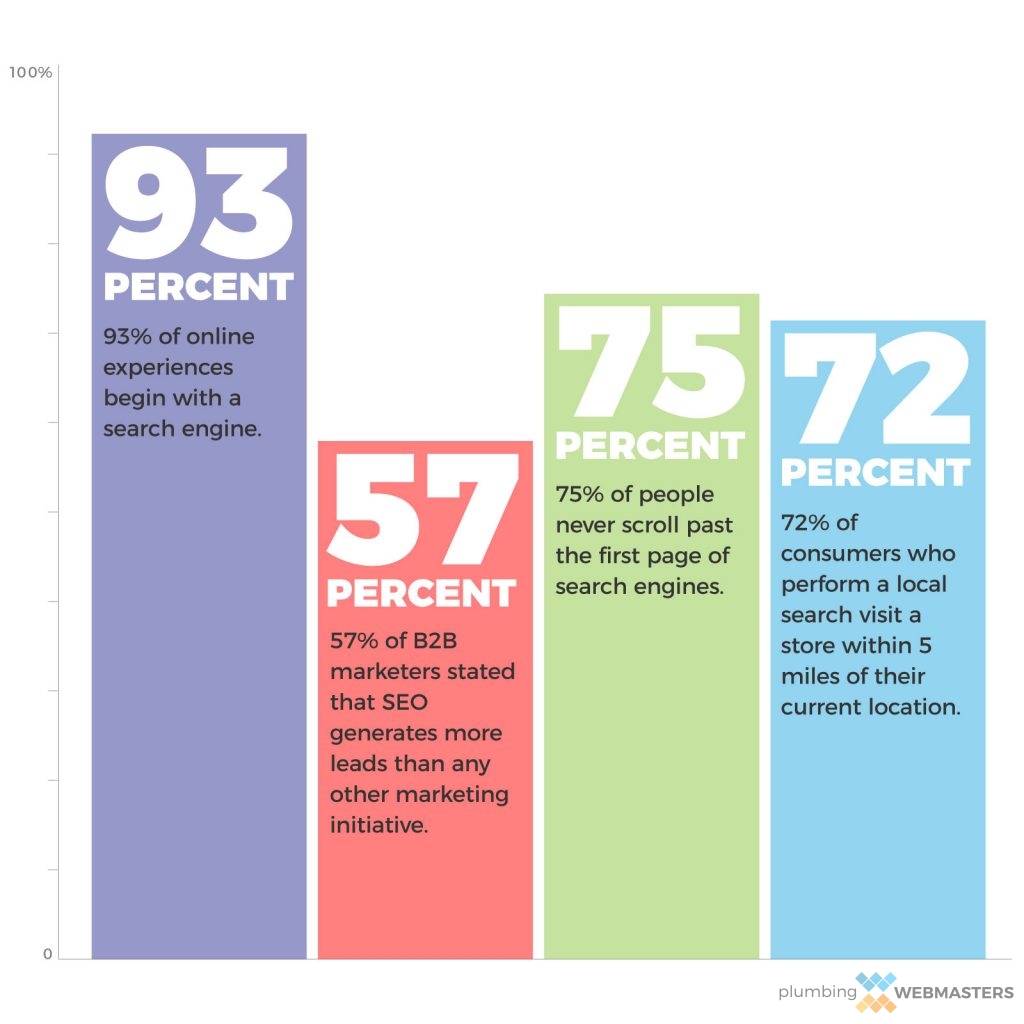 Components of Organic SEO
For most search engines, the goal is to provide optimal results for their users, so they continue using the platform to find information throughout the web. With this in mind, ranking #1 on organic search results requires catering to the user's needs, intent, and desired experience. Let's consider the components of organic SEO for plumbing contractors:
Keyword Research
To rank on search engines, you have to which keywords to target. Then, you can use tools like MOZ Keyword Explorer, SEMRush, and AHRefs to find search volumes, competition levels, and opportunities. For plumbing companies, it is critical to target keywords that possess buyer intent to rank for terms that lead to future sales.
Content Writing & Marketing
Plumbers must craft high-quality content to rank organically and market it properly through various channels. Writing content is the first step to ranking well on search results, but marketing helps build the authority that you'll need to overtake competitors. In addition, it helps to hire writers who understand the subject matter and can relate to the readers.
Link Building
One of the top organic ranking factors is link equity. Most people think about external links from other websites, but internal linking is just as important. For example, a plumbing website should have pages for each service type and link to one another where appropriate. The goal is to make things easy for the user and search engine crawlers. Use a reverse silo structure where sub-topics link to primary topics and vice versa.
Image Optimization
Alt-text is one of the most underused organic SEO tasks in 2021. You can rank higher on search if you properly tag your image files. It also helps to name your files to represent their exact description. For example, an image of a plumbing wrench should be called plumbing-wrench.jpg. From there, you should insert an alt text of Plumbing Wrench.
Google and Organic SEO
Google is the #1 search engine in the world, and though other search engines like Bing, DuckDuckGo, and Yahoo get minimal traffic, the vast majority goes to Google. According to Statista, Google holds over a 92% market share for search engines. So while it makes sense to focus your efforts primarily on Google's algorithm, you should note that Google also has the most advanced criteria for ranking pages.
Google Algorithm Updates
Google consistently changes its algorithm and makes an estimated 4,000+ changes annually. Though updates may frustrate SEO professionals and small business owners, the users continue to prefer Google's search engine to others. With this in mind, you must adapt to new algorithm changes by improving your website and content.
Google SERP Variations
The scope of organic search has expanded over the years to include Google's Local Map 3-Pack along with the Knowledge Graph. So, for example, Google will show a pack of 3 Google My Business listings for local terms like plumber near me based on the user's proximity. Similarly, a user searching your company's exact brand name will see a Knowledge Graph featuring your Google My Business listing.
How To Improve Organic SEO in 2021
Plumbing companies may understand the value of SEO, but many lack the expertise to improve their rankings. At Plumbing Webmasters, we help contractors achieve their goals by offering services and educating them on maximizing organic visibility in 2021. Let's take a look at four ways to see results this year.
1) Establish Topical Authority
The best way to rank organically is by establishing topical authority. It's easier than it sounds with the proper site structure and careful internal linking. First, plumbers need to map out their pages and posts by topics and sub-topics so that the appropriate pages can link back to one another. Once Google sees that you have multiple pieces of content about a topic, they begin to attribute authority to your website. Too often, plumbing companies try to rank with only one or two pages.
2) Add Unique Images
You might think images are more about converting prospects than ranking on search, but proper use of images helps with both items. Google knows when a website uses stock photos since the file exists all over the web. When you use an original photo of your staff or plumbing truck, search engines see it as entirely unique, adding value to whichever page it shows up. As a bonus, more traffic will convert with original photos.
3) Use DataPins
Use a local SEO tool called DataPins to rank better for local terms. The DataPins tool posts pins to corresponding pages, adding unique content to your location pages. Plumbers can use the app by taking a photo of each job and writing an accompanying caption. The app does the rest by pulling geo-coordinates and posting the pin to the appropriate page. Best of all, it publishes not only on the city page but also the most relevant service page to increase organic presence on multiple fronts.
4) Get Listed
We know that links help with organic rankings, but links can be as simple as listing your business on directories like HomeAdvisor and Angi for local plumbers. It would be best to get listed on Yelp and Bing Places to ensure consistency of NAP (name, address, phone number) across the board. Not only do you want to rank for terms like plumbing services, but you also want to rank organically for your own company name.
Plumbing Webmasters Organic SEO Services
Our specific organic SEO services include keyword research, site structure, content writing, and citations. As a full-service SEO company, we offer more than just organic SEO services, but they remain the basis for a solid online presence in 2021. Our company works with hundreds of plumbing companies throughout the U.S. to craft successful organic campaigns. We look forward to working with your business soon.