Most plumbing businesses looking to grow through online marketing will use written content along with images. A good way to stand out from the average plumber in your service area is to incorporate video into your plumbing website. But what is video marketing? Approximately 87 percent of content managers will push using video for marketing purposes in their client's site. With more and more video streaming services launching every month, and the number of free video hosting websites, the only thing that should keep you from working video into your content optimization is not knowing the benefits or the method to actually do so. When you hire Plumbing Webmasters we take over optimizing your video marketing content to boost your organic SEO. We perform the following services to improve your plumbing companies current video content.
Conversions Strategically placed video content helps turn a prospective client into a paying customer.
Engagement More people click on a video instead of a wall of text. This improves your chances to get your content in front of potential clients and boosts conversion rate.
Link Building High-quality video marketing gets you backlinks from reputable sources.
Optimization Optimized video content will show up in search results more than videos that aren't optimized. They will also feature in video-specific searches.
You run a plumbing business, so you're more than likely not going to go viral video with content about frozen pipes or trenchless sewer repair. The kind of videos your business puts out are the kind where people are looking specifically for your services. These are low volume searches with high potential for conversion as part of your local search marketing strategy. We talk you through the process of creating high-quality video content that will boost your business and improve your online presence. Call Plumbing Webmasters at (877) 388-9884 to learn more about how to properly use video marketing to improve your plumbing businesses Google ranking and online presence today!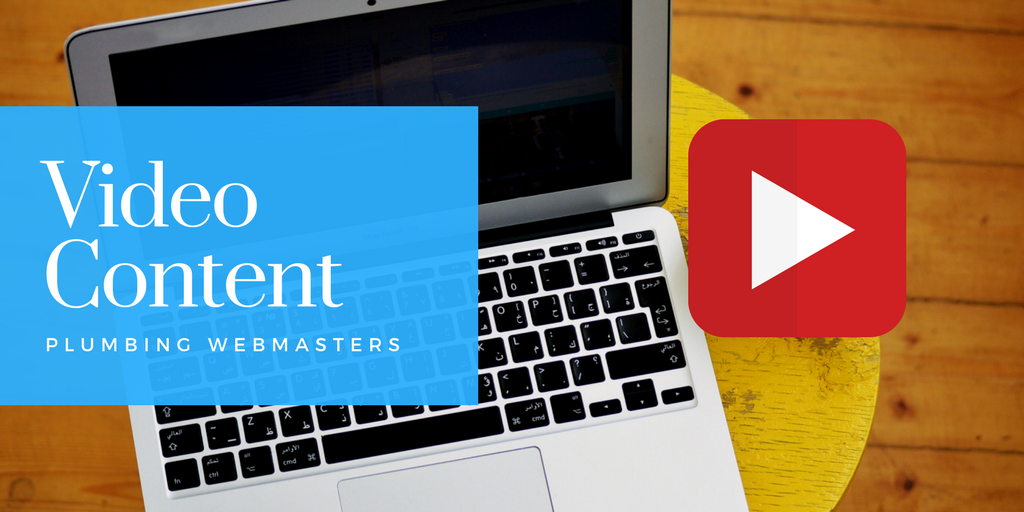 Producing Video Content For Plumbers
Creating videos for businesses used to be far more complicated than it is today. As technology has progressed most people can create high-quality video content on their own with minimal supervision. Many high-end smartphones have a camera capable of turning anyone into a video content creator for your plumbing business. They also have access to your provider's application (app) store of choice to download basic video editing software or purchase more advanced software. Audio quality usually isn't as high with cell phone video, but condenser microphones are relatively cheap if you want to add value to your videos with high-quality audio.
Outside of quality recommendations, Plumbing Webmasters only stress using videos to show the value of your service. If you're trying to talk potential clients through a bathroom remodel, show your plumbers working on a bathroom remodel in the video. It's the same for demonstrating leaky pipe repair. You can post a video about a leaky pipe repair, but if you don't actually show the subject, your video loses value. Video marketing and content creation are all about showing and not telling. Video marketing only has value if the content is strategic and planned out well. Video marketing services are able to take your high-quality video content, and use it to optimize your web presence by building consumer trust. If you want to incorporate high-quality videos into your plumbing businesses web page to boost your web presence, call Plumbing Webmasters at (877) 388-9884 for more details.
Hosting Youtube Videos On Your Plumbing Website
If you're looking to gain the benefits of quality video content for your plumbing businesses website, then you'll need to host and embed your content. YouTube is a great video hosting website. It also helps that it's owned by Google, so hosting your videos here will help the "searchability" of your video content. Videos can be hosted on your website internally, but uploading to YouTube gives you additional options and a wider reach. It also keeps hosted video from taking up server space and slowing down your loading times. You can embed your plumbing videos by following these steps.
Step 1: Navigate To Your YouTube Video
Step 2: Click "Share"
Step 3: Click "Embed"
Step 4: Copy Issued HTML Code
Step 5: Paste HTML Code On Webpage
If you're not sure if you're following the steps correctly you can always outsource the job to the Plumbing Webmasters team. We offer video marketing and content optimization as part of our comprehensive content management service. We'll fully customize your plumbing business a new website, fill it with locally optimized keywords and content, and ensure your videos are placed in the proper location to get you the maximum benefits they bring to the table.
When Plumbing Webmasters takes over your video marketing strategy, we take your video content and optimize it for video marketing SEO. We'll ensure that your video content is formatted properly for maximum website speed. We will also make sure it is in the proper position for maximum user engagement and conversion. For more information about how your plumbing business benefits from quality video marketing and content, contact Plumbing Webmasters by calling (877) 388-9884 to learn more.