When it comes to developing a great plumbing website, On-Page SEO is the best way to maximize each and every page. While it's true that your homepage will get most of the action, looking at each website page as an opportunity to grab the attention of search engines will help bring the right perspective to your organic SEO efforts. Incorporating all the aspects of on-page SEO using the tips we'll share below is what will set your plumbing company's website apart, and really allow you to compete for the top spots in Google rankings!
What Does "On-Page SEO" For Plumbers Mean?
Search Engine Optimization ("SEO") refers to all aspects of design and content that are intended to help your website fair well with search engines. The algorithms used by Google (and others, though Google is far and away the major player) are looking for specific elements on and in websites, and so SEO is basically what web designers and content writers use to say, "Look! We're doing what you like and providing value!"
On-Page SEO, then, is the things we do on any given webpage of your plumbing website to help that particular page look as good as it can to a search engine. A big element of this approach is great content with strong plumbing keywords, but there are less intuitive (if you're not a website developer) aspects too, such as meta data.
Remember: You Don't Have To Go The SEO Road Alone
Tools like WordPress make it easier to hone in on the right elements for a well-developed webpage, especially when you tack on helpful third party-plugins like Yoast for SEO. However, we find that most plumbing business owners want to delegate the management and development of their websites, and that's honestly a great move. Sure, I am biased, but when you consider how each player in that arrangement can best use their skills and time, it's the perfect investment for staying relevant with internet marketing.
Tip #1: On-Page Content Should Serve A Unique Purpose
Let me start off by saying that if the singular purpose of plumbing content on your website (or anywhere else, for that matter) is to market your business, you're probably not going to fare very well. No one — and I repeat, no one — likes to be blatantly advertised to. There is a whole body of psychology, ever-changing, that attempts to understand how to advertise to people who don't want to be advertised to. You are not exempt from that category as a business owner. Content Marketing rules these days, and it's important to understand that you're far more likely to make an impact in your market if you add value and establish your authority than if you smack website visitors over the head with hard sales pitches and flashy limited time offers.
Embed:
The unique purpose that on-page content serves can vary, but it will, of course, always tie back to plumbing. That's what you do, it's your area of expertise. "Stay in your lane," as they say. Don't lose sight of the fact that anyone looking for your website or your plumbing repair services is going to be looking for the very information you're able to provide. Embrace your position as "SME" (subject matter expert) and put out content that reflects what you know best.
Each page of your website should be unique from the next, not only in specific content — in fact, we use tools like Copyscape to ensure that every piece of content writing we ship is exclusive — but also in subject matter. One page may be about emergency plumbing repairs and how to respond, while another is specifically about water line repairs and what is typically involved. Both of these topics are germane to plumbing, but each will serve a different customer. Also note that you're not only talking about repairs, about which there are countless pages on the internet, but you're providing additional information to help them actually deal with the situation as a consumer (since they're not making the physical repairs, after all).
Instill Confidence And Authority Via Content Marketing
Demonstrating that you care about new plumbing customers by giving them insight to better prepare for and screen plumbers will instill a sense of truth and authority. This is huge! When competition in the market is fierce (and we know it is), this is what can set you apart and allow each page of content to become irresistible to search engines and viewers alike. Your plumbing leads will be far more fruitful and plentiful as a result of marketing yourself as an expert via good on-page SEO.
A Quick Note About Technical Jargon For Plumbing Content
While it's important to establish yourself as the SME, you want to keep in mind that both search engines like Google and your customers are not likely going to benefit from overly technical plumbing jargon. Content that precisely represents a topic is important, but no need to talk about the specific equipment or type of repairs you're going to use. In the same vein, you also don't want to use flashy sales words either. Your website pages should be written first and foremost for your customers, which means you should represent content that is consistent with the way you would converse with clients in person.
For example, would you start listing off which exact tools you're going to use to repair their backed up toilet? Or would you knock on their front door and tell them all about the super limited time offer to clean their drains, "Sale, sale, sale!!"? No. Because you're not obnoxious. You know what works and what doesn't with people, so there is no sense in taking a different approach just because it will live on the web.
Tip #2: Don't Forget To Promote Engagement Via Linking For Better Google Rankings
Flashy banners and buttons can be an effective way to draw attention on a webpage, but as we discussed earlier, viewers are increasingly immune to anything that is designed to simply distract. Far better is a meaningful invitation to engage with the quality content on your plumbing website, and there is nothing more subtle and relevant than internal linking.
Internal linking to other content on your website is a great way to improve your Google rankings, in large part because viewers are spending more time looking at your site, and not simply leaving your URL after a brief glance. (This is what is called the "Bounce Rate.") Because Google and other search engines want to provide searchers with the best pages available, they consider signals like bounce rate as an indication of content quality. So the longer visitors to your webpage hang out, the more informative your site looks!
Linking To External Pages To Provide Value
Linking to other webpages on your site is a great way to also deliver relevant information to customers, especially if the page is organically linked. This means that the links derive from and deliver content that is meaningful to the topic at hand, and not simply artificially stuffed to drive traffic to an unrelated page. You may also engage with other website or authoritative bodies — such as unions or trade associations — to help add value to your on-page content, but don't forget to promote your own site as well!
Tip #3: Plumbing Keywords Are Clutch For On-Page SEO
Perhaps the most utilized and organic approach to on-page optimization is strong keyword usage in the content and throughout meta data. Think about keywords and keyword phrases — also known as "long tail keywords" — as the anchors for your page content. These will drive not only what is written on the page for new plumbing customers, but also how the markup happens behind the scenes to ensure it's communicated clearly to Google what you're offering up on a given webpage.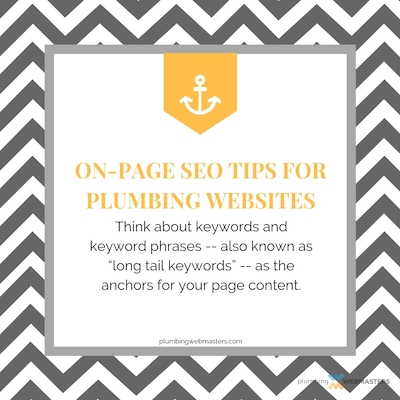 But here's the deal: you can't just churn out pages with keywords littering every other sentence. In fact, doing so could cost you prominent rankings. This used to be common practice (in addition to shady linking schemes), and explains why for a while the internet was a hot mess when it came to researching home service providers like plumbers.
These days, it's all about user intent and organic SEO. If you can't read a webpage without cringing, then you can bet on Google punishing that page (if not entire site) and striking it down from top spots on the SERPS. It should read naturally and informative, but the use of strong plumbing keywords will help anchor the focus, help the reader understand what they're learning about, and also allow Google to properly index the subject matter for future searches.
Tip #3: Good Meta Data Goes A Long Way For User Experience
While some meta data for webpages is directed at optimizing for search engines, other aspects really serve the user (i.e. your potential customer). When considering how your plumbing website looks on a SERP, the meta data defines what the user sees and heavily impacts how likely they are to click on your site. (This is important for obvious reasons, but your CTR — "click-through rate" — is also a relevant signal for Google to determine the value of your site, much like the bounce rate we discussed earlier.)
Setting the Meta Title will ensure that the name of the webpage returned in the search results is clear and helps the viewer understand what content you're offering up on a given page. Some webmasters will make the mistake of tailoring this for search engines, which is why the title of the page (shown in blue on Google) sometimes reads like a jumbled mess of keywords. (Basically, it is, in the case of improper meta title usage. Bad form.)
The next element users generally see on a SERP is the Meta Description, which provides a description of the page. When not formally defined, this defaults to the first few sentences of the content, which may tell very little about the content. However, then on-page SEO is considered and the meta description is defined, this provides valuable information for determining usefulness, and invites click-throughs. Now you've got a captive audience, the opportunity to impart wisdom (since you're delivering useful, meaningful content), and increased the likelihood that you're going to get that call for plumbing repairs. Everyone wins!
A Quick Word About URL Structure For SEO
I mentioned WordPress earlier, and it's worth mentioning that such tools give you the opportunity to define the URL of a given page. This is an easy step to overlook, but it's really important for both search engine signaling and user experience. Using the webpage's keywords as an anchor, setting the page URL to a simple, short, yet human-readable string of text will be helpful for promoting engagement and delivering more meaningful content…even just at the SERP view!
Think about it: if a URL looks like a mix of letters and numbers, it doesn't actually tell you anything. Between these two, which gives you a sense of content value (or content at all, for that matter):
webpage.com/subpage/257hjh77
plumbingwebpage.com/repairs/emergency-leak-help
The answer is obvious. I'm clicking that second link and getting some fast help!
Each Page Of Your Website Is An Opportunity
Yes, each page is an opportunity to rank better and increase your likelihood to dominate the Google search results. But more importantly, each page is an opportunity to optimize in hopes that you better serve your potential customers and grow your business on the platform of service and authority. Go get 'em!