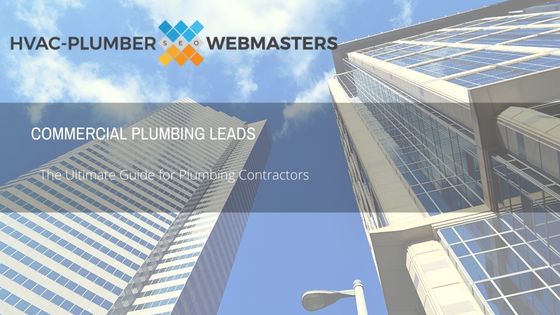 As a top lead generation agency for plumbers, Plumbing Webmasters has experience working with commercial plumbing companies throughout the U.S. We also regularly speak to general plumbers looking to expand into commercial and get more commercial plumbing leads.
Commercial leads for plumbers are particularly attractive because they are higher-ticket jobs. Also, once you connect with a commercial client, you might be in line for a slew of lucrative plumbing jobs in a short period. You can learn more about those general concepts in our article about free plumbing leads.
On the flip side, making these initial connections is difficult because commercial clients typically stay with their current provider for decades.
There are various tactics plumbers can use to increase commercial lead generation, and the following guide will outline the most effective methods. Our strategies are based on more than a decade worth of internal data from our thousands of digital marketing clients.
Reputation Management
Reputation is critical for converting any plumbing job, particularly commercial jobs. Commercial clients value reliability and credibility, which is why they will do their homework after initially learning about your company. As a result, it's essential to optimize your online reputation.

Google Reviews
Google reviews are the most visible representation of your company's reputation in 2023. When someone searches for your company name on Google, your Google Business Profile will appear (if you have one) along with the accompanying Google reviews.
Facebook Recommendations
Your Facebook business page is generally among the first organic results for searchers looking for your company. As a result, it's crucial to have positive feedback about your plumbing company.
Aside from Google, Facebook recommendations are one of the most trusted feedback sources.
Other Review Sources
While some prospects will feel comfortable after viewing your Google and Facebook reviews, others will scour the web for more feedback about your company. Other platforms that could influence consumer behavior include Better Business Bureau, Nextdoor HomeAdvisor, and Angi.
Search Engine Optimization
Although commercial clients may find their plumbing company from other sources, maintaining visibility on Google is one of the best ways to get their attention. Achieving sustainable Google visibility requires SEO for plumbers. Below we will outline the SEO pillars for commercial plumbing.
Local SEO
Local SEO is critical because it allows your Google Business Profile to rank in the local Map 3-Pack for terms like "commercial plumber near me," which will drive qualified prospects to your profile and website. The best way to improve your Local SEO is by using a software tool called DataPins.
On-Page SEO
Most people need to learn about Local SEO because it still requires strong on-page SEO for your company website. You need more than just a Google Business Profile to rank on the Google Maps 3-Pack. Instead, you must create and optimize a service page for commercial plumbing. On-Page SEO also helps generate organic commercial plumbing leads.
Link Building
The other aspect of SEO is link building which includes citations and natural links to your homepage or informational content. Creating data-driven blog posts is an excellent way to achieve natural links. In addition, submitting citations to various directories builds nofollow links to your site.
Business Networking
Unlike residential plumbing leads, 90% of which come from organic search, commercial plumbing leads may require more business networking. Commercial clients often choose their company based on personal recommendations or acquaintances. Check out some strategies to expand your network.
Attend Trade Shows
One way to expand your business network is to attend plumbing-related trade shows. Depending on your location, you might have a trade show nearby, like the ACCO / PHCC Ohio Convention & Expo or the AHR Expo. In other cases, you may also want to travel to a city like Myrtle Beach for the SCALT Plumbing and HVAC Convention & Trade Show.
Build Relationships
Technicians willing to be an ambassador for your plumbing brand can increase the potency of word-of-mouth in your region. Of course, the first step is performing great plumbing jobs for existing clients. Next, you can start to build relationships and earn recommendations. You never know which contact will introduce you to a commercial plumbing client.
Engage on Linkedin
One untapped strategy for acquiring commercial plumbing leads is Linkedin activity and engagement. First, create a personal page on LinkedIn and a business page. You can then link your personal page to your Linkedin page. Furthermore, you can join various plumbing-related Linkedin groups.
Invest in Your Website
Now that we've established that trust is a vital consideration for commercial plumbing clients, it's time to stress the importance of a high-quality plumbing website. Not only should your website be optimized for SEO and Local SEO, but it should also professionally represent your brand. Take a look at some of the qualities of commercial plumbing websites.
Personalization
As you try to build trust, showcasing your company's personality becomes critical. Unfortunately, many plumbing websites use stock photos from around the web, discouraging prospects from using their services. So instead, you want to fill your website with unique images of you, your staff, and your company.
It is especially critical to describe yourself on the About Us page and detail why you are qualified to handle commercial plumbing jobs. Neglecting to personalize your website will almost certainly decrease lead volume over time.
User Experience
Obviously, your website's content represents your company, but did you know that the technical experience of its users also reflects on your brand? For example, poor navigation and slow loading speed prompt users to associate these negative qualities with your plumbing company.
As a result, it's crucial to invest in technical optimization for your plumbing website. Your site should present an ideal user experience across all device types, especially mobile devices. Furthermore, your site should load quickly and allow users to easily navigate to various pages.
Final Thoughts on Commercial Plumbing Leads
Generating commercial plumbing leads requires a different strategy than residential leads. However, expanding your business into commercial is attainable when you use the correct techniques.
Plumbing Webmasters has served thousands of plumbing clients over the past decade. We can help you achieve your goals while getting more commercial plumbing customers in 2023.