As a local Dallas plumbing contractor, you can rank for local keyword terms like dallas plumber, dallas plumbing company, plumber in dallas, etc. The challenge is that hundreds of other DFW-area plumbing companies target the exact keywords and invest in plumber SEO to achieve desired results. So what ultimately determines which local plumbing company ranks at the top of search results? Let's examine.
Website Authority
Google's most significant ranking factor is website authority which measures how established a website domain is compared to others targeting the same topics, keywords, and search rankings. Though Google conceals its exact ranking factors, experts can approximate website authority using 3rd party metrics from MOZ and Majestic. The strength of a website's backlink profile, along with the age of the domain and the average traffic per month, influence a website's authority.

Google My Business
Google provides Dallas-based plumbers with multiple ways of ranking on its search engine. Ranking on traditional results requires optimizing your website on its exclusive domain. In contrast, Dallas plumbers can rank on Google Maps by optimizing only your Google Business Profile.
Local plumbing companies can claim their business listing and complete the profile for further optimization—the local algorithm judges listings based on prominence, relevance, and proximity. Local plumbers can generate reviews by sending customers a shortlink leading to Google's review page.
Keyword Research
Some local plumbers believe that keywords with no search volume aren't worth targeting on their websites. Using tools like SEMrush, and MOZ Keyword Explorer, plumbing contractors, can find search volumes for various keywords, including local terms like plumbing companies in Dallas.
Even when these terms show no volume, they still hold value for plumbers. Keyword research tools don't pick up exact search volumes for local terms. Once your website is live, you will find that you start generating clicks for these types of terms through Google Search Console.
On-Page Content
Producing high-quality on-page content gives plumbers an essential advantage over competitors. Search engine crawlers can grade content quality algorithmically, and factors like grammar, structure, and readability make a difference.
Robust plumbing websites create separate pages for each service type and service area by producing unique content for each page.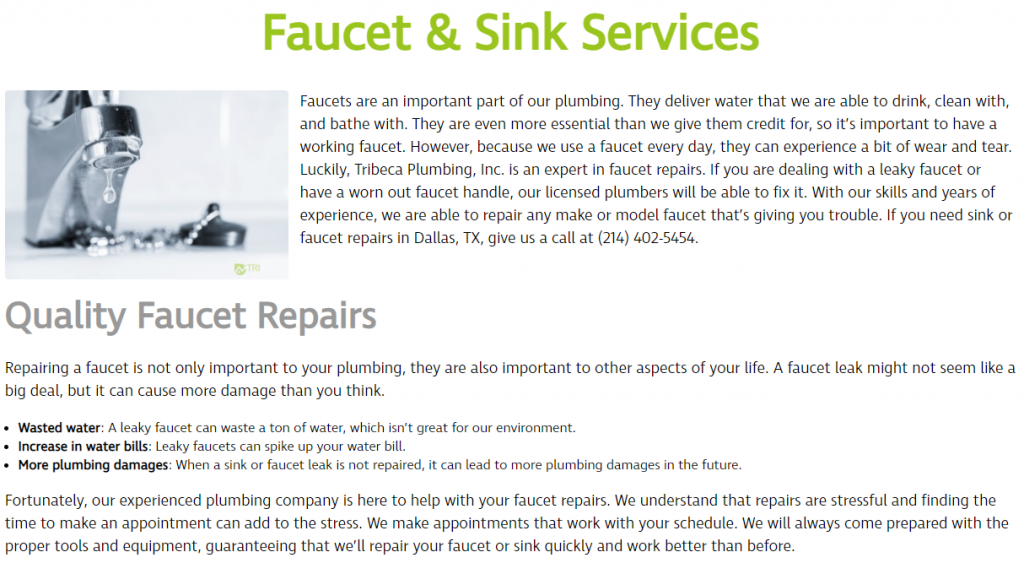 Every content page should satisfy the user's needs and help visitors navigate to other related pages. Including calls to action (CTAs) within the content can encourage more lead generation.
URL Structure
Building a URL hierarchy can help your plumbing website rank in Dallas more quickly. For instance, your main services page can be a top-level page, while your emergency plumbing services page can be a sub-page of the main services page.
The same can be true of other specific service pages like sewer line repair, burst pipes repair, etc. Search engines can crawl websites with hierarchical site structures more efficiently, while users can easily navigate them. In both cases, the plumbing company earns trust that can produce more leads in 2023.

Local Citations
Local plumbing companies should submit their contact information across various online directories, including Yelp, HomeAdvisor, and Angie's List. Other local directories can also help establish your plumbing company's information.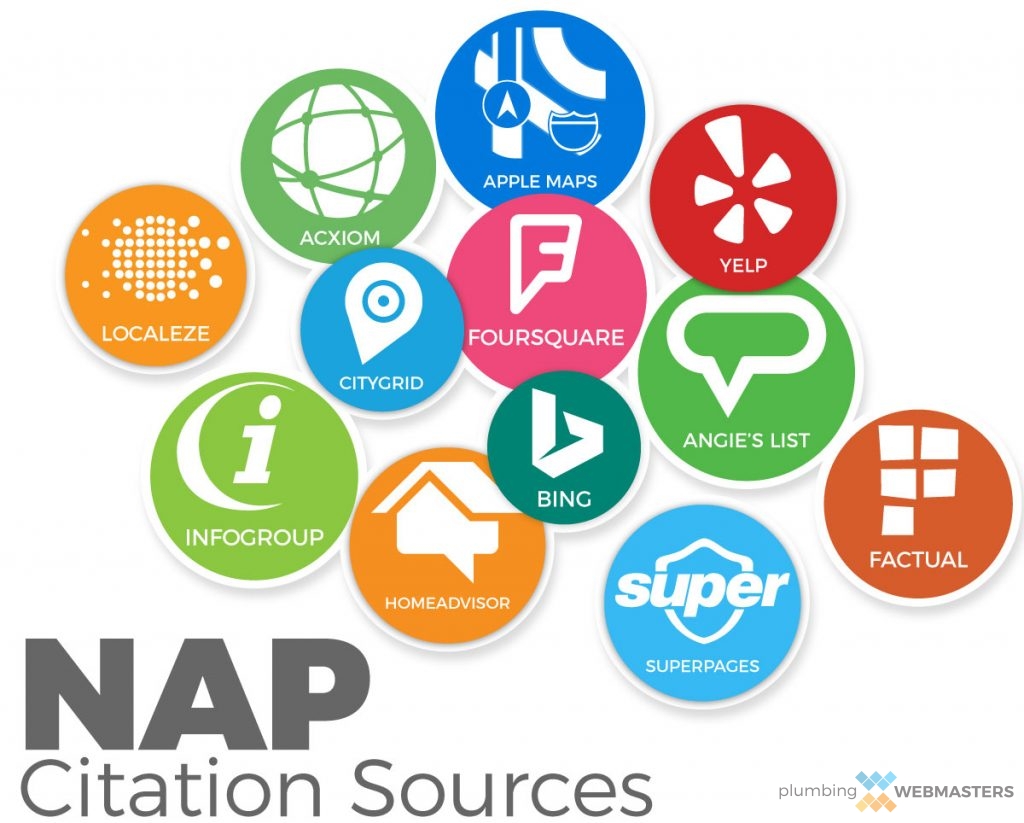 Submitting consistent contact information across directories can help solidify your business for search engines. Citations also build a collection of nofollow links. While such links don't count as a direct ranking factor, Google does view them as ranking hints.
DataPins Local SEO Tool
One way to separate your Dallas, TX plumbing company is to use an SEO tool called DataPins. For those unaware, DataPins allows plumbers to perform check-ins that showcase recent jobs and corresponding reviews. The tool even formulates schema markup that validates a plumbing service to Google and other search engines.
Utilizing DataPins helps plumbers rank on both traditional search results and Google's Local Map 3-Pack. Aside from its local SEO benefit, DataPins allows plumbers to send automated review requests to generate more reviews on Google, Facebook, and their company website.
Dallas Plumbing SEO Services from Plumbing Webmasters
Plumbing Webmasters offers Plumbing SEO services in Dallas, TX. Our SEO strategy includes website design, on-page SEO, local SEO, and reputation management. We will break down each of these tactics and summarize how they equate to a comprehensive SEO overhaul for Dallas plumbers.