Are online reviews still critical in 2022? Let's take a look at the facts. Nine out of ten consumers read an online review before they make a purchasing decision. 62% of consumers report that they will not buy a product or patronize a service without reading an online review first. Three out of every four consumers say that they trust online reviews as much as word-of-mouth recommendations from their friends and family. 
Should we go on? We won't, but we certainly could. That's because there are reams of statistics that attest to the importance of online reviews. Still, the question remains: how do you get more plumbing reviews for your business? It's a question with which lots of contractors and plumbing business owners struggle. As always, we try to be as helpful as possible to our compatriots in the plumbing business, so today, we will discuss some tips on getting more plumbing reviews.
1) Industry Review Sites
Of course, everyone knows about Yelp. It's one of the largest online review platforms. As a plumber, you certainly need to be present on the extensive review sites; but you can't forget about the industry-specific sites as well.
A lot of people in the plumbing business don't even know about some of these sites. Take a look at some of the home-service oriented review sites that offer listings:
Houzz: Houzz is a site that helps homeowners get ideas for remodeling and renovating, introduces them to products that can help, and connects them with home-service professionals in their area. It also allows patrons of home service providers to leave reviews.
Nextdoor: Nextdoor operates like a social network site for people in your neighborhood. It allows them to discuss local businesses and provides them with a forum to recommend home-service professionals to neighbors. They can leave comments and reviews about your business if it is listed. You can also see a map that indicates Nextdoor users that have recommended your company to others.
Angie's List: Angie's List started explicitly to help people find and review local contractors. They have over 5 million unique users, making them one of the most popular contractor review sites on the internet.
2) Register your Business on Google My Business
Google My Business is outstanding for getting more reviews but makes those reviews more visible. GMB is one of the most viewed review platforms on the internet simply by merit of being a Google service. Since Google owns the lion's share of the search engine market, more people see Google My Business listings and read Google reviews than most other platforms.
If you have not already claimed your business on GMB, you should claim your business ASAP. To help you get more GMB reviews, make sure you retrieve your Google review short link and include it in your email correspondence with customers. Include it on your website and social media posts as well. Visible links will make it easier and more likely that people will leave a review.
3) Reply to Reviews
People will be more responsive to companies that value their input. To get more plumbing reviews, be sure to respond to the ones you already have. Responses will help gain the trust of more new customers, generate leads, and earn new customers who can, in turn, provide your company with more reviews.
Don't just reply to the positive reviews, either. Responding to negative reviews is as, if not more important.
4) Use Online Reputation Management Software
Replying to reviews from multiple platforms can be a burden. That's why online reputation management software can help get more plumbing reviews. When you can effectively manage your reviews and leverage them to generate more leads, you can earn more business and more reviews.
An excellent online reputation management software suite like BrandREVU can help you manage and display your reviews from multiple websites and even show them on your own. It makes it easier for you to garner more reviews and leverage them for Search Engine Optimization.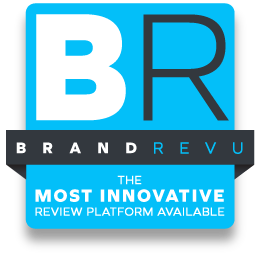 5) Ask Outright
Our last tip is the simplest and possibly, most effective. You have to ask your customers to leave a review. There are effective ways to go about this, though:
Ask in Person: If you feel that you have a satisfied customer on your hand, don't leave until you have asked them face-to-face for a review. It's best to ask for a review as soon as you complete a job.
Follow Up: You won't always have face-to-face contact with your customers – especially if you do commercial work. If you can't physically speak to your customer after completing the job, be sure to follow up with them in an email. Follow-ups not only show that you care about their experience; it offers you the opportunity to ask for a review while your service is still fresh in their minds. Be sure not to wait more than two days to follow up.
Mention the Importance of Their Reviews: Whether you can ask in an email, text, or person, it helps to let the customer know how much their review means to your business. People like to know that their input is valuable to let your customers know that their review is important to your business.
Get More Plumbing Reviews
To get more plumbing reviews, you have to increase your online visibility. That's something we have extended expertise in here at Plumbing Webmasters. Our digital marketing and reputation management services will not only help you get more plumbing reviews; they will help you land more business. Call us for more reviews and more customers!