A plumbing Facebook business page is a dedicated profile that exists on the Facebook social media platform. Plumbing companies need a business page in order to run Facebook Ads and display official business contact information like address, phone number, and website URL.
But how can plumbing companies actually leverage their Facebook Business page as part of a broader marketing strategy? At Plumbing Webmasters, we work with numerous plumbing contractors across the country as they work to streamline their social media marketing efforts.
Time and time again, we see that familiar light bulb go off as they realize the power that social media platforms (particularly Facebook) offer for their plumbing SEO and advertising efforts.
Because of the enormous marketing power that the tech giant offers professionals around the US, our team developed a handy list of pro tips to maximize your plumbing company's Facebook business page.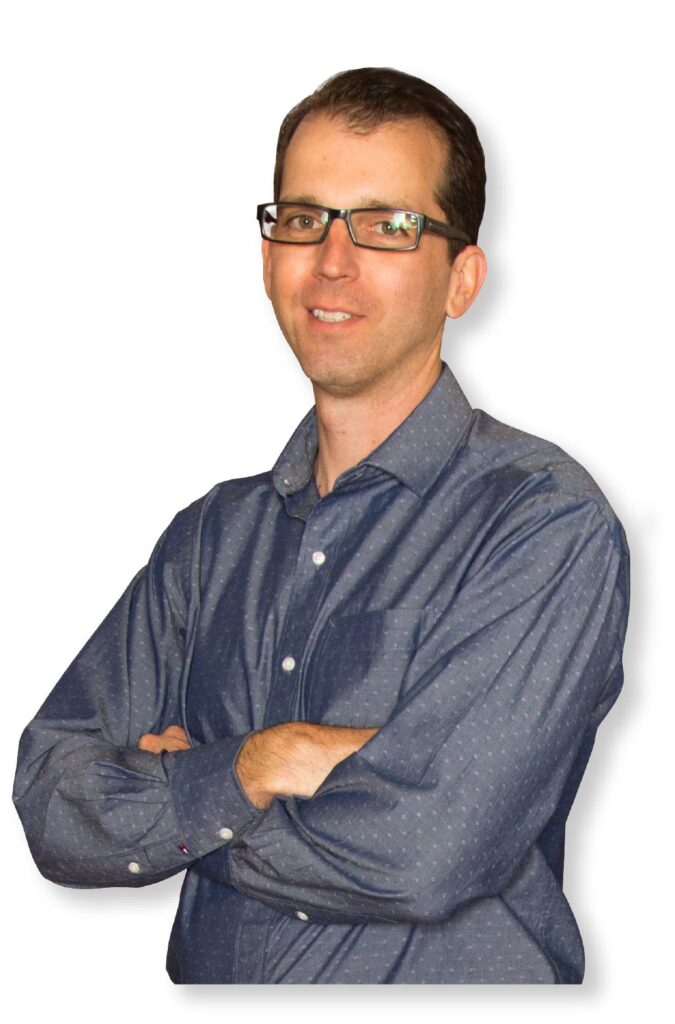 Expert Analysis
Plumbers can use a Facebook Business Page to share content, establish brand authority, and generate additional leads.
Pro Tip #1: Share (and Re-Share) Content
Nothing adds fresh life to your website like rich visual media and informative guides. Google loves this type of content! With thorough plumbing SEO and proper formatting, your content may earn a spot at the top of consumer SERP results as a featured snippet. 
Then again, there's only so much real estate on your plumbing company website. Sometimes there's simply no room for that high-quality video of a recent project. Your Facebook business page offers a perfect place to showcase your most attractive work that (for whatever reason) can't be posted to your blog or gallery.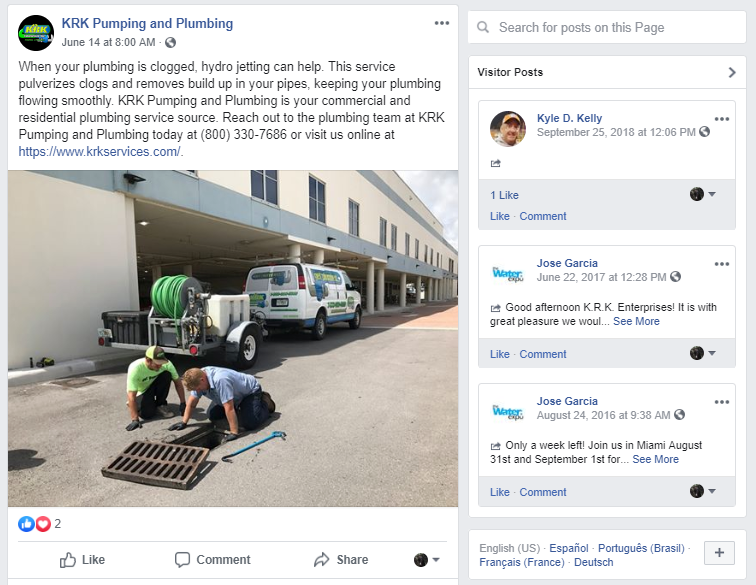 Have a Great Guide You'd Like to Share With Potential Customers? Share it on Your Facebook Business Page!
Unless your company blog already has a substantial following, content rarely travels beyond the page. That doesn't mean it doesn't offer valuable results! Much of Google's ongoing website evaluations depend upon a steady stream of new content. 
Facebook offers an environment much more conducive to sharing your best materials. That includes both organic sharing and paid Facebook advertising.
A New Content Lifecycle
The plumbing industry rarely experiences dramatic change, at least on a year-to-year basis. That means that the practical guide or homeowner savings blog you wrote last year (or even two years ago) still offers great value for your clients! It simply needs updates.
One of our favorite tricks at the Plumbing Webmasters is taking outstanding but aged content and refurbishing it. For instance, we grabbed an older guide, updated the content, added invigorating visuals, and re-released one of our favorite plumber marketing guides (Your 2023 Plumbing Marketing Plan).
So how can your business take advantage of this convenient trick?
Recycling Old Content on Facebook
Step #1: Take any well-performing content from previous years.
Step #2: Review the material and make updates for the current year/audience.
Step #3: Add fresh keyword optimization. Target hot questions from People Also Ask.
Step #4: Infuse fresh visuals, including diagrams, photos, and/or infographics.
Step #5: Re-post on your company blog page.
Step #6: Post the new version to Facebook (minus any internal site links).
Pro Tip #2: Build Your Brand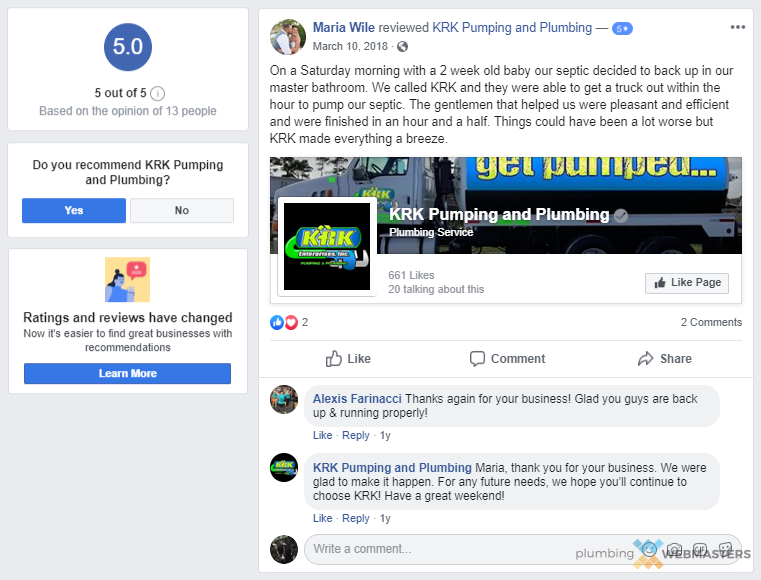 Think of your Facebook business page as the younger brother to your company website. Not only does it offer your customers valuable information about your operating times, reviews, etc., but it also provides you with opportunities to enhance your brand image!
You can convey three essential qualities about your business: expertise, authoritativeness, and trustworthiness. Also known as the E-E-A-T factors, these traits promote deeper interest with prospective clients and higher rankings on Google SERPs. 
E-A-T Up!
So how can plumbing contractors use their Facebook business page to create stronger relationships? Look for activities that naturally develop your E-A-T factors! Below, we identify ways to develop your Facebook profile in a way that emphasizes these qualities.
Qualifying Expertise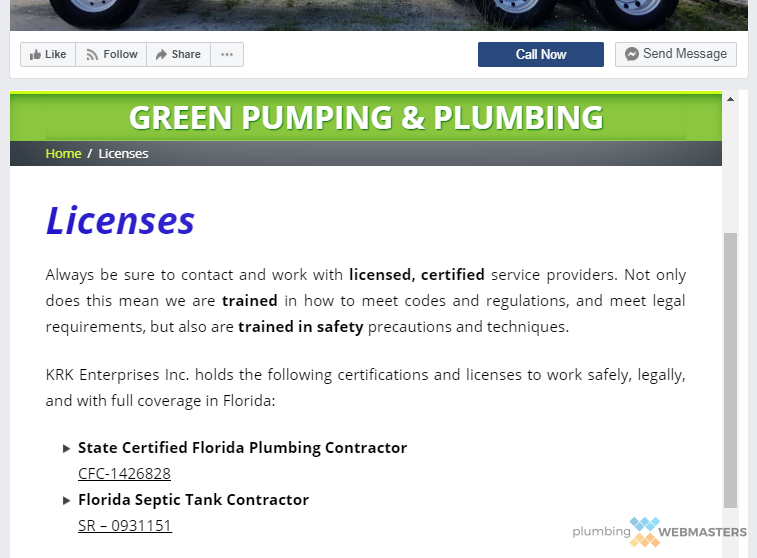 Does your plumbing company offer the necessary credentials and experience to warrant a higher ranking on Google SERPs? That's the question that the search engine tries to answer every time it evaluates content from your website.
After all, directing people to an un-certified professional would reflect poorly on Google's listing capabilities. That's why plumbing contractors must properly showcase their…
State License(s) and/or Certification(s)
Brand Certifications
Training Certifications
Related Association Membership Badges
Years of Experience
All of these website elements show that the company and employed individuals offer the necessary expertise to provide quality service. Your Facebook business page deserves the same treatment. After all, some homeowners shop exclusively through Facebook.
Be sure that your certifications and licenses are featured prominently on your Facebook homepage (or under a "Licenses" page). Likewise, anyone creating blog posts or having content posted under their name should also have their credentials visible at the top or the bottom of the page in a brief bio.
Displaying Authority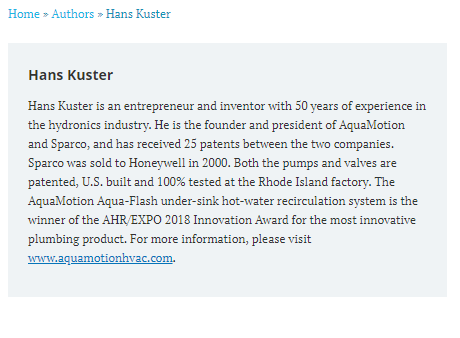 Who would you trust more: a master plumber with 20 years of experience or a hobbyist without certifications? Expertise focuses explicitly on the qualifications of a business and its employees.
According to Google's Search Quality Evaluator Guidelines, authoritativeness examines the website as a whole, the content within, and the authority of the plumbing contractors.
Questions Google Might Ask
Does the website incorporate professional design with competent navigation?
Does the content link to authoritative industry sources?
Does the site review and refine content on a regular basis?
How often does the site produce new content?
What are the content developer's qualifications on the subject?
How many other sites link back to material on this website?
If your business has already been around for years, odds are you and your employees already have significant industry knowledge that's worth sharing. Share your professional insights (or have a content writer ghostwrite them for you) in a simple guide.
Just make sure you proudly share your credentials in certification form or in a bio (as in the example above). Authoritative content shared by an experienced industry authority makes for good plumber SEO and great shareability!
Earning Trust
Trustworthiness offers a bit of a conundrum. On one hand, you can easily spell out the various activities and qualities necessary to earn trust. On the other, building rapport with followers and customers takes genuine effort and (often) a lot of time.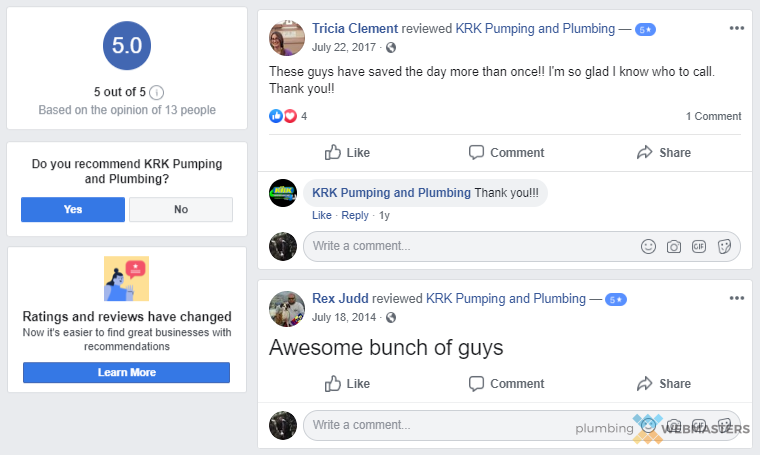 The fastest way to prove your company's trustworthiness is to let your happy customers lay the groundwork!
Of course, you'll have to ask for reviews to receive them! If you haven't already, try creating a special "Please Review Us!" card (or text program) that your professionals can distribute to customers after a job. Facebook page is the perfect place for reviews for many reasons.
Why Facebook Business Reviews Are Awesome
They're prominently featured across each page.
Customers tend to speak more informally.
Your business can easily write back to customers to thank them.
Facebook reviews can be easily seen by Google, too, affecting trust ratings.
While it may be tempting, never erase negative reviews unless they contain inappropriate or hateful speech. Show a thoughtful attempt to address any unhappy client posting in the reviews. An unhappy review here and there actually creates a sense of credibility that you wouldn't have with only 5-star ratings.
Pro Tip #3: Generate Additional Leads
With over two billion active users on Facebook, no other social media platform offers such a fantastic opportunity for developing leads away from your website. As we mentioned, your Facebook business page provides a second outlet for connecting with potential clients.
To support plumbing contractors and professionals in other industries, the social media giant provides incredibly sophisticated analytical tools too! Perhaps the most important tool is Facebook Insights.
What sort of information do you have at your disposal?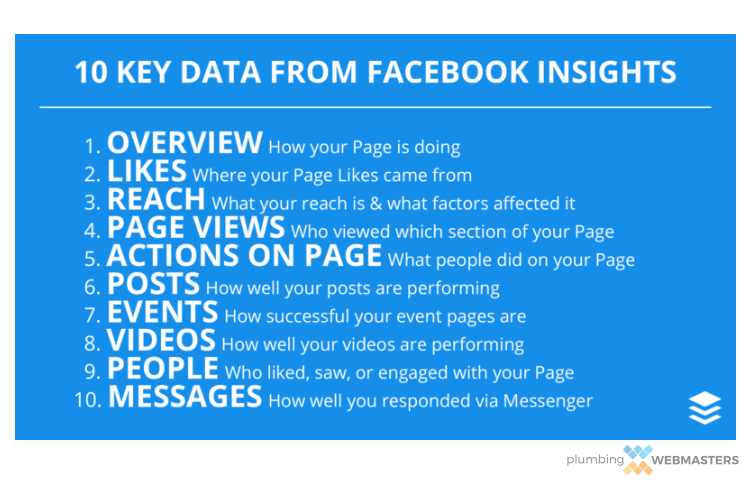 Think of this analytical tool as a report card for your Facebook business page, but one that offers infinitely more detail. Your social media marketing team can easily track performance, outreach, and engagement with your target community.
The platform also makes it easy to take your most popular posts and turn them into paid advertisements via the "Boost Post" feature. Do you have a particular video or guide that people just go crazy for? Try turning that content into an ad and target your geographical area.
Speaking of targeting, a huge percentage of wasted ad budget can be traced back to campaign/target mismatch. You have the right promotional message but the wrong audience.
With Facebook's ability to deliver pinpoint targeting (demographic, monetary, industry, etc.), you can rest assured that your advertising shows up in front of the eyes you want to see it. 
Now you can reach new markets you've been dying to test.
Plumbing Webmasters & Social Media Marketing
Do you feel your team has neither the time nor energy to manage a Facebook business page successfully? Our team at Plumbing Webmasters would love to help! Our social media marketing team specializes in building long-term engagement and optimizing your page for search.
We also target those essential E-E-A-T factors (expertise, authoritativeness, and trustworthiness) to expand your business online. Clients regularly experience faster lead development, increased ROI on ad spend, and superior plumber SEO development.