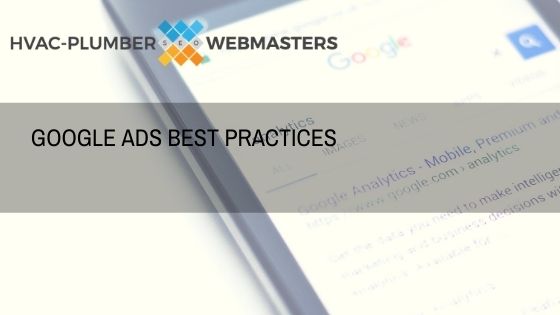 Google Ads for plumbers is one of the best ways to grow your business online. But first, plumbing companies must understand the pros and cons of utilizing ads on Google and implementing them for optimal results. This easy-to-follow guide from Plumbing Webmasters will help you get results.
Who should I target with Google Ads for plumbers?
You want to go for customers who are willing to pay for high-quality services. The best way to do this is by targeting keywords that lead to high-paying jobs. If you go for terms like water heater and slab leak, you are more likely to convert a high-paying customer than if you simply target a basic term like a plumber.
What are negative keywords for plumbers?
Negative keywords are terms or phrases that prompt your ad to NOT be shown to the user. You want to mark negative keywords that are highly unlikely to convert into paying customers. These terms include those that indicate someone who is looking for DIY help or someone who is looking for a product, rather than a service.
Should I PPC my own company name?
Not in most cases. Many marketing companies that provide Google Ads management recommend this tactic for misleading reasons. Because the click for your company name is so cheap, and the clicks were likely to come for that term anyway, the global cost per click of your campaign goes down which makes your overall numbers appear better.
What are Google Ads for Plumbers?
Google Ads refers to Google's advertising platform along with specific ads run on the SERPs. Advertisers bid to show ads for services, products, and videos to relevant searchers. In addition to appearing on search results, Google Ads can also appear on display networks, including mobile apps.
---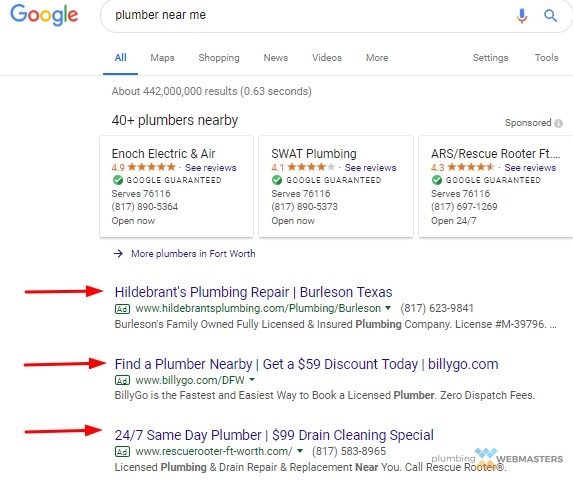 Plumbing companies that invest in Google Ads can instantly rank at the top of search results for industry-related keywords.
---
Why Plumbers Should Use Google Ads
Consumers use Google to find plumbing services all the time. Appearing on advertisements for relevant searchers can get you new customers and produce consistent leads. While you can also get customers from Google using SEO, the process takes longer and requires more patience than advertising.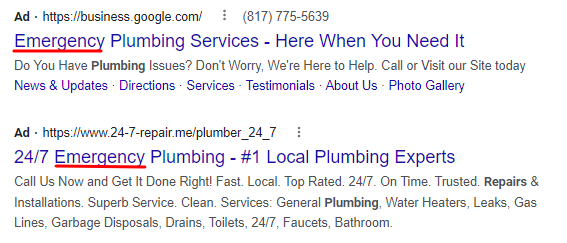 Creating a Google Ads Account
It's simple to set up a Google Ads account. First, select Start Now in the top right and log in to your Gmail account if you haven't already. Next, Google prompts you to choose your main advertising goal, which you can do so based on your preference. From there, navigate to the bottom of the page and select Switch To Expert Mode.
After entering the expert mode, Google brings you to another page that prompts you to set goals. Choose Create a Campaign Without Goals which gives you complete control over your campaign. Finally, choose Search for campaign type, which prompts you to select your ideal results. As a plumber, you should pick Phone Calls and Website Visits.
General Settings
Once you select Continue, you come to the general settings area. Enter your campaign name and uncheck Display Network and Search Network.
Of course, you can keep both of these checked if you have a massive budget, but otherwise, you should focus only on Google SERP ads. For context, keeping these items checked will push your ads to other search engines along with other areas of the internet. Of course, you can always go back and recheck them later.
Audience Targeting
Next, you must configure audience, location, and languages. Your language will typically be English or Spanish, while your location should be your service area. For the audience, choose Observation which allows you to add different audiences.
Budget
Google Ads allows you to set a daily budget which should cap at the most you're willing to spend in a single day. Consider anywhere from $20-$100, depending on your size and resources. Next, choose Clicks as your bidding focus and check the option to set a maximum cost-per-click bid limit. Failure to check that box results in Google automating your budget.
Ad Extensions
For ad extensions, make sure you add your plumbing company website URL as a site link, along with your business phone number. You can also add extensions by the group level later.
Ad Groups
Ad groups are sets of related ads that will appear in relevant searches. They consist of URLs, headlines, and descriptions. For example, your plumbing services ad group may include faucet repair and sewer line repair. Google will also recommend additional keywords, which you can choose to add or not.
URLs
Ensure you add a secure URL with an SSL certificate to prevent drop-outs from the non-secure warning prompt. The Final URL represents the exact web address for your landing page, while the Display URL shows the URL however you wish to display it.
Sometimes, your landing page won't have an appealing URL, so you can make it look better in the Display URL. Either way, ensure the landing page is relevant to the ad.
Headlines
Google recommends doing three headlines per ad, at minimum. Headlines allow for 30 characters maximum, so you'll have to get creative with word sequences. Of course, inserting keywords is ideal, but many plumbers also include pricing to grab the user's attention.
Your headlines look better when capitalizing the first letter of each word, a method known as Title Case.
Descriptions
Google recommends a minimum of two descriptions which often include words about your experience and clients. The goal is to build trust with prospects immediately and cement your authority within the plumbing industry.
Measurements & Conversions
After your campaign starts, you'll want to track performance through measurements like CTR, CPC, clicks, and impressions. For your Google Ads campaign to be worthwhile, you'll have to turn a profit based on total revenue.
It's easy to lose money fast with poorly run ad campaigns, so measurement is critical to your success.
Setting Up Tracking
Select Tools & Settings followed by Conversions, at which point it prompts you to answer which types of conversions you want to target. Again, you should select Website in the majority of cases.
Keywords
Plumbers can add new keywords from the campaign homepage by scrolling down to Summary and selecting Keywords. Google will recommend additional keywords to use as well.
Exact Match Keywords
Exact match keywords show up when users type any of your set keywords. You can use brackets to signal that your keywords are an exact match so they appear whenever a searcher types the exact term or phrase.
Negative Keywords
Negative terms allow plumbing companies to hide their ads for specific queries like diy plumbing, which helps maximize an ad budget by eliminating irrelevant users and non-consumers. Unfortunately, anyone looking for DIY plumbing info won't buy your services and therefore is a waste of your time.
Other AdWords Considerations for Plumbing Companies
Optimizing Landing Pages
Landing pages are the destination page for users who click through your ad, making them vital to high conversion rates and overall success. Unfortunately, many plumbing companies lazily send users to their website homepage for ads that talk about specific services.
The result is lower conversions for your company and headaches for the user. Ensure each landing page ideally lines up with the ad copay for your campaign.
Connecting Google Ads to Google Business Profile
As you likely know from your own experience on Google, the Local 3 Pack is one of the essential spots for a plumber to show up. This Map Pack pulls the top Google Business Profiles in the area and showcases them to nearby searchers. Plumbing listings primarily earn map rankings through organic optimization, but there is now an advertisement spot within the Local 3 Pack (Local Service Ads).
LSAs change the definition of the 3 Pack since it can now be four, but it is another opportunity for your plumbing company to generate clicks for its business. Connecting your GBP and Ads accounts won't guarantee your spot on the Map Pack, but it will undoubtedly increase your chances.
Paying for Branded Clicks (Plumbing Company Name)
PPC management services are infamous for their trickery. Many of them lure clients in by promising them lots of clicks. When it comes time to report on these clicks, the numbers seem to validate their original claims. The problem is that these clicks are virtually worthless to the client. One such trick used is the PPC'ing of one's own company name.
These clicks are dirt cheap and therefore drive down the global CPC for your campaign, but what your manager doesn't tell you is those clicks would've come to your website anyway through organic. They are a waste of time, money, and resources and are only there to manipulate reporting numbers. 
Final Thoughts From Plumbing Webmasters
Google Ads can be highly effective for plumbers. Creating a successful ad starts with following Google's criteria for advertisements and targeting the correct keywords and demographics. Not all ads are the same on Google. Some have sitelink extensions and calls to action, while others are simple text lines without much depth.
The highest bidding advertiser is not always the one whose ad will appear first. Google takes several things into account, including the ad's quality, which they measure through their metric called Quality Score.