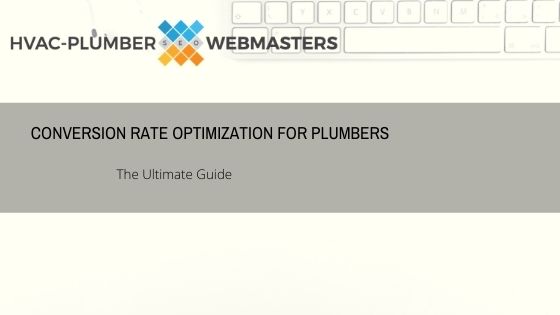 Setting up your plumbing website to convert visitors into customers is called Conversion Rate Optimization (CRO). Conversion Rate Optimization is an integral part of your digital marketing strategy by making your customer acquisition process more efficient.
If you have not yet taken advantage of conversion rate optimization for your plumbing website, pay close attention to today's post. HVAC-Plumber SEO Webmasters will dive into the details of conversion rate optimization, including how you can benefit from it, how you can utilize it, and more.

Key Takeaway
Showcasing your company's reputation and providing an outstanding user experience are the two fastest ways to boost website conversions.
How Can Your Plumbing Website Benefit From CRO?
What's all the hype about conversion rate optimization? Why are so many people investing in it these days? Some distinct advantages come along with conversion rate optimization. Here are the most important ones:
Uses Existing Traffic: The focus of conversion rate optimization is not to help you convert more simply by driving more traffic to your site. It focuses on converting the traffic you already have. In this way, you won't have to spend money on acquiring new traffic to boost sales.
Efficient Marketing: Business owners spend a lot of money on digital marketing, but very few are happy with their conversion rates. The fact is that conversion rate optimization boosts sales, but for every $92 spent on marketing, only $1 is spent on CRO. Conversion rate optimization can make your marketing campaign more efficient.
Helpful in Other Areas: Part of conversion rate optimization improves the user experience of your website and makes it as sleek and user-friendly as possible. CRO helps with converting customers, and it will make it more likely that your page gets ranked higher with search engines and that people will visit again.
Starting With CRO
The first step toward optimizing your plumbing website for more sales or leads is thorough research. How will you know what to focus on if you don't know the aspects of your website that need improving? There are a few research elements that you should focus on to get the most insight as to how you can optimize your plumbing website for more sales. They include:
Analytics Testing: It sounds intimidating, but you have to dive into your website's analytics to understand how it's performing truly. Google Analytics is a handy tool that lets you see what areas of your website are performing poorly.
Ask for Feedback: You can always reach out to customers and visitors with a friendly email asking them to rate their experience on your website. Gaining insight from the source is often the most helpful guide to conversion rate optimization.
Visitor Tracking: Visitor tracking has become an essential part of conversion rate optimization because it helps you build a profile of the people visiting your site instead of leaving them as nameless statistics. Visitor tracking software can yield names and even contact info for the people and companies visiting your website, which you can use for more focused marketing and website optimization.
Heat Mapping: Heat mapping is another handy tool for both UX and conversion rate optimization. Heat mapping allows you to see which sections and pages of your website get the most clicks. It can help you research which buttons and calls to action are working and which aren't. Heat mapping can also show you where your visitors are exiting from your site.
A/B Testing: If you are getting a good amount of traffic to your website every week, there is no reason you shouldn't be A/B testing. A/B testing uses your current website and its variation and allows users to interact with each. It provides invaluable insight because you will see which version performed better or got more clicks at the end of a test period (at least seven days).
Professional Assistance: Of course, if you are too busy to look into the numbers yourself, you can also enlist the services of an analyst or CRO consultant.
Utilizing CRO Data
Once you have done your due diligence in terms of research, it's time to start putting the data to work. Your research should provide a clearer view of what people like and don't like about your site and which pages perform the best/poorest. Use this information to:
Alter Written Content: Your heat mapping should have told you which CTA's (Calls To Action) are getting clicks and which aren't. It should have also told you how much time people are spending on each page. Use this information to improve your pages' written content, including crafting compelling CTA's and providing content that offers more value to your target demographic.
Manage Reputation: Reputation management can help with CRO because if people see many good reviews on your website, they will be more likely to trust your business. Online reviews and testimonials can be powerful CRO tools for your website.
Improve User Experience: Use the data you have gathered to find out where people are having trouble on your website. Maybe there are dead links, online forms that don't work correctly, or simply a complicated website design that keeps you from converting more customers. Remember that solid UX is a cornerstone of conversion rate optimization.
Website Personalization
Website personalization is the process of showing repeat visitors to your site content relevant to them based on their past interaction with your site. In other words, what one visitor sees when they go to your site may not be the same as another visitor. 
In the past, this was an arduous task that very few small businesses could afford. Today though, there are advanced, automated tools that allow you to personalize the user experience for repeat visitors.
Website personalization can help increase conversion rates by showing people content relevant to them and speaking directly to your visitors' needs. 
Summarizing Conversion Rate Optimization for Plumbers
A plumbing website that fails to convert visitors into customers is a wasted investment. It is important that plumbing companies optimize a website that ranks well on search engines and brings in new customers. There are various ways to optimize your website for conversion rate, and each will contribute to the overall quality of your website.
Demonstrating the principles of E-E-A-T: expertise, experience, authoritativeness, and trustworthiness is a big factor in improving conversion rates. As a result, cementing your reputation and showcasing it through your website is essential for plumbers. Website user experience is another critical factor that will impact conversions for your website visitors.