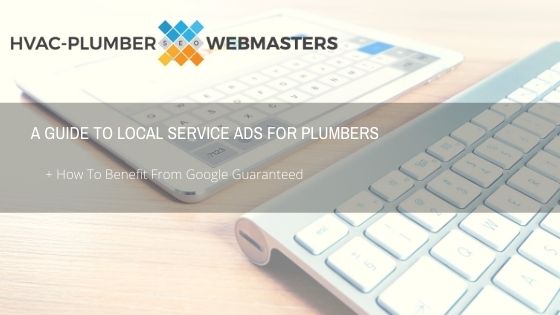 Plumbing contractor local services ads are online advertisements that can help plumbing businesses succeed. Local services ads for plumbers take paid advertising to the next level. After initially rolling out in select cities throughout the U.S., these ads are now available nationwide.
Local plumbers can undoubtedly take advantage of this service. As a result, local services ads are already becoming an essential aspect of digital marketing, which your plumbing company should research and test as part of a comprehensive digital marketing strategy.
Key Takeaway
LSA ads for plumbers appear at the very top of local search results, making them a valuable advertising channel for plumbing companies.
What Are Plumbing Contractor Local Services Ads?
Local services ads are digital, paid ads that appear when someone does a local search for a particular type of service. A perfect example of a search that would qualify for a local service ad would be something along the lines of Plumber in St. Petersburg, FL.
If you are a plumber in St. Petersburg and you have a live local service ad, then your ad would show up to the searcher. Local service ads differ from standard PPC ads, though. Instead of paying every time someone clicks on your ad, you pay when the searcher makes a call to your company.
This way, you can eliminate the need to pay for people who errantly click on your ad or don't move further along the sales funnel. With local service ads, you only pay for warm leads.
Why Plumbers Should Use Local Services Ads
There are many advantages to local services ads. Here are just a few of the most important ones:
Google Guaranteed
You will need to get the Google Guaranteed badge to start using local services ads, which is a hurdle, but it will add credibility to your brand. The Google Guaranteed badge lets consumers know that they can trust you. In some instances, having this badge can increase leads.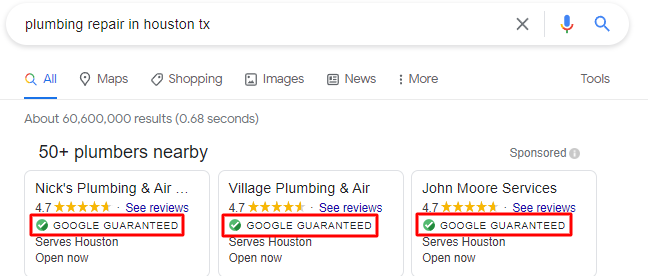 Fast Results
Local service ads target people already looking to connect with service providers. As a result, they can move consumers along the sales funnel faster than standard PPC ads. With traditional ads, the consumer arrives at a landing page and maybe gets in touch with you.
Conversely, the consumer clicks the ad with local service ads, asks a couple of qualifying questions, and calls you.
Top Rankings
Local service ads appear at the top of qualifying search engine results pages – even above the highest-ranking organic search results. Their positioning increases visibility and makes it more likely people will see and respond to your ad. 
Reputation Compatibility
Signing up for local services ads will include setting up a Local Services profile. Part of your profile will consist of reviews that people have left you on Google. Google ranks your ad based on the number of reviews and aggregate star scoring (along with considering the searcher's proximity).
Built-in Conversions
One of the best things for plumbers is that you won't need to design any landing pages. There's nothing fancy about plumbing contractor local services ads. Instead, they provide all the vital information that consumers need to know, like your area of service, phone number, hours of operation, and the services you offer.
Getting Started with Local Services Ads
The first thing you will need to do is head over to the Google Local Service Ad signup page. The signup process will first include providing Google with copies of your business license, business insurance, and background checks for any of the team members that actually will be entering your customers' homes – including yourself.
The Google Screening process usually takes between 2 and 5 weeks. In the meantime, though, you should be setting up your Local Service profile. The information you will need to fill out includes: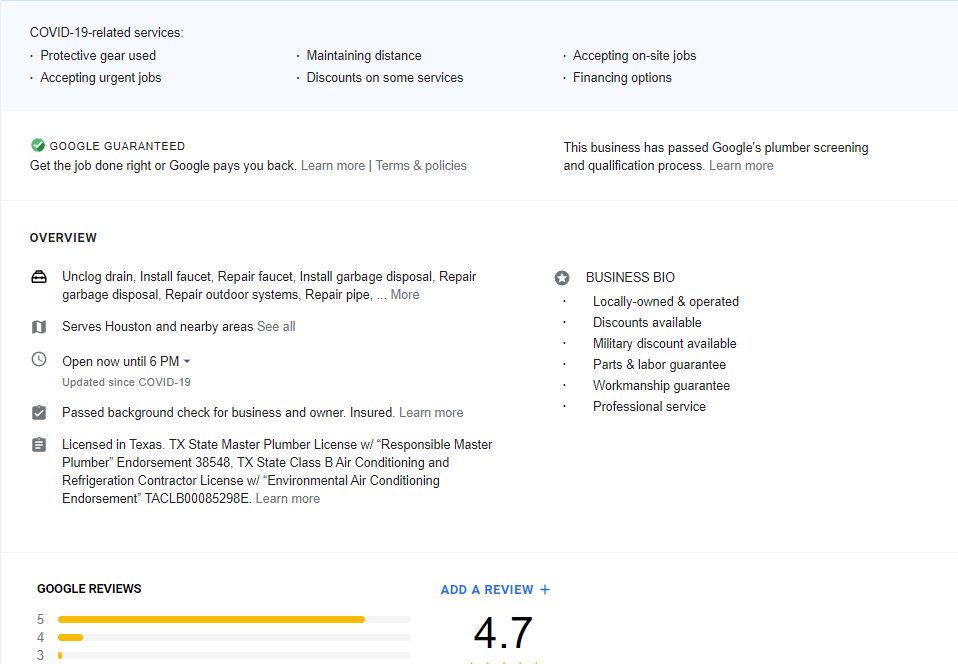 Basic Business Info
Business info includes your company's name, the phone number(s) for your business, hours of operation, and the areas you service.
Services Offered
It's essential to include all of the services you provide. Local services ads use the service information you provide to qualify customers and connect them to your business, so make sure you list all of the plumbing services you provide.
A Company Overview
Google allows you to write a little something about your business in your own words. It would be best if you used this section to talk about what makes your company unique, your company values, important customer history, or anything that will endear your business to the viewer.
Google Reviews
Google reviews are included in your local service ad, so it helps to generate as many as possible using software like DataPins.
Local Service Ad Tips for Plumbers
While the process is relatively simple, there are still some things you should keep in mind if you want the highest ROI for your ads. Here are some tips: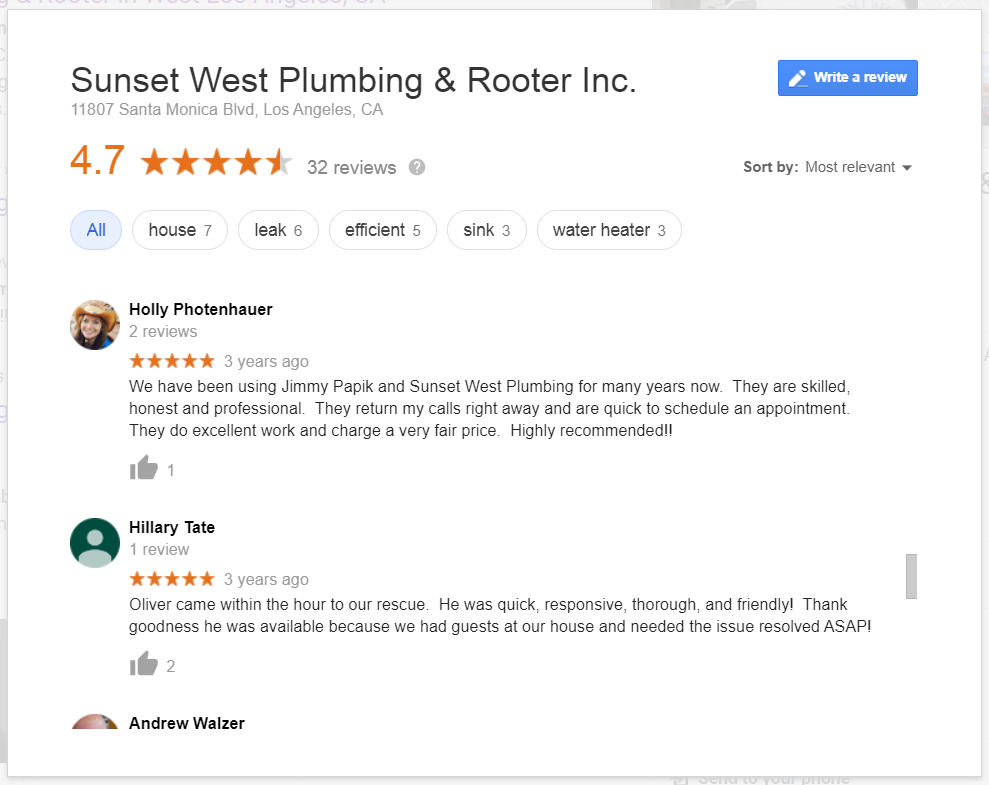 Check NAP
Double-check that all the NAP (Name, Address, Phone Number) information on your Local Service profile is correct and corresponds to NAP information listed for your company elsewhere on the internet. 
Request Reviews
Be sure you keep up with asking your customers for reviews. Positive reviews are essential for local service ads and help yours rank higher.
Monitor Certificate Expirations
Your certifications will have an expiration date with Google. So when setting up your profile, be sure to closely review when your business licenses and other certificates will expire and include the precise date.
Final Thoughts on LSA for Plumbing Companies
One benefit of plumbing contractor local services ads is that they are more straightforward than PPC ads to set up. Yes, you will have to gather copies of insurance, licenses, and background checks and send them out to Google; but that's the hardest part.
Setting up the profile is very easy and can be done in about an hour. Your work is done once your documents have been verified and your profile completed.