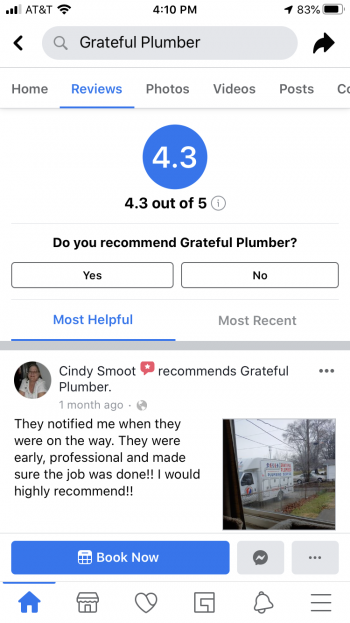 If you've ever closed your feed, deleted an app, and sworn off social media before, you know just how time consuming the marketing channel can be. Every day, countless Americans spend hours of their life pining away at photos of friends and loved ones. What we often forget, is how often social media helps us find the goods and services we need most.
While most consumers rely on Google for their day to day search, others use Facebook, Instagram, and YouTube to explore their plumbing options.
Today, we'll be examining three of the top social media advertising platforms, and how to harness them on a budget. Each offers sophisticated marketing solutions for connecting with qualified prospects in your area, for a price. If you've never dipped your toe into this particular social pond, be sure to take notes! You may just discover your next supplementary source of revenue.
Before You Advertise on Social…
Commit to taking baby steps every week. Social media advertising can be an intimidating proposition, especially if you've never had any experience with PPC campaign management. Tackle one platform, one tool, one service at a time! Not only does this make social media more manageable, it also allows you to better trace lead generation more accurately.
Helpful Tips on Social Media
Set a maximum budget ahead of time.
Explore all your free options in each platform.
Keep your contact information consistent, especially addresses.
Practice creating multiple campaigns before you launch one.
The odds of striking gold and "going viral" on social media may be small (especially for a plumbing business), but there's so much practical value in taking full advantage of free exposure. For instance, a company profile offers another outlet for consumers to ask questions about your services, request quotes, and even call. Don't expect Facebook to replace your website anytime soon, but it just might offer the sort of personal interaction that people need to try your business for the first time.
Advertising Through Facebook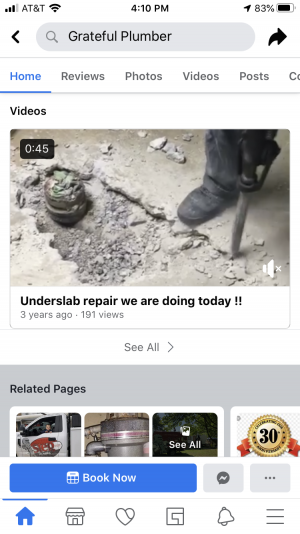 Speaking of Facebook, our first platform features an outstanding collection of over two billion active user accounts. While the social media staple has surely matured over the last few years, there are still thousands of people in your community spending time on Facebook every day. That means plenty of opportunity to get your plumbing company brand in front of the right eyes!
So many plumbers make the mistake of only trying Google Ads in their PPC strategy, when Facebook offers an equally (if not more) affordable marketing platform. Through the Facebook Ads management system, plumbers select the desired geographic area, target audience, and viewing window for their specific needs. This makes it much easier to maximize return on advertising spend and minimize bad leads.
If you've struggled with low conversion problems in your current ad strategy, you realize just how crucial eliminating bad leads is to your bottom line!
Advertising Your Most Popular Content
On a side note, Facebook also proffers solutions for reinvigorating your content marketing campaigns. If you have a popular video series or how-to guide that you'd like to milk for even more leads, try "boosting" them for a very reasonable cost. You don't get as much control over who sees your posts, but the exposure might be worth the investment.
Just don't get carried away. Focus on assets that deliver real leads to your company phone, not likes to your Facebook Business page. Likes may feel great, but they don't pay the bills.
Advertising in Instagram
Have an unusually photogenic plumbing team? It might be time to start posting those happy smiles to Instagram! The sibling platform to Facebook may cater to younger demographics, but that user base is aging into home ownership. Instagram advertising offers a distinctively visual medium for showcasing your services and staff.
If you're looking to advertise with purpose, lay the groundwork by collecting an extensive variety of quality service photos, staff shots, and family pictures. This will give you a stronger assortment of images to choose from when you make your ads. You may also capture some short videos of repair jobs or plumbing products for Instagram Stories. Professional grade footage isn't mandatory; an iPhone or Android device should be enough to acquire the video you need.
Getting Started on IG
Thankfully, Instagram's ties to Facebook mean you have many of the same sophisticated consumer targeting tools. Pick your audience and location, and start testing ads! Don't put all your money into the first campaign. It's going to take several tries before you find a style that clicks with your audience.
Once you've developed a complete company profile on Instagram, be sure to send some of that visual love towards your website! High-grade, original photos make a big difference in organic SEO for plumbing. Both Google and your users appreciate the effort, and you might as well get extra credit for all your hard work! Plus, nice looking photos are their own reward.
YouTube: Video Ad Heaven
One of the most explosively successful platforms in the last decade, YouTube offers billions of hours of content in a convenient user experience. The YouTube Advertising experience is just as lucrative, offering a variety of means for connecting with your target audience (be they residential or commercial). Your audience won't demand professional level footage either!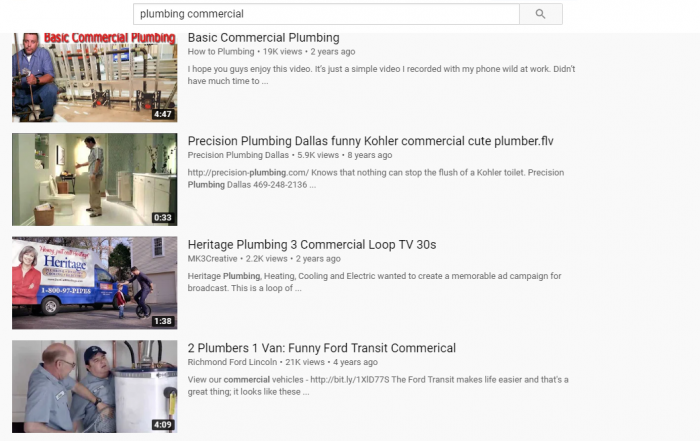 Advertising Options on YouTube
Most video ads range between 6 and 30 seconds, and come before the viewers desired content. That's plenty of time to show off your brand, explain a promotional event, or even fix a leaky pipe. You can also create full length videos and pay to have them promoted on viewers video queues. How-to guides are perfect for this style of YouTube ad.
Just make sure that all your videos link back to your website. Better yet, create unique landing pages for the services most related to your videos.
Parting Thoughts on Ads
Experiment. Experiment some more. Then, experiment again. Finding the ideal platform and social media advertising style is going to take time. Keep taking those baby steps towards your lead generation goal, and protect your budget against splurging.
Remember, social media marketing is supplement for SEO. It's not a replacement.
If you'd like professional help with your plumbing social media advertising, our team at Plumbing Webmasters is here to serve you! We provide budgeted campaign management for both Facebook and Instagram advertising platforms. To learn more about our services, contact our team today at (877) 388-9884!