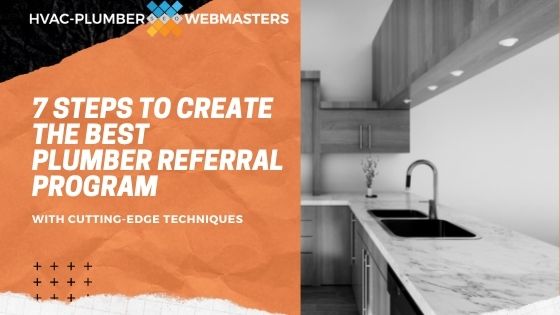 In the following post, HVAC-Plumber SEO Webmasters outlines seven steps to create the best plumber referral program.
As a plumber, you can never have too many leads. Leads can make or break your business. However, some grass-roots marketing strategies are still incredibly effective for lead generation campaigns. Case in point: referral programs.
Why are referral programs for a plumber still so effective in 2023? Well, for one thing, a staggering amount of the consumer population prefers word-of-mouth referrals to any other form of research or advertising. 
Another critical reason plumbers should be taking advantage of referral programs is that plumbing is very much a local business, and consumers value the opinions of their friends and neighbors when looking for home service providers.
Implementing a referral program is easier said than done. So how do you incentivize referrals without making them disingenuous? How do you influence your customers to tell their friends and family about your business? The following tips will provide insights into these complex questions.
1) Publish a Call-To-Action
Most customers learn about plumbing referral programs through your website or email marketing campaigns. But, of course, you can always mention the program in person or over the phone as well.
From a digital marketing perspective, displaying the terms of your referral program right on your website's homepage can help increase participation. You can take it further by creating a specific page for the program and linking it to each of your site's service pages.
Be sure that the terms are clear wherever you describe your referral program. Take some time to write up a draft that reviews the terms and conditions, incentives, and time restraints. Then take some time to review the draft a couple of times to make sure it makes sense. 
Finally, end the description with a solid call to action like "sign up today," or "join now," or even "tell a friend about us now!" Of course, the most effective CTAs appear as a button or link to the referral form.
2) Create Incentives
You must carefully think about incentives because you want them to entice the customer, but you don't want to put yourself out of business. For a plumbing company referral program, we recommend something like a free plumbing inspection or 15% off your next service call. 
Maybe a supplier has given you some free products to help get the word out. Offer the installation of this product for free in exchange for a referral. 
3) Assign Referral Codes
Assign referral codes any time someone signs up for the program to track which referrals are coming from which customers. Giving names seems like enough, but you may have more than one customer with the same name.
When someone signs up for your plumbing referral program, be sure to assign them a code that they give to the people they refer to your business so you can reward the referee accordingly.
4) Incentivize Referrals
You can offer incentives to anyone referred to your business (and purchases a service) by an existing customer. Google Pay did this a little while back to great success.
To get people to sign up for their new service, they gave a signup bonus of $50. Then, they gave an additional $10 to the new signee every time they got a friend to sign up. In turn, the new referral would be given the same $50 signup bonus plus the opportunity to get an extra 10$ every time they signed someone else up.
Of course, only a company like Google could afford a referral system like this, but you can scale it to your budget. For instance, you can give 15% off the next plumbing service of the referrer and the referee in your program, thereby incentivizing both parties to refer/make a purchase.
5) Email Marketing
Plumbing companies with an existing email marketing list are ahead of the curve for referral awareness. For example, you can immediately notify subscribers of your referral program with a single email broadcast. Similarly, you can remind subscribers of the program or provide new incentives to engage.
The list you worked so hard to cultivate will accelerate the success of your referral program. Include all the terms and conditions and your call to action (a link to where they can sign up or get their referral code) within your emails.
You can also create social media posts that promote your referral program to spread the word. You can more or less use the same content as your email messages for this. Just don't forget to include all relevant information and a link. 
6) Distribute a Flyer
A plumber referral program flyer can convince local residents to take action. Much like a CTA works on digital platforms like a company website or Facebook page, a brochure works in the physical world. Existing customers might pass your flyers to friends or family members, while future customers may notice the flier and decide to utilize your services.
Designing an appealing flier is easy. You can even create the flyer yourself using a tool like Canva. However, if you'd like to go the more professional route, consider hiring a flyer design and distribution company to handle all the heavy lifting themselves. You will get a complete report after campaign completion.
7) Word of Mouth
It all comes back to word of mouth. Be sure that you and your team tell satisfied customers about your new plumbing contractor referral program at the end of service calls. You may even want cards or leaflets made up that explain the terms and tell the customer how and where they can sign up.
Much like reputation management, discussing referrals in person can make your digital communications more potent. Consumers who've discussed the process with you beforehand are more likely to take action when reminded of the offer in digital form.
Merge With Marketing
Referral campaigns are a form of marketing for plumbing companies. Like any other promotional effort, the impact is more significant with a full-scale marketing approach. For example, plumbing contractors who invest in custom websites, SEO, and reputation management will reach more customers with every endeavor.
To learn more about plumbing marketing services, contact HVAC-Plumber SEO Webmasters.