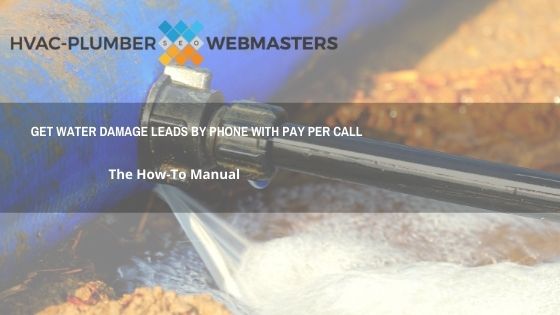 Do you want water damage leads by phone with pay-per-call?
As a plumber, your business depends on quality leads. It would help if you had leads to create a steady customer base. The problem for many plumbers and marketers alike is that it is notoriously tricky to drum up leads.
However, the advantage that plumbers have is that they offer an essential service. People won't wait around and decide whether they want a water leak fixed – they will pick up the phone and call a plumber immediately.
For this reason, water damage leads are some of the most coveted for plumbers. But how do you get more water damage leads? One option is pay-per-call advertising. Pay-per-call works a lot like pay-per-click, only with phones.
Getting water damage leads by phone becomes infinitely easier when you opt for a pay-per-call advertising campaign. In the following post, Plumbing Webmasters will explain the basics of pay-per-call for plumbers and show you how to get more water damage leads by phone.
The Basics of Pay-Per-Call
Say you want to advertise your water damage service. You create an advertising campaign and go to a pay-per-call advertising service to publish and manage it.
Once your campaign is live, the publishers (sometimes called affiliates) give your campaign a unique tracking number to monitor which calls came from the ad campaign. Suppose the call lasts a certain amount of time. In that case, if the customer makes a specific qualifying action or if the caller is in a particular area, you pay the publisher.
You pay the publisher for every qualifying call. However, if the call does not meet specific criteria, you don't have to pay. As a result, you only pay for quality leads, which makes this option so viable for getting water damage leads by phone.
When the caller has met specific qualifying criteria, it typically signals a customer ready to pay for your service. At this point, however, you may be wondering how these criteria are determined.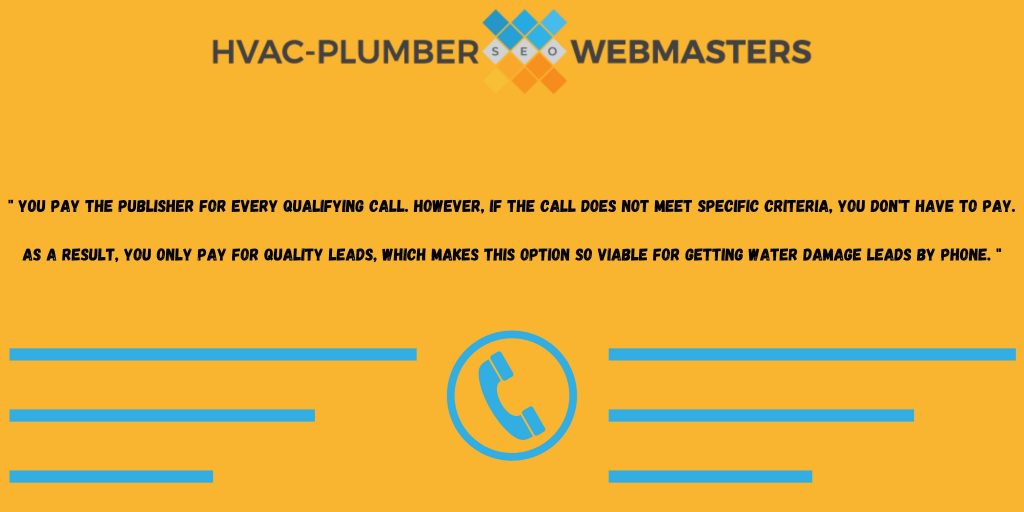 What Determines a Qualifying Call?
The criteria on what makes a "qualifying call" (in other words, a call that you have to pay for) takes place before the ad campaign launches. Different affiliate services will have different models, but you can discuss the criteria with them before starting their services.
For pay-per-call advertising campaigns, the criteria are usually the length of the phone call, where the caller is calling from, or what numbers they press during interaction with an automated routing system.
The criteria will vary from service to service. Still, the good news is that there are a lot of affiliates to work with out there, so you don't have to settle for the first one or two you speak with if you don't like what they're telling you about their qualifying calls.

Why Pay-Per-Call Works for Plumbers
If you take phone calls to connect with customers, pay-per-call advertising will help because it will effectively increase your inbound call volume.
Think about this: when a person calls a plumbing company, how likely do you think they are to pay for a service? Probably pretty likely, right? People who make an effort to pick up their phone and call a plumbing company are very likely to have what's called purchasing intent.
In other words, they are ready to hire someone for plumbing services. However, when a person gets on their phone or computer and searches for "plumbers near me," they are much more likely to have what's called research intent. In these cases, they are not necessarily ready to hire just yet and are much more likely to be researching their options.
Pay-per-call works for plumbers – it will get you a higher call volume, and for plumbers, a phone call is almost certainly money in the bank.
How to Get More Leads With The Pay-Per-Call Method
Pay-per-call isn't magic. You still have to practice discernment if you want more water damage leads by phone using a pay-per-call ad campaign. However, here are some tips for ensuring a profitable pay-per-call campaign:
Choose the Right Service: We can't stress this one enough. Talking at length with a prospective publisher or affiliate, asking questions, and looking at their track record is infinitely important. These people will be handling your calls, so you need to make sure that any affiliate you are considering working with puts a high emphasis on customer experience.
Track Results: The good news is that it's easy to track the results of your pay-per-call campaign because each caller that yours generates will have a unique number. Keep a sharp eye on how many calls you are getting through your campaign.
Pressure the Pain: If you are trying to get more water damage leads specifically, then take time to craft your ad campaign. One surefire method is to pressure the pain. Explain the headache of water damage and how your service can alleviate the burden.
To get started with water damage leads, contact Plumbing Webmasters today. Our agency provides pay-per-call advertising services for water damage professionals and plumbers.