What Are Plumbing Leads?
Plumbing leads refer to prospects with interest in your plumbing services. People can show interest by submitting contact information like a phone number, email address, or another communication platform. Candidates who submit information on your branded website or business listing become exclusive leads with a high conversion rate. Top plumbers throughout the United States consistently generate exclusive leads.
How Much Do Plumbing Leads Cost?
If purchasing from a 3rd party broker, a typical plumbing lead costs somewhere between $30 and $150. In contrast, a lead generated through a branded organic platform (like your website) costs no additional fee. These, known as exclusive plumbing leads, also create more repeat customers for a sustainable and long-term profit gain.
Why All Plumbers Need Leads
It's a frustrating reality; plumbers can't make money without leads. Despite this, they often pay excessive dollars for internet marketing services, which are supposed to produce leads in theory, but usually fail to deliver. Sometimes, plumbing contractors pay towards a process of lead generation that produces no actual prospects. A lack of results becomes frustrating for contractors and, in the worst cases, can lead to bankruptcy and the loss of the American dream. There's a solution called Pay Per Lead from Plumbing Webmasters, and it has the industry buzzing.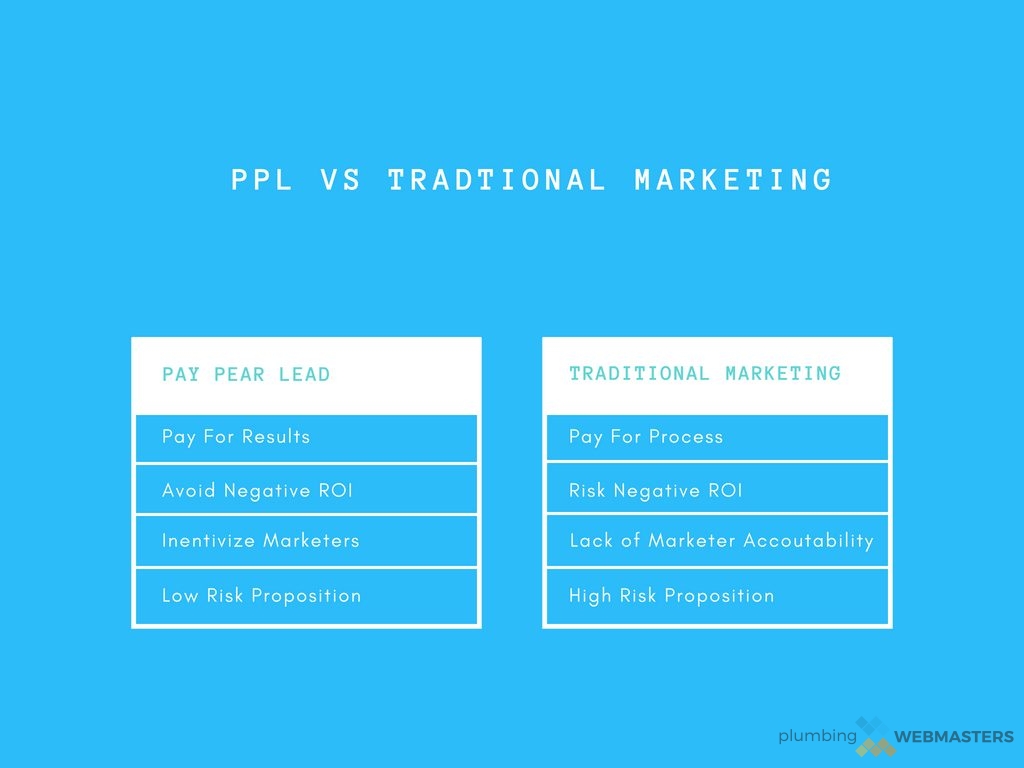 What is the best way to get plumbing leads?
The best way to get plumbing leads is through search engine optimization (SEO). Leads that come through your website or Google My Business listing are the most likely to convert into a sale. When someone finds your business online, they contact your company directly, instead of going through a 3rd party lead seller.
How do I get high-quality plumbing leads?
To get high-quality leads, you need for them to be exclusive and branded. This means that you are generating the leads through your own website and business listing rather than a 3rd party. It also means that you are not competing against other plumbers for the same customer. With exclusive leads, the consumer contacts you directly.
How quickly can I get leads?
With the right lead generation tactics, you can start to generate calls and emails quickly. The exact timeframe will depend on your existing online reputation and your location or service area. Businesses that already have a website typically generate leads more quickly because a few SEO tweaks can increase their stream of traffic.
What is Pay Per Lead?
Pay Per Lead or PPL is an internet marketing plan that requires payments only after your campaign generates an exclusive lead. Services that would typically require upfront payment, such as web design, SEO, and NAP citations, are free of charge with this payment model. If the campaign fails to produce leads, the plumbing contractor never pays a dime. For companies who've endured years of frustration from investments that have been unable to yield any measurable ROI, PPL becomes particularly appealing. Some of the pillars of PPL for plumbers include:
Company Incentive: Your marketers must perform excellent work because they make no money without results
Contractual Flexibility: Avoid long-term contracts, and leave at any time without the hassle
Risk Avoidance: Contractors pay AFTER prospects show interest, eliminating the downside of a failed marketing campaign
Service Accountability: Marketers have accountability for results, or lack thereof since they only get paid from the former
PPL is not the first-ever plumbing lead service, but it might be the most innovative in recent memory. So much so that it's somewhat surprising that plumbers haven't demanded this kind of business model from the get-go. The problem with many marketing firms is that they prey on small business owners and make promises without ever delivering. Sure, your company might get a prospect here and there, but seldom is it an exclusive one of great value, making the entire operation a budget drainer.
Plumbing Lead Generation 101
So how do Plumbing Webmasters generate leads for our clients? Through a series of digital marketing techniques with a proven track record of success. Most contractors have heard of search engine optimization and generally understand its concept. Still, there's plenty of misinformation about the effective implementation of SEO, which relies heavily on the marketer executing its practice. Aside from SEO, plumbing companies can also benefit from website design, NAP citation listings, and social media marketing. In summary, lead generation derives from:
Citation Listings (NAP)
Search Engine Optimization (SEO)
Social Media Marketing
Website Design
Today's consumer finds plumbing services via mobile search. Identifying your target customer and studying their behavior is the first step towards capturing their attention as a potential customer. Because of unlimited access, you can reach consumers 24/7, 365. Keyword research can help select terms and phrases with buyer intent, attracting the most valuable organic clicks. Keywords are not everything; however, how easily navigable your mobile website is via smartphone will significantly determine its overall success.
Shared Leads Vs. Exclusive Leads
Many lead generation companies utilize a concept known as shared leads. While these represent legitimate consumers interested in plumbing services, their information becomes available to multiple plumbing companies. As a result, contractors end up fighting against one another for the same lead. With Plumbing Webmasters' PPL plan, leads for plumbers are exclusive to the contractor. Lead exclusivity saves plumbers a lot of stress and time and allows them to focus on more urgent tasks. Compare lead types below:
Exclusive: A lead exposed to only one plumber, who can then close the deal without competing
Shared: A lead exposed to multiple plumbers, who then must compete against one another
For companies who've dealt with leads for years, they can tell the difference between high and low quality. Shared leads tend to be lower in quality and are therefore more readily available to contractors online. Exclusive leads are typically higher in value, and therefore in higher demand. Plumbing Webmasters offers exclusive leads as part of our PPL services. When signing up for PPL, lead exclusivity becomes part of your agreement.
Citation Listings (NAP)
Plumbing Webmasters generates leads for our clients through NAP citation listings. These business listings are a modern iteration of Yellow Page citations. Today, consumers don't look in the "phone book" but rather online via directories like Google My Business, Facebook, and Yelp. These websites and their corresponding apps are easily accessible via smartphone and are critical to plumbing contractor lead generation. We focus on listings from the following:
Better Business Bureau
Facebook
Google My Business
Yelp
For those unfamiliar with the acronym NAP, it stands for name, address, and phone number, "must-haves" when citing a business listing. To truly optimize such listings, however, the inputted information must extend beyond merely NAP. Other pieces of information like your company's website and about-us section will add context to your service's nature, which will be plumbing related in the case of everyone reading this. Some platforms also offer Q & A sections for each business profile.
Search Engine Optimization (SEO)
Hello old friend, we meet again. Search engine optimization has lost its luster over the past decade. Plumbers have lost money investing in low-quality marketing services claiming to perform SEO. As a result, contractors cringe when they hear the term because their experience with it was inadequate. Since SEO is always evolving, quality services require special attention to detail. PPL plans give plumbing companies a layer of protection in case the SEO results fail to meet standards. Some SEO aspects include:
Local SEO: Optimizing for local search results
On-Page SEO: Optimizing page content, meta tags, title tags, header tags, etc.
Off-Site SEO: Optimizing social media profiles, business listings, inbound links, etc.
Technical SEO: Optimizing website speed, presentation, and navigation
Local plumber leads come from search engine optimization. The question is, will the prospects come to a 3rd party lead broker website or your branded company website? Paying a 3rd party broker helps strengthen their brand and allows them to enjoy the fruits of repeat visitors and ongoing branding. If the consumer comes straight to your website, you are the brand that reaps the long-term benefits and sustained growth. With Plumbing Webmasters PPL plan, you can accumulate all the branding benefits without paying an upfront monthly fee.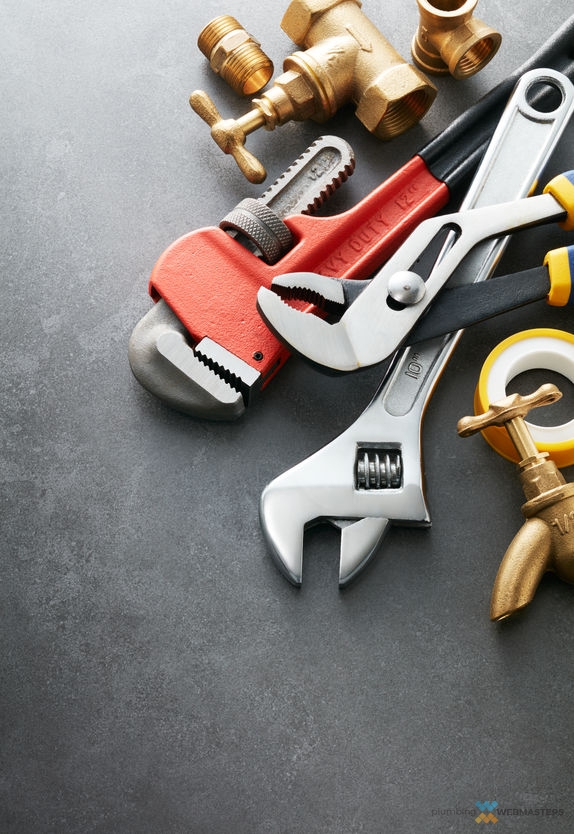 Social Media Marketing
As part of our PPL services, Plumbing Webmasters performs essential social media marketing. Because it overlaps with off-site SEO, social marketing is an integral part of a broader digital marketing strategy. While Facebook's organic reach eliminated the reach of business posts, other social channels like Instagram, Linkedin, and YouTube still present intriguing opportunities. Furthermore, a presence on Facebook is always essential. Top social platforms include:
Facebook
Instagram
LinkedIn
Twitter
YouTube
Many concepts overlap within the realm of online marketing for plumbers. For instance, Facebook is listed as part of the NAP citation process but is also considered a social media platform. The reality is that these two things overlap in many cases, and establishing a presence throughout all corners of the web can help plumbing companies generate leads at a higher rate. In the case of PPL, the best part is that promises are worth nothing at all; only results are.
Website Design
Wix, Weebly, and Squarespace have grown in popularity over recent years, and some in the marketing sphere refer to these platforms as website factories. They empower the user, which in many cases is a small business owner, to design and publish a website on their own. While the theory is undoubtedly appealing, its actual execution leaves something to be desired. Using these sites limits the potential of your SEO from both a technical and conceptual standpoint. The better option is investing in professional web design, which will include:
Custom Design: Instead of picking from templates have a uniquely designed website
Graphic Design: Integration of company logos within the code of your website
Mobile Design: Websites created with the mobile user in mind
WordPress: The usage of the popular content management system; WordPress
An excellently designed website is sure to increase lead generation for plumbing contractors. Since PPL requires payment only AFTER producing a lead, the designer has the incentive to build a results-oriented website or risk financial devastation. Using website factories does offer plumbers a degree of control, but it also puts a lot of pressure on themselves to execute in a field that, in most cases, is not their expertise; computer programming. With a website design from Plumbing Webmasters, you have a professional perform the procedure while risking nothing.
Sign Up for PPL From Plumbing Webmasters
Are you ready to sign up? Plumbing Webmasters is as eager as you to get started. After all, our partnership is mutually beneficial. The onus is on our company to deliver results, but our decades of success gives us the confidence to bet on ourselves. As friends of the plumbing industry, we hate seeing contractors lose money paying for the process instead of results. The backward system has threatened plumbing contractors' financial freedom for years, and we are here to stop it once and for all.
Unfortunately for plumbing companies, the marketing industry is very dishonest. There are plenty of people looking to capitalize on their gains and couldn't care less about their clients' success. Plumbing Webmasters is the last honest marketing company in America. We don't give our customers the run-around, but instead, give it to them straight. Our decade long success has proven that doing things the right way is still the best. Step over from the lies and buy plumbing leads today.