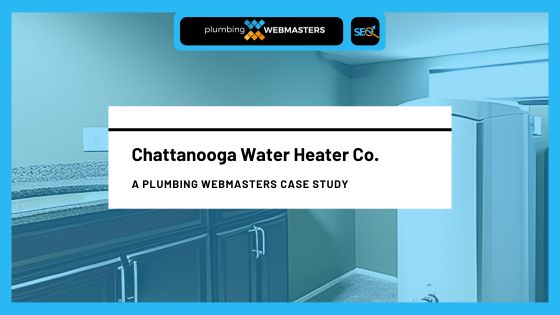 The Chattanooga Water Heater Co. sprang into being less than a year ago. Despite its youth, the specialized plumbing company already boasts local map pack placements in some of the most valuable keywords in the industry.
That wasn't always the case. When Travis Mullis, owner of Chattanooga Water Heater Co (CWH), approached our plumbing SEO company just over six months ago, he had quite a few challenges standing in his way to the top.
First, Chattanooga Water Heater Co. was a brand new entry to the industry. New businesses are always fun to work with because their owners don't come with preconceptions about how marketing works.
They're eager and willing to work hard. Travis certainly brought enthusiasm to the table! On the other hand, new companies start with zero brand recognition and search clout. Our team was building from scratch.
CWH's case was even more of a challenge. Water heaters services are a specialized, highly competitive sub-industry to break into. Chattanooga already boasted a handful of veteran companies at the top of local map packs (where the best website traffic goes to).
Our Plumber Marketing Challenges
We needed to proffer some extraordinary SEO tactics if Chattanooga Water Heater Co. was to make a dent in the existing power structure. Given the small size of the business, we were also starting off with a tighter budget than many of our other clients.
Our team needed to generate some results fairly quickly to maintain the client. If you've read through our guide "SEO for Plumbers", you'll know that search engine optimization is anything but fast!
Just to summarize our challenges:
We had a limited budget to work with.
Our team needed to produce at least some results quickly.
The client brand had no existing recognition.
So we got to work! Just two months later, Chattanooga Water Heater Co. was chopping local search results for some of the most powerful plumbing industry keywords available. It's all thanks to localized SEO.
Part of GMB Work is Consistently Uploading Recent Photos.
Initial Brand Development
GMB Optimization
First, we completed and optimized CWH's Google My Business profile. This free listing is a key ingredient for plumbers desiring more qualified clients within their service area, but few businesses go the full distance when optimizing it.
That's a real shame, especially since so much of what we perceive as generalized search is becoming more and more localized. Without an activated, verified, and optimized GMB account, plumbers rarely get the prestigious map pack placements (which we eagerly wanted for Travis and his company).
We also got to work securing listings on other citation sources. Organizations like Facebook Business and the Better Business Bureau don't just provide supplementary reviews. They also serve as signals to Google about the trustworthiness of your company.
Website Construction
As we're always saying at the Webmasters, your plumbing company website is the foundation of digital marketing strategy. Almost every other lead-generating channel springs off of your website and/or feeds back into it.
With Chattanooga Water Heater Co., our seasoned web designers focused on creating a healthy balance of user-friendliness and alluring visual style. The end result was a refreshingly practical and easy-to-navigate website (seen below).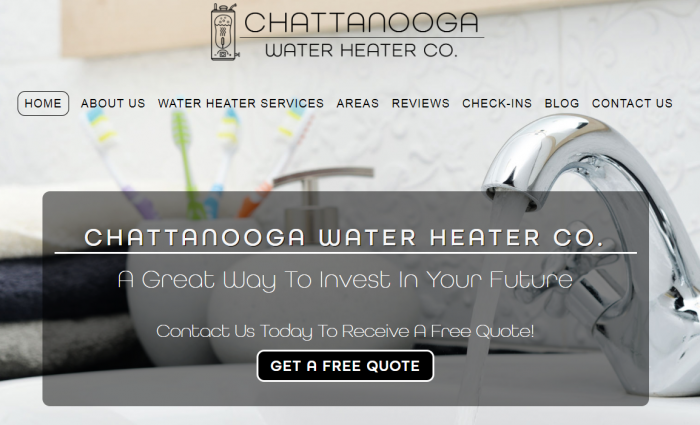 This Snapshot Conveys the Simple, Functional Design We Strove For For CWH.
Notice the spacious design that draws the eye towards the "free quote" call to action. The simplistic menu also makes it easy to find the company's dedicated service pages, which we'll dig into more in a bit.
Each of the major services received its own category blocks with additional information (and clickability), making it even easier for consumers to locate their desired solutions.
We also included valuable information about brand product warranties and financing so consumers feel more comfortable making impulse calls from the home page.
Keyword Rich Service Pages
While some plumbing pros think the homepage does all the heavy lifting for local search, that's actually not the case. Service pages generate many of the high-quality leads coming into the website, which is why our team took such care crafting the content for CWH's site.
Our content writer on the account utilized a healthy, diversified serving of local primaries and secondary keywords. Just a quick reminder:
Primary keywords are typically shorter, general terms with high search volume and competition.
Secondaries are longer, more specific terms with lower volume but higher search intent.
By utilizing both on the CWH site, we ensured a steady stream of leads coming in through the secondary keywords while the primaries (which take longer to rank for) slowly matured. Unlike many other marketing agencies, however, we generate hundreds of keyword listings for even greater returns in local search.
Even our expectations were blown out of the water, however, when Chattanooga Water Heater Co. started appearing in local map packs in less than two months!
Imagine Little Pins of Your Service Activities All Over the Google Map!
Geotagging for A+ Local SEO
By far, the most impactful element of our SEO work came from our DataPins software, conveniently built into CWH's new website. The software offers plumbers (and other contracting professionals) the ability to check-in to job sites and generate automated requests for reviews.
Every time checks in after a repair or installation, DataPins generates a map pin on the website's corresponding service page. Every time a client submits a review through the application, another pin appears.
That may sound fancy, but what did this tool actually do for CWH? With the Local Search Update, map results suddenly became much more fluid. With the right optimization and local activity, new businesses could suddenly bust into the premium map pack positions.
These map pins from our geotagging software provide undeniable evidence that Chattanooga Water Heater Co. provided services all over the city. Each pin contained information about the job performed, the general area services were provided in, and the date. 
All this information is priceless to Google. It proves CWH's ongoing activity, meaning the company is a dependable choice to recommend to local consumers.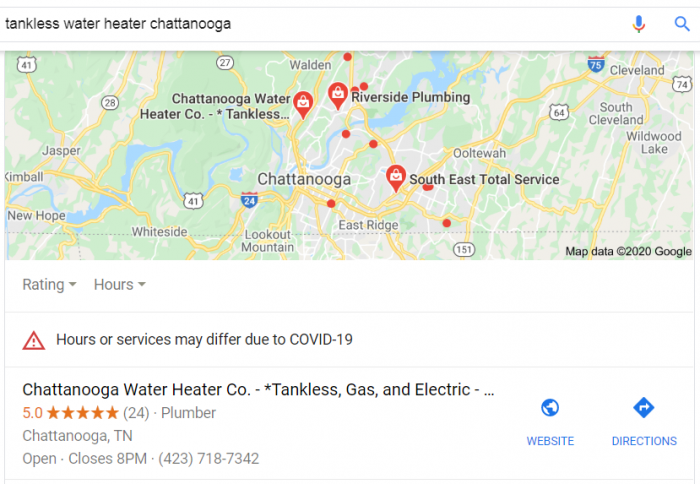 GMB, Check-ins, and Reviews Heavily Influence Local Search Results.
Fast Forward
Travis Mullis' company jumped up to the top of local search results less than two months after his site launched. Before the Local Search Update, that almost never happened! Six months after their site launch, CWH continues to dominate map packs in his community, generating some enviable levels of leads each month.
You can find his company in search through queries like:
"water heater in Chattanooga"
"water heater repair in Chattanooga"
"water heater installation in Chattanooga"
"tankless water heater Chattanooga"
and many more high-dollar keywords!
Chattanooga Water Heater Co., a brand new company, managed to snatch these rankings from established businesses with years of tenure in the local market.
Thanks to quality web design, extensive keyword research, professional content writing, and technical support from the development team, this fledgling business launched with very satisfying success.
However, it was Travis Mullis' dedication to completing check-ins and asking for reviews that earned him the outrageous results we see today! We look forward to seeing what other plumbing professionals can achieve with the DataPins system.