All About Plumbing and Septic is a hard-working business based out of Mills River, North Carolina. Towards the end of 2018, they approached our digital marketing team about taking over their web design and search engine optimization (SEO). This brand immediately stood out compared to most of our usual plumbing clients.
While dozens of fresh-faced startups approach our team every year, All About Plumbing and Septic was a fairly-well established business with over seven years of operation. On top of that, they showed a keen awareness of certain online marketing principles, such as the power of client feedback.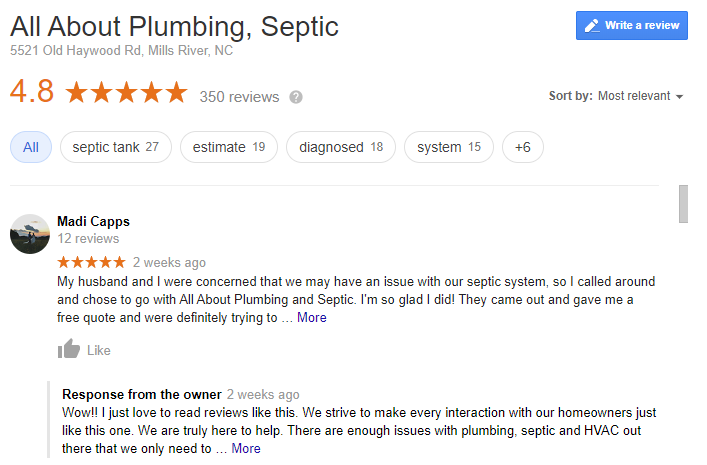 In the seven years leading up to their partnership with Plumbing Webmasters, this company had already accumulated over 700 reviews!
The Marketing Objectives
Despite their outstanding customer service and reputation management, All About Plumbing and Septic (AAPS) wasn't getting the level of website traffic they desired. With their experience, AAPS management believed that a stronger marketing strategy could earn them page one ranking in their local search results.
Because of our history with plumbing contractors (and our premium reviews software), they hired us to grow their traffic and expand their lead generation capabilities.
From the start, we faced a few clear challenges for this project:
The client wanted to preserve many of its branding assets and incorporate them into the overhauled website design.
AAPS needed a way to better take advantage of its stellar reputation and ratings.
This superstar would expect serious results. Even with the intimidating prospect that comes with taking on more experienced clients, our design and SEO teams quickly got to work.
Graphic Design Renovations
In a way, existing branded assets actually make it easier to craft a new design theme for a new site. For one, the color scheme is practically chosen ahead of time. It also lends recognition to the new site. With that being said, our graphic design team immediately found some opportunities to improve the site's conversion rates and navigation.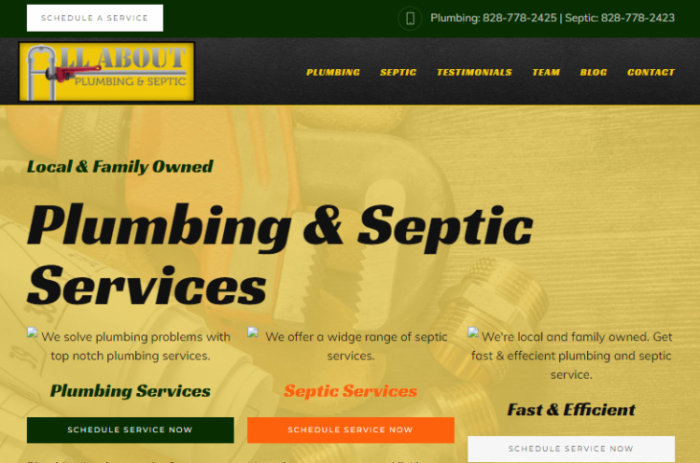 We started by cleaning up the space above the fold. Because this space is responsible for client first impressions, the team worked hard to consolidate the various aspects while incorporating the branded assets.
The old design had contact information tucked away into the corner of the page, barely visible to potential customers. We found a more suitable position and blew them up in size so that they couldn't be missed. Finally, we updated the company logo and contact information to promote faster visitor comprehension of AAPS' services.
Despite the sizeable amount of information that our plumbing client needed to fit in the homepage landing area, we managed to craft a very efficient design!
Additional Design Updates
Streamlined Navigation
The original website homepage took a long-form approach to content. While the writers did a great job of expressing their service value, the format placed a lot of pressure on the homepage to generate leads. Instead of using the homepage to try to communicate all the services at once, we installed shortened category blocks with links to dedicated service pages.
We'll talk about those pages later, but the hyperlinked boxes essentially made it much easier for site visitors to find information on their desired services. Even without consulting the dropdown menu (which we also added), readers could now find their desired category within seconds of landing on the homepage. We even added some enticing dollar-off coupons to encourage impulse calls!
Faster Reading
Time isn't a luxury for everyone. Some readers must locate their desired service(s) as quickly as possible. Our content writing team further consolidated the homepage by introducing a tabby system. With it, readers could call up information on the service category that they specifically needed while hiding content from unrelated categories.
Our teams love this formatting tool – we used it here, for instance- because it provides a more relaxed reading experience for website visitors. It simultaneously conserves a lot of space, making the overall site feel tidier. This makes for an even stronger first impression of the site brand.
Upgraded Service Page Structure
One of the recurring problems that we see in company websites (especially with contractors) is a shortage of service pages. A business that has dozens of crucial services may only create pages for five of them.
In the case of AAPS, the old site relied on the homepage and just two service pages. This limited the site's ability to rank well for many of its essential keywords. It also made for a more frustrating user experience. Finally, the AAPS team wanted to start showcasing its newer heating and cooling services.
It was important to expand the service page structure so our client could achieve more local justifications on their Google Business Profile for more keyword rankings.
Simplified Service Navigation
With adding service pages, there's always the risk of going overboard and creating a scattered mess. That's why our team at Plumbing Webmasters relies on a sophisticated hierarchy (or tiered) system of pages, with primary categories at the top and more specific services at the bottom. Again, this tiered structure makes it easier for readers to find their desired services.
It also makes strengthens your site's ability to earn listings for those specific secondary keywords. These may generate less traffic than your primary category pages, but they also have higher conversion potential. With a small collection of well-crafted pages, we managed to create a diversified portfolio of keywords that steadily draw traffic to the AAPS website!
That conveniently leads to our case study's results!
Our Project Results
Analytics Traffic Results
AAPS' Organic Traffic Now Exceeds Direct Searches, With Steadily Rising User Numbers.
Upward Trending Impressions and Clicks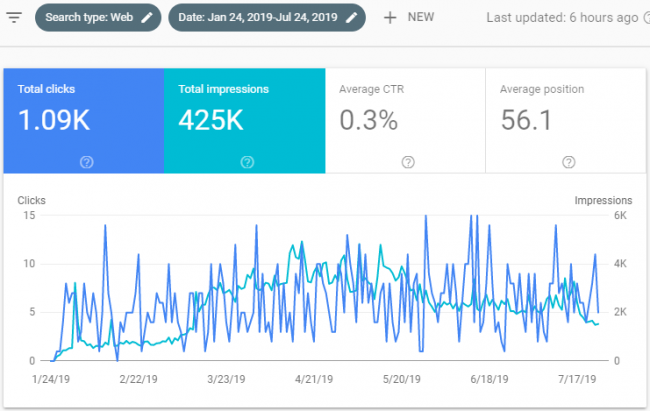 Six Months Post-Launch, AAPS' Exposure and User Interaction Show Strong Results.
Amazing Reputation and Brand Growth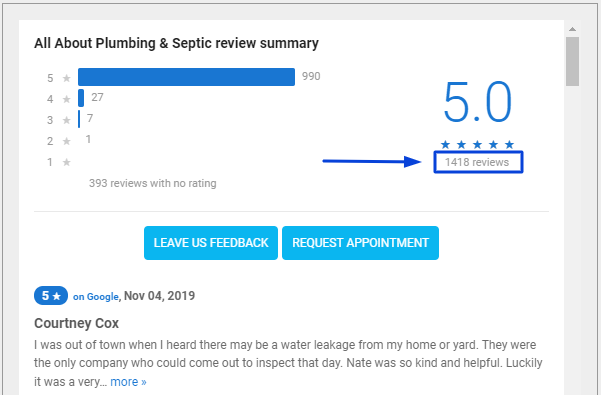 700 Reviews in 7 Years is Impressive. That Number Has Doubled Since the New Site Launch!
Six months after All About Plumbing and Septic revealed their renovated site to the world, their organic traffic results had already managed to overtake their direct, referred, social media, and paid search channels combined. 
That's a tremendous win for AAPS and a wonderful sign for their ongoing service growth. Their heating and cooling services have successfully integrated the new site design, drawing even more results to the business.
Even their impressive collection of reviews has grown since the new site launch. It took seven years to earn 700 reviews. Less than a year after the new site launched, that number has doubled to over 1400 reviews! That feedback comes from a variety of sources:
Google Reviews
Facebook Business
Yelp
Better Business Bureau
Angie's List
and More!
As they begin to take advantage of our DataPins software check-ins and geotagged reviews, that client feedback will turn AAPS into an unstoppable brand! We expect to see even stronger keyword performance and reputation growth as All About Plumbing and Septic continue to serve their community.