Westside Plumbing supported the local Fort Worth community long before the Webmasters came into existence. In fact, when the owner Matt Paetzold approached our company in 2016, the seasoned plumber already had 25 years of experience beneath his tool belt.
Given his team's history and tenure in the area, Westside Plumbing should have been a superstar in online searches. Unfortunately, Westside wasn't earning nearly as much traffic as it should.
Given the company's long history, we knew that online branding was going to be just as important as our usual SEO work. So we hopped into action, overhauled the company's digital marketing strategy, and completely remade its website.
Fast forward to 2022. Westside Plumbing continues to grow, serving a community almost 2800 square miles large!
In this case study, we'll explore our strategy for enhancing the company's branding efforts, radically improving its online traffic volume, and updating its web presence for modern plumbing SEO. We'll also dig into the challenges that we faced along the way.
Be sure to read along carefully and take notes for your own company!
Challenges With Westside
Company tenure in the physical world has very little impact on its digital branding. People mistakenly believe Google is some sort of omniscient, gelatinous blob that knows everything about everyone. That's simply not the case. As far as Google is concerned, your company doesn't exist until you create a GMB account (or at least a website).
Westside Plumbing's online presence was just that: nonexistent. That meant we'd need to set up the basics for the company's online branding before any progress could be made. We faced shifting SEO industry trends during the course of the project, which prompted us to complete an update of our original website design and optimization practices.
Despite these challenges, our team produced pretty spectacular business results!
Our Digital Marketing Strategy
Local Branding Work
For starters, we targeted three key areas of local search optimization:
Domain Name
Google My Business (GMB)
Client Reviews
First, we got to work securing a fitting domain name for the company. We settled on https://www.westfortworthplumbing.com/, not too far off from the business name and connected with the service area. We then set up the company's Google My Business account, an incredibly important asset for plumbing professionals who want to rank in local search results. GMB accounts are perfect for uploading photos, sharing promotions, and answering popular questions about your business!
Both Prospective Clients and Google Monitor Your Latest Reviews. Westside Collected Over 100 in Just 4 Years!
Finally, we heavily encouraged Matt and his team to consistently start collecting reviews for Westside. Client feedback, especially Google Reviews, serves as key signals for the search algorithm's ranking process in local search. It took some time for the team to get used to the process, but they got the hang of it in a couple of years.
Westside Plumbing had only 5 reviews at the end of 2016. By 2017's end, they had just over 30, and any negative reviews they had in the past were starting to shrink in impact. Today (as of 2022), they have 182 Google Reviews and a 4.7-star rating!
Site Layout and Navigation Strategy
You have to nail your website. Ultimately, all our efforts hinged on knocking Westside Plumbing's brand-new site out of the park. Our design team did just that! The first edition of their custom design focused on easy reading for clients and simplified navigation. In other words, we wanted anyone landing on the homepage to be able to find their desired service in less than a minute.
It all started with a user-friendly service menu, which seamlessly adapted to whatever size screen we threw at it. Mobile-friendliness is a must for design these days! Next, we built category blocks to edge visitors toward the site's service pages, offering more detailed information about each service.
These service pages drive rankings for a wider variety of terms. Westside Plumbing now shows up for thousands of keyword combinations! More on that later.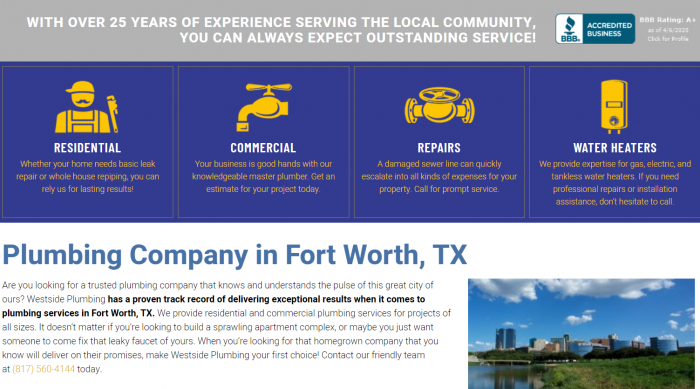 We Focused on Sharing Clear Contact Info and Service Information, and it Paid Off!
Page Optimization
In 2018, we reevaluated our content optimization process for Westside. While the site produced some pretty great results, industry changes revealed some opportunities for further enhancement. Late that year, we updated the current design with a modernized aesthetic, making sure to hold onto the logo and color schemes that defined the brand.
More importantly, we updated the written material on each page with a diversified, localized keyword strategy. That's the same successful strategy we utilize for all our thriving clients, as it helps produce steady lead generation while the brand slowly ranks up for more competitive terms. The new writing style also made for a friendlier reading experience, which encourages higher conversion rates.
Finally, we fully optimized all photos throughout the site. The site already boasted a slew of original images – surprisingly rare photos on company websites, making them gold for SEO – which added more personality to the brand. When it became clear that Google had started closely inspecting image facets in the search crawling process, our project content writer added new, keyword-rich image titles and alt attributes for better ranking.
Service Pages Now Feature Helpful Breadcrumb Links and City/State Phrases for Better Local Ranking.
After the update in late 2018, we also started writing blog posts for Westside Plumbing on a monthly basis. These focused on common user questions and frequently searched phrases. Blog posts are perfect for expanding your arsenal of keyword listings, which helps grow your traffic over time. They also encourage repeat visits from past clients and prospects. On Westside's blog, you can find articles about toilet problems, commercial plumbing concerns, and more hot topics.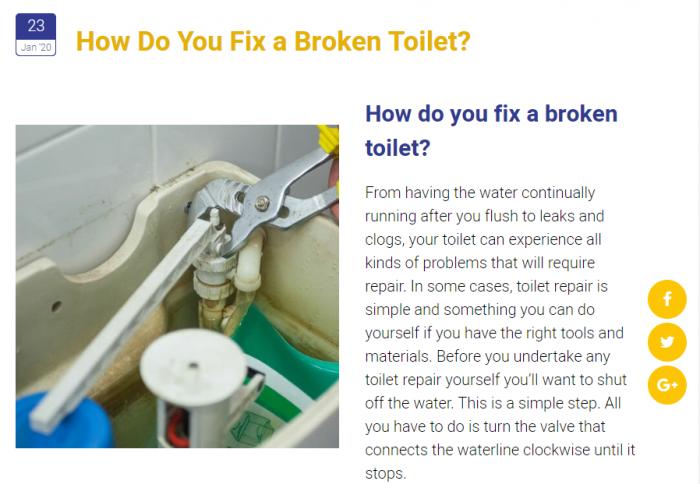 Articles Like These Target Simple, But Important Consumer Problems.
Westside Project Results
Since our digital marketing project began in 2016, Westside Plumbing has become a powerful staple in the online Fort Worth community. As we mentioned before, the company's service area has expanded dramatically in the last four years, covering a massive 2800-square-mile patch of Greater Fort Worth. It's not just their team and service capacity growing either!
The company's website delivers exceptionally high-quality leads to the business each week. Below, you'll see Westside's performance data following the initial site launch, plus the late 2018 relaunch.
2017 Performance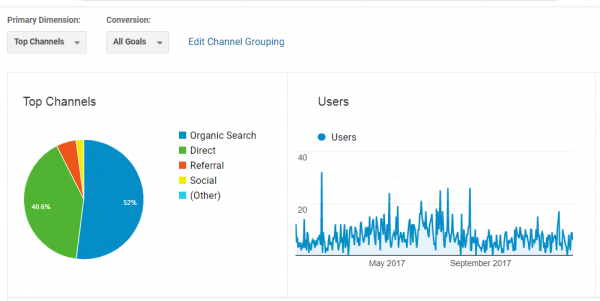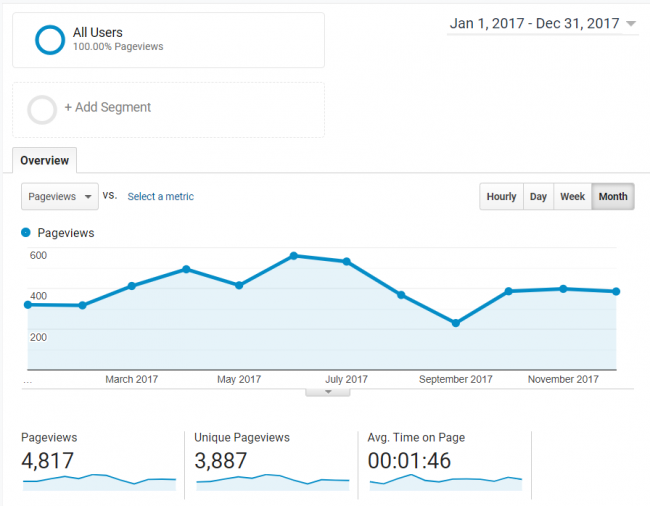 2019 Performance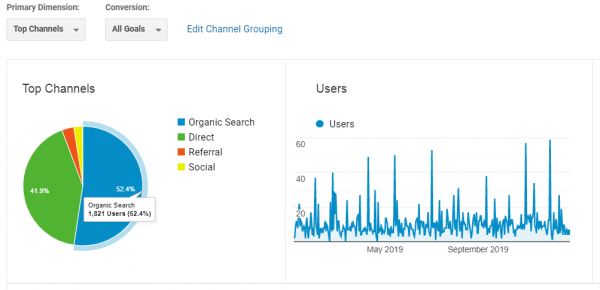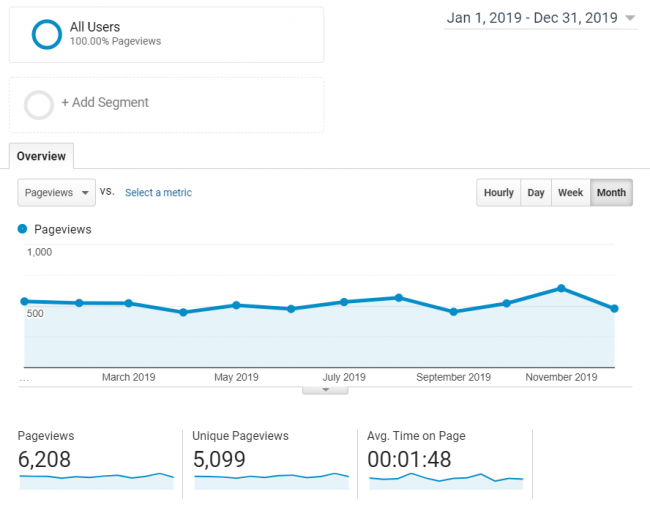 Additional Analysis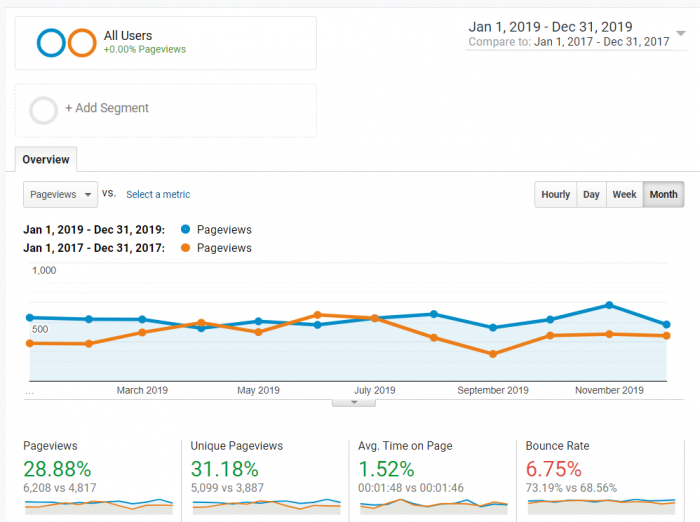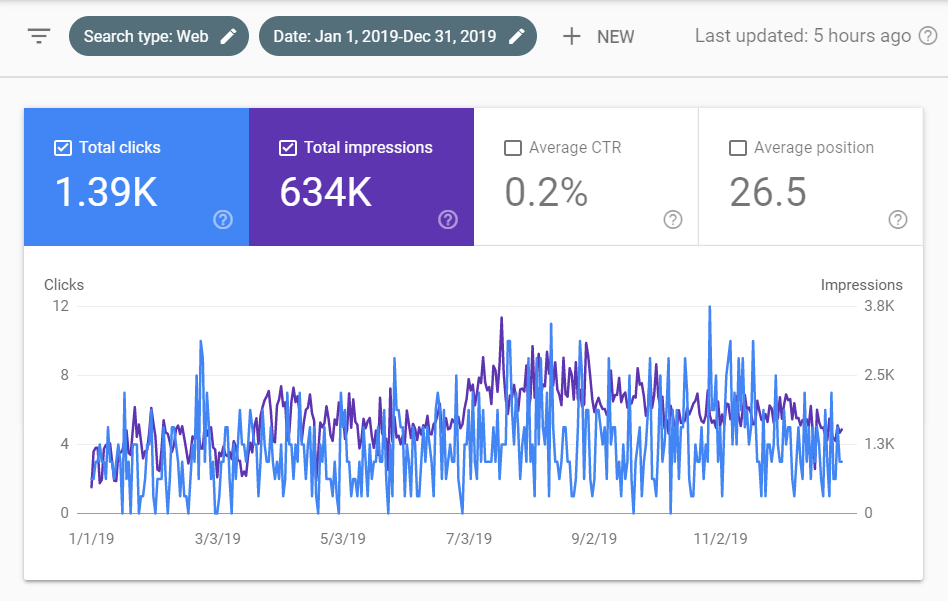 Final Thoughts
Westside Plumbing's story is one that many of our clients experience. It's not one of sudden and shocking growth, leading to unprecedented revenue boosts and dramatic top rankings. Instead, Westside is a story of steady, consistent brand development over time.
Thanks to our long-term efforts, the company has expanded its service area and provided exceptional service to more people than ever before.
It took time. It took hard work on our part and from Matt's team. But they've earned every bit of growth we've managed to secure for them. They started with practically zero online exposure. Westside Plumbing is earning most of its revenue from organic search results.