Most local service companies, including plumbers, utilize city pages as part of their local SEO strategy. Unfortunately, in the past year, Google has made it more difficult to optimize these pages. Traditionally, city pages with thin, short, and similar content still ranked well on SERPs.
For example, if you were a plumber in Dallas, location pages for hundreds (or even thousands) of other cities, counties, and towns in or around the DFW area would rank for relevant keyword terms.
Google finally said enough is enough and altered its algorithm to prioritize unique and customized location pages.
After all, too many city pages were serving as nothing more than doorway pages to the plumbing company's homepage, where they could convert a broader region of consumers into new customers.
As a result, entire sites suffered because their site promoted duplicate and spammy content (let's be honest, that's what city pages have been). So city pages in their traditional format now hurt SEO. Plumbers must adjust to ensure they can still rank in multiple service areas.
Plumbers in major cities might target a single location because their population is large enough to produce significant lead generation. But most plumbers still want even more business, in which case they should create unique and customized city pages for each additional location.
Plumbers should avoid publishing more than 15 city pages to preserve a healthy crawl budget and steer clear of polluting Google's index.
Plumbing companies should customize each page with logical and informative writing that speaks directly to local residents. For plumbers whose main city is a small town, additional city pages become critical for producing enough online leads to compete.
But, again, make sure they are both custom and unique. While you might do more cities than someone in a major metropolitan area, you still don't want too many.
Duplicate Content Problems From City Pages
Duplicate content is trash and creates a porous user experience. The user knows when they are reading poorly written or mass-produced content. The question is, do they care? The answer, as Google sees it, is yes.
Although plumbing consumers aren't looking to read long paragraphs about a service, they are looking for trust indicators from its website. With this in mind, duplicate content makes a website look like spam and discourages potential customers from completing a call-to-action.
Consider these factors when analyzing duplicate content:
Readability: Very discouraging to read, off-putting even
Spam: Duplicate content, in most cases, is spam-like and trash
Uselessness: Provides zero value to the user other than contact information
People confuse plagiarism with duplicate content. Stealing content from another website and publishing it as your own is plagiarism. Conversely, mass-producing identical pages on your website is duplicate content.
The reality is that most duplicate content does not cause a manual penalty. Additionally, the type of duplicate content that relates to city pages is not coming from external domains. It is duplicate content on the same site. 
Google's negative impact on dupe content is algorithmic rather than manual. In other words, the algorithm knocks down traditional city pages programmatically based on machine learning.
Industry novices tend to picture Google staff members going through your pages and penalizing them when such occurrences are rare and primarily the result of link-building schemes. Still, avoiding dupe content for algorithmic purposes is the best SEO practice.
Google My Business Problems From City Pages
Old-school location pages can cause additional problems with Google My Business. Google bans listings with virtual offices, so attempting to manipulate GMB is a bad idea.
After all, who should be more trusted, a plumber with legitimate office space in Dallas, TX, or a plumber out of Frisco, TX, who lists a janitor's closet from his mother-in-law's health club as his Dallas location?
The best practice is to promote your actual business location on your website and link it to your verified Google My Business listing and vice versa.
If you have multiple legitimate locations, you'll want to link each GMB profile (you'll need one for each area) to its corresponding location page. Take a look: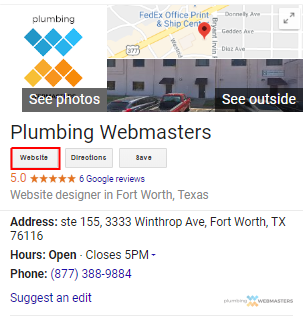 The button that says website, highlighted in red above, should link to the corresponding location page. So if you have a listing in Houston but are from Dallas, your Houston location should link to your Houston city page.
Most importantly, the address listed on your GMB profile should be identical to the one listed on the footer of your location page. You can even take it one step further and embed the Google Maps data onto the location page itself.
This way, Google crawls your webpage and knows precisely which Google My Business profile to associate with the page.
URL Structure Solutions
Some plumbers can't afford an additional business location but still want to show up in more areas. Your best chance is to create subfolders for each city. It would be best to attempt this strategy only for cities you can drive to within an hour of your main office.
Each subfolder will serve as a mini-website of sorts and have 10-15 supporting pages to accompany it. For example, let's say you're targeting Corpus Christi. You will have a unique location page and additional pages for Sump Pump Repair in Corpus Christi, Slab Leak Repair in Corpus Christi, etc.
They must all be unique. For example:
Home Page – www.myplumbingcompany.com/
Sub Page – www.myplumbingcompany.com/slab-leak-repair
City Page 1 – www.myplumbingcompany.com/corpus-christi
Sub City Page 1 – www.myplumbingcompany.com/corpus-christi/slab-leak-repair
Not only do you have to write multiple slab leak repair pages, but they should all have unique content. For example, you have to write the Corpus Christi slab leak repair page from the perspective of someone who resides in that area. That means no scraped content and gibberish.
Instead, referencing local landmarks makes the reader feel connected to the page they are consuming. It's the only possible way to avoid doorway pages on your website and get your city pages indexed on search engines.
DataPins: The Ultimate City Page Solution for Plumbers
As SEO has progressed, software has been made available that solves many common problems for websites. As a result, the local SEO tool called DataPins solves the location page problem once and for all.
The tool allows plumbers to pin each job, including its location, through the mobile app. From there, DataPins publishes the pin, along with the attached pictures and caption, to the corresponding location page.
DataPins ensures each location page has unique content based on real-life plumbing jobs from your technicians. 
Podcast: Play in new window | Download
Subscribe: RSS