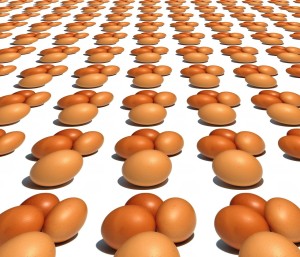 When it comes to search engine optimization and original content, it really pays to know the rules Google plays by and to understand why they are important.  In simplest terms, "Original Content" is anything that a human being sat down and wrote based on a genuine topic for a website by hand.
Original content may be derived from existing works on the internet, but never outright copied (plagiarized) – Google sees all and will "punish" sites accordingly in the search results for having duplicate or stolen content.
With enough duplicate content, Google may refuse to include your site at all in results!
Original Content – Is it Enough to Rise to #1?
We wish it were that easy!  While it's true that Original Content (and lots of it) is proving to be important for search engine optimization, there are many factors to take into consideration if you want to dominate the search results over other businesses in your area.
From the SearchMetrics.com Blog:
"There are areas where Google seems to have found a good balance… The real focus, however, is still page content, where relevance is key."
According to the 2014 Rank Correlation Analysis and SEO Ranking Factors conducted by Search Metrics, original content has grown from a contributing ranking factor to a major ranking factor.  Google appears to be encouraging blog writers and content creators to slow down a little bit and take more time to create more intelligent original content.
Other factors that contribute to search engine optimization and has a tangible impact on a website's search results rankings are:
Social Media Standing (Google+, Facebook, Twitter, Pinterest, etc.)
Status of On-Page Technical SEO
Focus Keyword Saturation site-wide and per article
Balanced internal links and external links
There are literally dozens of other factors that add up to true search engine optimization, but these areas are the ones making the most waves as we head into the last quarter of 2014.
Original Content – Plumbing Webmasters Delivers!
The website development team at Plumbing Webmasters is always working hard to stay ahead of the curve.  We monitor new trends in search engine optimization, keep tabs on Google's ever-changing rules and preferences, and deliver the streamlined, fast-loading websites that benefit businesses of all sizes in all areas!
Simply put, it is Plumbing Webmasters' job to do whatever it takes to push your site to the top of Google's search results page on all devices!  We also perform the ongoing work needed to keep your site at the top and solve any problems that may arise along the way.  Don't wait to put us to work for you!
Contact Plumbing Webmasters TODAY – We are always available to discuss your options!