Google Maps is an integral part of a plumbing company's online presence. Your listing must appear on Google Maps to generate local leads on search. One of the most popular parts of Google Maps is the Local Map 3-Pack, which appears for local search queries with commercial intent.
For example, when users search "plumber near me," they will see the top 3 Google Maps listings on their search results.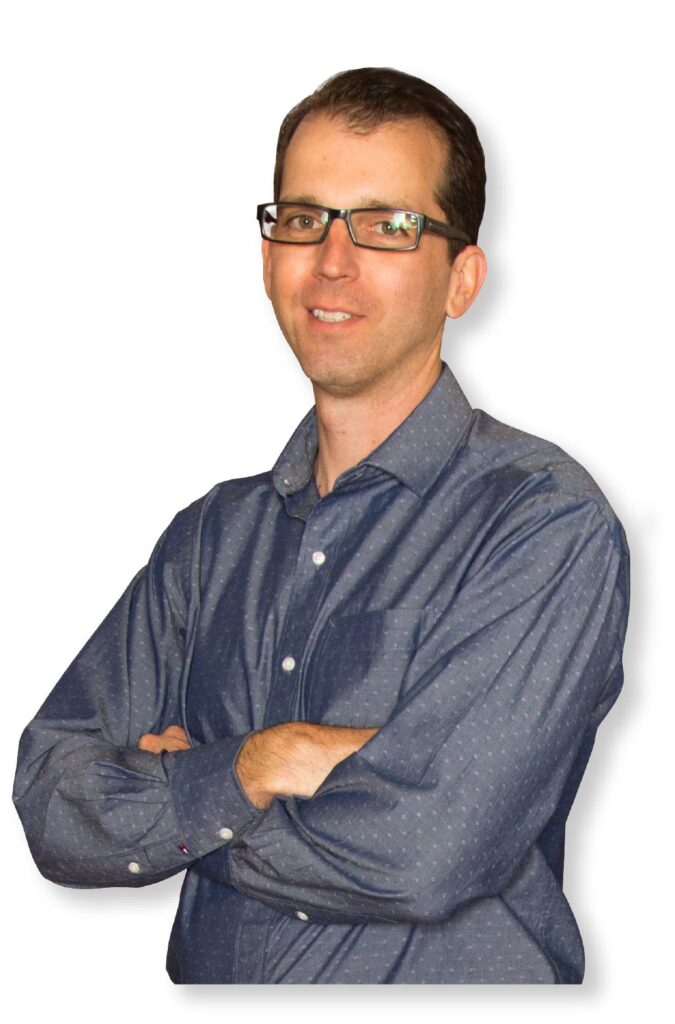 Expert Analysis
Maps is one of the best opportunities for plumbing companies to acquire new customers in 2023. You can achieve Maps rankings through an optimized Google Business Profile.
What is Google Maps for Plumbers?
Google Maps is Google's official web mapping platform, presenting satellite and aerial images along with 360° interactive street maps and comprehensive real-time condition reporting and map routing for users.
In the context of SEO, Google Maps is the platform that presents Google Business Profile listings to local searchers based on proximity, along with other factors. Plumbers must pin their Google Maps listing to show up on local search results.
Google Maps SEO for Plumbing Companies
Unlike a store or restaurant, a plumbing office is not a destination location. In other words, consumers won't need to visit your headquarters to invest in your services. The location, in your case, is more of a formality that helps improve local search visibility and match you with relevant consumers in your area.
Plumbing Webmasters handles Google Business Profile optimization so that companies can rank in their target service areas.
Google Business Profile
Google Maps pulls information from your Google Business Profile listing (formerly known as Google My Business) to present you in relevant search results. If a nearby consumer searches for pipe repair near me, your listing will come up if properly optimized.
As a result, you might wonder what the Google Business Profile ranking factors are for plumbers.
Check out the list below:
Proximity
Proximity is the most obvious ranking factor and the one that plumbers have the least influence over. Google pulls your company's address from your listing and measures its distance from local searchers in real-time.
Even if you hide your address publically by listing your company as a Service Area Business (SAB), Google will still use the hidden address to calculate proximity. Moving your business address in real life is the only way to change proximity.
It's important to understand that the Google Maps algorithm currently favors listings with a publically visible address. Although the guidelines suggest that plumbers doing business from a residential address should mark their listing as a SAB, it will likely decrease your overall rankings on Maps.
Relevance
Relevance is the easiest local ranking factor to influence, and plumbers can do so by building a strong GBP profile and attaching their company website.
If you want to establish your listing as a plumbing company that offers various services, you must publish pages for each service on your website and list them under Services in your GBP profile. Your brand name may also influence relevance depending on the search query.
Prominence
The prominence ranking factor gauges a listing's authority with signals like reviews, brand credibility, and user engagement. You can use a tool like DataPins to automate review requests, boosting your prominence.
Aside from getting more reviews, you can build credible links to your primary website and spread your brand name with other forms of marketing.
NAP Citations
Although Google Business Profile is the most important business citation for plumbing contractors, building as many NAP citations as possible across the web is important.
NAP stands for name, address, and phone number, and producing consistent listings throughout the web will contribute to your overall local presence. Ensuring consistency with your contact information builds credibility, as do the various links back to your website.
Consider registering on these platforms:
Angi
Angi, once known as Angie's List, is a great directory for home services professionals, including plumbers. While you may not get business directly from the listing, it builds the NAP consistency that search engines covet.
Since it is a niche directory for businesses like yours, the link back to your website holds even greater value than usual.
HomeAdvisor
Like Angi, HomeAdvisor is a niche directory for home services. Many plumbers dislike HomeAdvisor because of their lead generation service, but you don't have to buy their service to get listed in their directory.
Think about HomeAdvisor as a signal to strengthen your other web assets without having to pay them directly.
Yelp
Yelp is one of the most established directories for any kind of business. It is important to not only list your business on Yelp but to generate positive reviews on the platform. Users trust Yelp for reviews optically, so one bad review can sour potential customers.
A tool like DataPins can split your review requests between multiple directories, including Yelp.
Google Maps Examples for Plumbing Companies
Sometimes it helps to see examples of something to understand its value. Plumbing Webmasters works with hundreds of clients throughout the United States and consistently evaluates Google Maps results.
Below we will outline several examples of Google Maps results for plumbing companies and how they were able to influence their search results.
Ranking for "Plumber Near Me"
The example below shows how a plumbing company ranked on Google Maps for plumber near me in Chattanooga, Tennessee. Our services helped the company generate 424 reviews using DataPins, our local SEO and reputation management tool.
Attaching the website URL also strengthened the listing by transferring authority from the domain.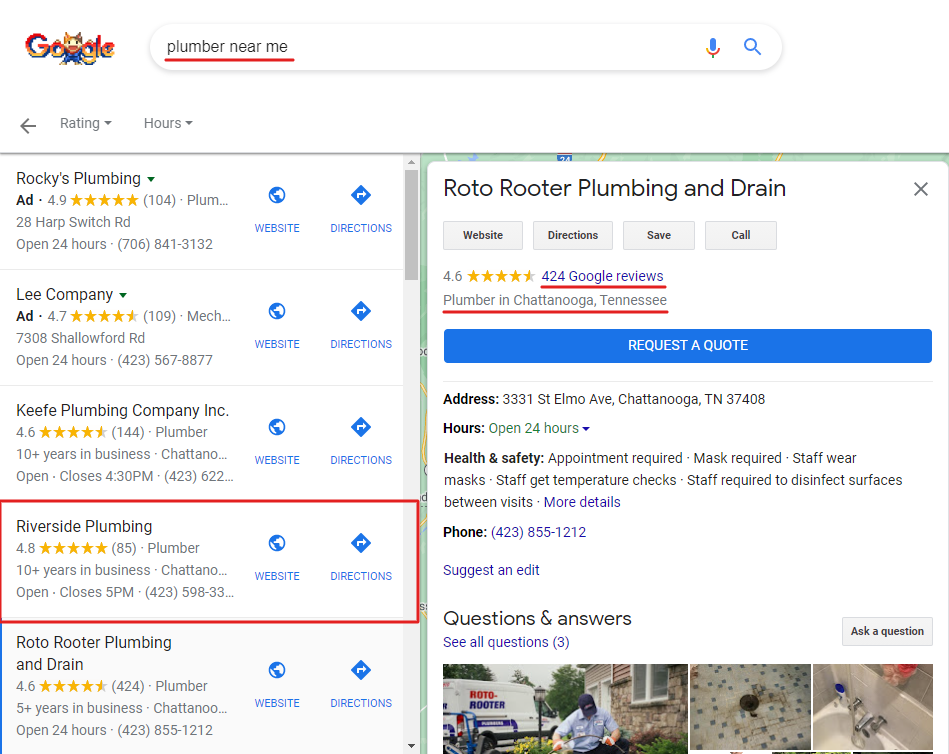 Plumbing Webmasters helped this company rank for plumber near me on Google Maps by combining DataPins with a robust custom website and informative, topical content.
Ranking for a Specific Location
The example below shows how a plumbing company ranked for a location-based search query by utilizing DataPins and building a locally relevant website. The business was able to rank for this term with only 25 reviews, as they are still a relatively new company.
Still, proper local SEO strategies allowed them to rank well on Google Maps.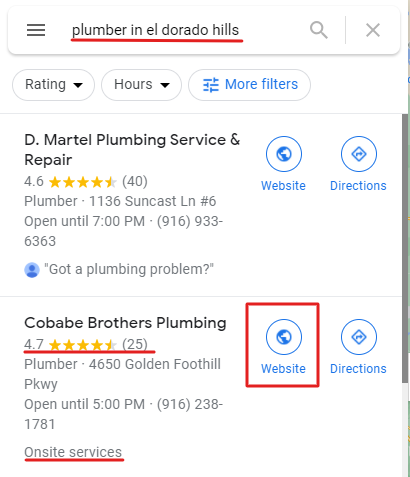 Reviews are critical, but they are NOT the only Google Maps ranking factor. As you continue to generate more customer reviews, strong on-page content can boost your Google Maps ranking in 2023.
Ranking for a Specific Service
The example below shows a plumbing business that ranks for a specific service type on Google Maps. Our campaign included custom service pages so that Google Maps could pull the relevant information and apply it to their search algorithm.
As you can see, this plumber now ranks for a very popular service in their area, allowing them to grow their consumer base.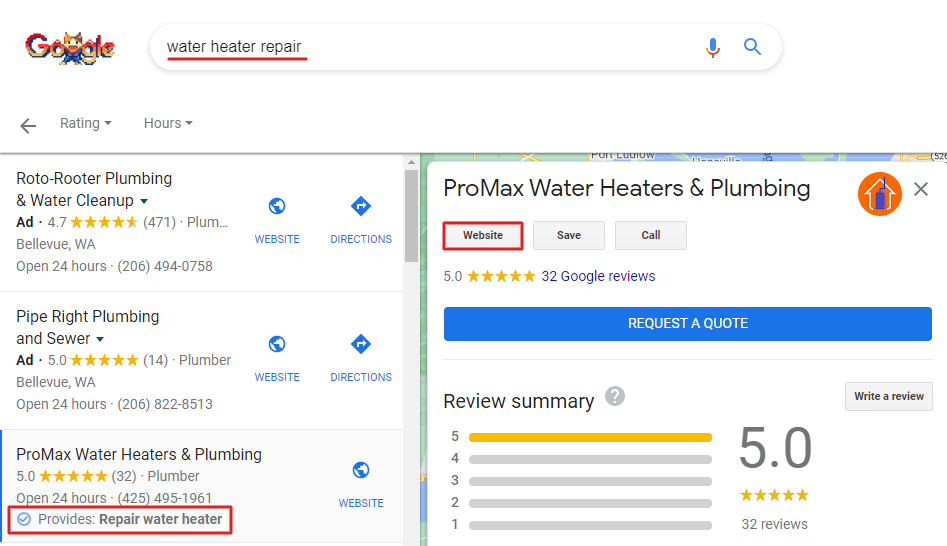 Google Maps is at its most potent for plumbers that rank for multiple kinds of services. For example, this plumber ranks for water heater repair in their area, allowing them to pick up new local customers.
Final Thoughts on Google Maps for Plumbers
Google Maps represents one of the best opportunities for plumbers to generate new customers in 2023. By ranking on Google Maps through your company's Google Business Profile, you can attract new clients on a regular basis without paying for advertising.
Ranking on Google Maps requires an optimized Google Business Profile and an associated website that outlines your various services. In addition, your address must be in proximity to the area you are trying to rank. If you need help improving your Maps rankings, contact Plumbing Webmasters today.