Plumbing contractors often underestimate the value of personalized design. With all the trucks, fancy equipment, slogans, advertisements, and websites out there, it's easy to forget that the most important brand asset for your company…is you. Your face (and your employees' faces) play a huge role in website performance and local SEO!
In this interconnected age, now's not the time to be shy. Now's the time for high quality photography with big smiling faces. You'll be amazed just how big an impact the human touch will make for your business! In today's podcast, Jason and Nolen share why personalization creates stronger connection with both your customers and Google!
Key Lessons for Plumbing Professionals
Content goes beyond text. Even your page photos are considered content.
Personalized photos create a deeper reserve of trust in your brand.
Both Google and people can spot stock photos, and they don't perform as well as custom.
Original Website Images Matter!
We all know how a well-timed shot can make us feel so strongly, but photography also serves as a more social medium. It brings us together and allows us to empathize. In business, the right image can make or break a sale, especially in a home-centered industry like plumbing. SEO for plumbers relies heavily on image optimization. This isn't rocket science or even highly technical SEO.
Frankly, it's easy to stand out from the crowd when so few companies take the time to produce original photos!
Building Stronger Connections and Listings
"But why bother?" you might ask. What does original imagery have to do with search engine optimization? After all, digital marketers aren't in the business of enhancing your website simply so it looks really fresh (that's a bonus). We have to drive measurable key performance indicators like page views and conversions. The answer is simple: high quality, optimized imagery can greatly increase your volume of search traffic and average time on page. They also increase the likelihood of someone calling your business. Does more business revenue sound worth it to you?
Expect these sort of benefits when you add personalized photos to your plumbing website.
Immediately stronger connections with visitors
Longer time on pages (deeper engagement)
More page views per visit
Stronger plumbing keyword performance (more on this later)
Better conversion rates, meaning more calls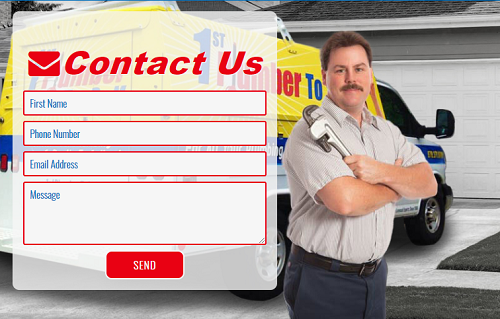 Crafting the Perfect Images
Obviously, performance-driving photography doesn't just appear by itself! You can simply drop them into your pages, either. There are two key parts to getting the most out of your website imagery.
Tip #1: Take More Photos (With Employees in Them)
Don't get us wrong: we're all about photos of pipes and busted sewer lines. However, we (and your clients) would rather see the smiling faces of your friendly employees. So the next time you stop to take a photo of a newly installed sink, get yourself in the photo and take a selfie! It's worth it.
So many businesses spend dozens of hours uploading their latest team photos to Instagram and Facebook and never put them on their website. Gather all your team together and empower them to take selfies after a job well done. Better yet, hire a professional photographer to get pictures of your plumbers, office staff, your family, and even your trucks!
Tip #2: Optimize Your Image Attributes
Did you know that your images can be optimized for stronger keyword performance? At Plumbing Webmasters, we've found that three key elements provide great SEO power for your page. Obviously, captions work very well for communicating quick facts. Since personal images create very focused attention, captions are often the best places to restate key points.
Alt image captions also contribute to your keyword strategy. Finally, be sure to input an Image Title Attribute. This causes the little box of text to appear whenever the mouse hovers over an image. If you like, you can even embed a link into your image that directs your visitors to another service page.
Personal is Powerful
We can't overstate just how powerful personalized images can be in both regular listings and local search results! Not only do they offer amazing results for your website KPIs, they also create deeper trust with your target audience. Remember, personal is powerful!
If your plumbing company has struggled to make headway in online search marketing, our team at Plumbing Webmasters would love to help. Not only do our design experts know how to create high-performance websites for growing businesses, they understand the value of imagery in SEO for plumbers. For a free consultation, call our team today at (877) 388-9884.
Podcast: Play in new window | Download
Subscribe: RSS