Plumbing web services refer to each of the actions performed both on and off of your plumbing site to extend your company's reach and grow your customer base. 
These services may include any combination of tactics that work together to create a comprehensive digital marketing plan to improve traffic, click-through rates, and conversion rates for your plumbing website.
Some of the most common plumbing web services include:
SEO Management
Social Media Advertising
PPC Campaign Management
Custom Web Design
Unique Content Creation
Organic and PPC Campaign Analysis
At Plumbing Webmasters, our expertise goes far beyond on-page SEO. We believe that every website should be maximized to its fullest potential, and should include professional web design, structured data, advertising & marketing, and PPC. Call (877) 388-9884 to discuss our plumbing web services, and how we can create the best presentation for your plumbing company.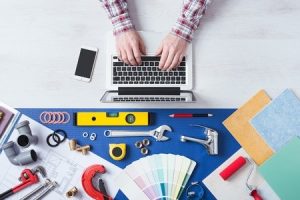 Search engine optimization directly influences the rankings of your website on search engines like Google, Bing, and Yahoo, while individual web services only make indirect contributions. These actions are guided by the use of coding, keywords, rich media, linking, and other technical tactics that help influence searchability and visibility. Web services include SEO but go much further to ensure complete online success. These services include techniques that enhance user experience on your site as well as off-site tactics such as PPC campaigns, directory listings, and social media advertising. By initiating the full spectrum of web services, your site not only ranks better in SERPs but also appears in more searches and on more platforms for optimal reach, every time.
Web Services for Plumbing Contractors
The correct combination of plumbing web services can really take your digital marketing campaign to the next level. Think of plumbing web services as enhancements that help you stand out among your competitors. With the oversaturation of digital marketing services, almost every company is now competing for the same spots on Google. Search optimization alone is no longer enough to be unique. Separate yourself with customized plumbing web services by Plumbing Webmasters. Unlike most marketing companies, we specialize in plumbing marketing, giving us an edge over the competition. We understand how plumbers should be marketed in the digital landscape, and craft our service to accomplish that very goal.
At Plumbing Webmasters, we offer these superior plumbing web services plus many more:
Signing up with Plumbing Webmasters provides members with continual web services, designed to both maintain and improve all facets of your online marketing. We don't end our service after your website is launched, but rather continue to monitor and optimize performance to sustain your plumbing company's online presence. We believe that plumbing web services should extend through the entire client-company relationship, and that failure to consistently service clients is an unethical practice.  With that in mind, we continue to provide these services after your website's initial launch:
AdWords Management
Bing Ads Management
Mobile Ads Management
PPC Keyword Research
Schema Analysis
Website Speed Optimization
Website Analysis
And More
Advertising and marketing go beyond organic SEO. While organic search optimization yields the most sustainable, long-term, results, there are ways to extend your brand awareness, through other avenues. PPC campaigns via Google AdWords and Bing Ads can help local plumbing contractors jumpstart their marketing efforts, while they wait for organic SEO to take effect. Mobile advertisements can reach the hands of potential customers within seconds, and entice them to complete a call to action from their preferred information source. In today's marketing climate, reaching customers has never been easier. With that said, the competition for prospective customers has never been more fierce, and plumbing contractors must find ways to stand out in a massive marketing landscape.
Web design is a critical component of marketing success. Although it doesn't fall under the umbrella of SEO, it sets a strong foundation for its implementation. The presentation of your website is a reflection of your plumbing company and contributes to a satisfactory user experience. Being mindful of this, professional web design can have a strong influence on how your company is perceived. Our team of web designers creates websites that engage visitors and give them a reason to stick around for a while. In addition to design, structured data gives websites the necessary composition to connect with consumers on a cognitive level. Graphic design is attractive, but structured data gives your website credibility, and provides users with an optimal navigation experience.
Logo Design for Plumbers
Branding is an important part of online marketing for plumbers. To establish a notable brand, you must represent it with a well-designed logo. You don't have to reinvent the wheel with your logo, a sentiment highlighted by the simplicity of many of America's top logos. Nike, McDonald's, and even Twitter all present simple logos that have stuck in the collective consciousness of consumers.
Your logo should be unique and represent the traits and values of your company, much like the Nike Swish does for the Nike brand. A good plumber logo is:
Distinguishable: Can be differentiated from industry competitor logos
Suitable: Appropriately represents your company and its ideals
Understated: Is simple and easy to look at
Versatile: Can be displayed on a wide variety of marketing materials
If you already have a logo for your plumbing company, our experts will re-energize it. We can improve on your present design, and highlight its strengths. We can also convert it into web-ready image files so that it can be displayed on social media profiles, business listings, and on your company website. If you are tired of your logo and want a completely new design, we can handle that too. Our seasoned web designers will not only craft a fresh, vibrant logo, but we will seamlessly integrate it into your custom website.
Team Up With the Webmasters!
Marketing companies that promise great results only to consistently fail are a dime a dozen. At Plumbing Webmasters however, we understand that web service is not a short-term proposition, but an ongoing process that should be adapted based on results and new information. Our team of expert analysts can measure the effectiveness of each aspect of plumbing internet marketing, and make the necessary adjustments to keep your website evolving. Call (877) 388-9884 to discuss our plumbing web services, and how they can improve your online presence.