Growing a plumbing company in 2023 requires advertising and marketing strategies, resources, and implementation. At Plumbing Webmasters, we specialize in helping plumbing contractors achieve their promotional goals. Check out our plumber advertising and marketing guide below:
Key Takeaway:
Plumber advertising and marketing include Google Ads, Facebook Ads, SEO, content marketing, and more.
Advertising vs. Marketing: What's The Difference?
In simple terms, advertising for plumbers is merely one component of plumbing marketing. Advertising is the exercise of promoting your plumbing company through paid platforms. In contrast, marketing encompasses advertising along with many other promotional tasks.
Advertising Channels for Plumbing Companies
As we noted, advertising deals with paid channels, including everything from Facebook Ads to Sponsored Instagram Posts. So if you pay money to promote your plumbing company, you are exercising a form of advertising.
Some of the most common channels include:
Google Ads
Google Ads is Google's Pay Per Click platform and one of the most popular channels to acquire plumbing leads online. Plumbers can bid on keywords and pay each time a potential customer clicks on the ad. In contrast to SEO, Google Ads empower plumbers to rank immediately on top of Google search.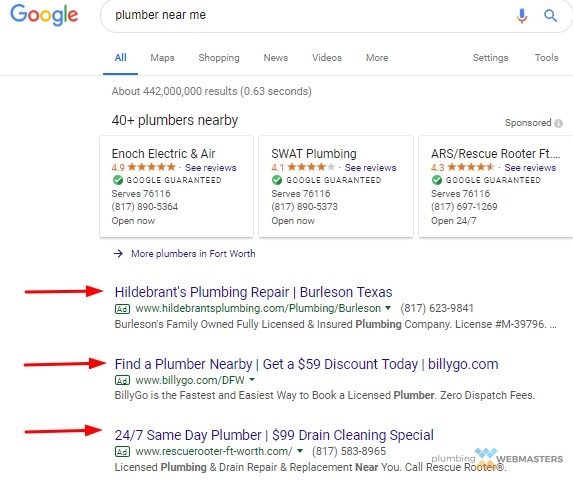 Google Ads are an effective but expensive option for plumbers looking to acquire leads from relevant search queries.
Facebook Ads
Facebook Ads is Facebook's advertising platform and empowers plumbing companies to pay for ad impressions on the mega-popular social media platform. Facebook offers various ad types, including lead ads for plumbers. As the top social network, Facebook offers valuable data for real customers.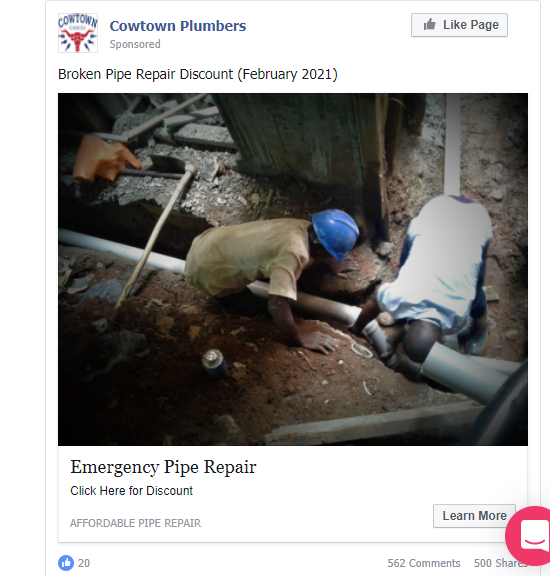 Many of your potential customers are on Facebook, so advertising on that platform makes logical sense for plumbing companies.
Sponsored Posts
Advertising often aims to emulate organic content such as traditional Google search results or, in some cases, Instagram posts. Paying an influencer to plug your plumbing company is known as sponsored posts. This strategy works better with products than services, which is why plumbers should avoid it.
Other Marketing Strategies for Plumbing Businesses
Advertising is just one of many ways to promote a plumbing business in 2023. At Plumbing Webmasters, we specialize in non-paid forms of marketing, which typically yield the highest long-term ROIs for contractors.
Some of our marketing strategies include:
Search Engine Optimization
SEO remains the best option for plumbers looking to grow their business online in 2023. Acquiring leads through organic Google search yields the highest ROI and produces the most valuable customers. However, there's one downside, plumber SEO takes time to implement.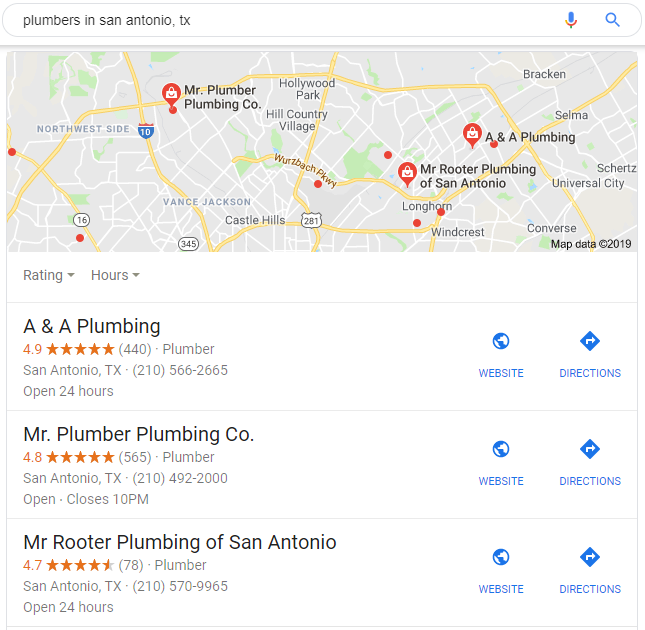 Using SEO to appear within the Local Maps 3-Pack is the most effective plumbing marketing strategy in 2023.
Email Marketing
Connecting with potential customers via email is one of the most productive ways to earn new business. Some website visitors are not ready to buy immediately but are more than willing to join an email list. Providing consistent valuable emails pushes them through a funnel.
Content Marketing
Producing high-level content can help various aspects of your marketing campaign. For example, distributing a data-driven blog post through your social media channels helps build links and brand mentions for promotion.
Other Advertising & Marketing Considerations for Plumbers
Plumber contractor marketing is vastly different than it was 15 years ago. No longer will ads in the yellow pages and billboards be enough to market your local plumbing business.
Potential clients want to see your plumbing company website. So in a competitive online market, surrounded by big plumbing companies with tenured URLs and massive websites, how can you, as a local plumber, expect to outrank the competition?
When advertising and marketing online, you need to appeal to your customers with a unique and authoritative website. Meanwhile, SEO is the best way to achieve website authority.
At Plumbing Webmasters, our business aids your plumbing company in each of its marketing endeavors. In addition, we are leaders in the SEO industry, including developing our innovative Local SEO tool, DataPins.
We can effectively market a plumbing business that keeps you ahead of the game. In addition, we have years of experience working with local plumbing contractors throughout the United States.
Your plumber marketing strategy must include extensive content. A business website should focus on clients first and search engines second. If not, you will have low conversion rates and a lower ranking on Google.
How Internet Marketing Works in 2023
SEO determines where you rank in comparison to local competitors. SEO has been around since the mid-to-late 1990s, but Google's algorithm has evolved. Like every form of promotion, internet marketing continues to grow.
Staying on top of Google updates keeps your website compliant with search engine preferences. Some basic principles to follow with internet marketing include content, reputation, social media, and internal linking.
Don't have the time or resources to handle these things in between plumbing jobs? That's why there are professional SEO companies like Plumbing Webmasters.
Our agency meets your internet marketing needs while focusing on developing your online presence. In addition, our team of optimization experts constantly looks for digital marketing improvement.
Our in-house SEO specialists regularly evaluate trends and determine how to incorporate them into a complete online marketing strategy.
Digital Marketing Services For Your Plumbing Company
Plumbers hoping to improve search visibility in 2023 should invest in an all-inclusive SEO experience. At Plumbing Webmasters, we offer various digital marketing services for plumbing companies.
We start by designing an optimized website with premiere coding and a unique design for your company. Then, with your consultation, we will even create a custom logo for your plumbing company website.
These are only the first steps in developing brand recognition within an online presence. We also offer comprehensive plumber advertising & management services to get you on Google SERPs.
Our expert SEO team offers a medley of services from custom web design to DataPins integration. SEO is an excellent way to enhance your search visibility and increase conversion rates in 2023 and beyond.