Water Damage Restoration SEO Services
Plumbing Webmasters, one of the most highly-rated SEO agencies, offers water restoration SEO services for businesses across the U.S. Our services include on-page SEO, off-page SEO, Local SEO (with DataPins), content writing, custom website design, GMB management, and much more.
Water Damage SEO Services
On-Page SEO
Off-Page SEO
Custom Content
Google Maps Optimization
SEO-Optimized City Pages
DataPins: Local SEO Software
GMB Management
Local Citations
Custom Website
Call (877) 388-9884 for a Free SEO Consultation
On-Page SEO Services
Our in-house writing staff produces service pages for each one of your services. As you can see in the example below, hardwood floor drying has its own service page. We optimized these pages for the target keyword and location so that your business can appear on Google Maps and organic results.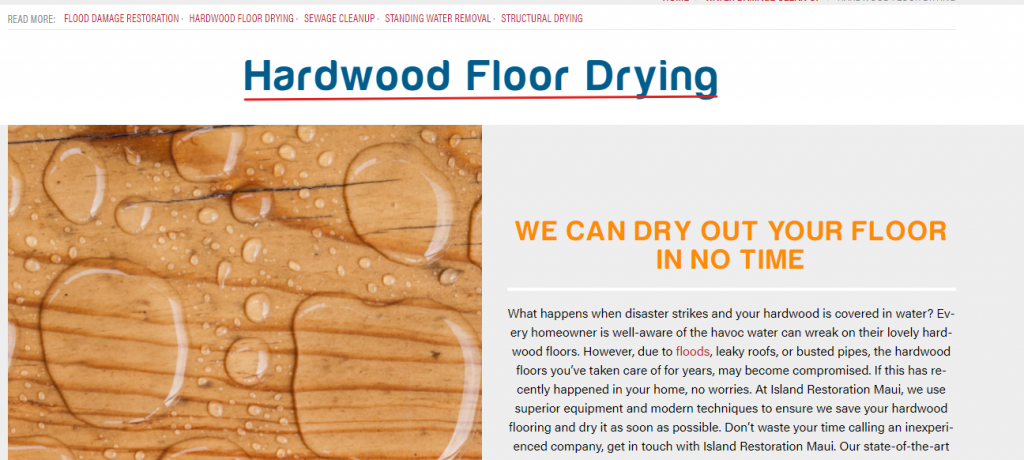 Off-Site Optimization
Off-site optimization includes social media, online directories, inbound links, etc. These elements give search engines a better feel for your company's overall reputation based on its association with other digital entities. The consistency of NAP information also influences local search visibility.
If you are wondering where you can find a company to handle both on-page and off-site optimization for your restoration company, look no further than Plumbing Webmasters.
Our group of optimization experts will fill your custom website with engaging, quality content and optimize your company off-site through social media, NAP citation sources, and link building.
Local SEO Services With DataPins
Google Maps is an integral part of water damage SEO, as the majority of clicks come from local consumers. Our in-house SEO software (only available through Plumbing Webmasters) helps restoration companies get credit for all their services and service areas.
Each time you or one of your techs performs a restoration job, you can drop a pin from the job site, including custom tags and geo-coordinates that are then routed to the corresponding website page. For example, a hardwood drying job in Spokane, WA, shows up on the service and city page.
Content Writing Services
The onset of ChatGPT and Jasper has allowed marketing agencies to mass-produce AI-generated content for water damage businesses. The problem is that a large portion of this content violates Google's Helpful Content Update guidelines. In this case, the AI content is produced for search engines rather than human beings.
Plumbing Webmasters is different in that we employ a staff of human content writers who craft original, unique, and insightful content for your website. Most importantly, our writers create content for users, not search engines.
Sure, we understand how to optimize the content to rank on Google, but the writing style is designed to inform users and then convert them into customers.
Custom Web Design Services
A custom website is integral to search engine optimization for water restoration businesses. Template websites with stock photos discourage Google and other search engines from valuing the website. Conversely, a custom codebase with original images lays the groundwork for a top-level SEO effort.
Our in-house web designers create a custom website that suits your specific brand and business. We incorporate calls to action, including clickable phone numbers, that help route interested visitors directly to your phone line. Each of our websites maximizes lead generation with an eye toward SEO.
GMB Management
Google My Business (or Google Business Profile) is a critical component of Local SEO or water damage companies. It is imperative that your GMB listing is verified and optimized, including a link back to your website. Did you know that Google scans the connected website when determining Google Maps rankings?
Plumbing Webmasters ensures that your GMB listing and website are connected and optimized so that you can rank for thousands of search queries through Google Maps and the Google Map 3-Pack.
Furthermore, we ensure that your listing includes unique photos and garners as many reviews as possible. A strong Google Business Profile is one of the keys to maximizing lead generation.
Water Restoration SEO Marketing Services
In 2023, an SEO marketing plan is a must. As the public relies more and more on the power of Google, the platform sets a high standard for water damage websites and business listings. Google's objective is to provide reliable and informative results to its users, and websites that wish to rank must comply.
In SEO marketing, professionals use tactics to achieve higher results on search engines. The Plumbing Webmasters team can provide expert SEO services for your water restoration company so that you are found in more searches, leading to more sales.
Water restoration companies hoping for long-term success must optimize their website for search engines. Ten or fifteen years ago, manipulating search results was easy, but in 2021, websites must demonstrate genuine value to consumers through user experience and high-quality content.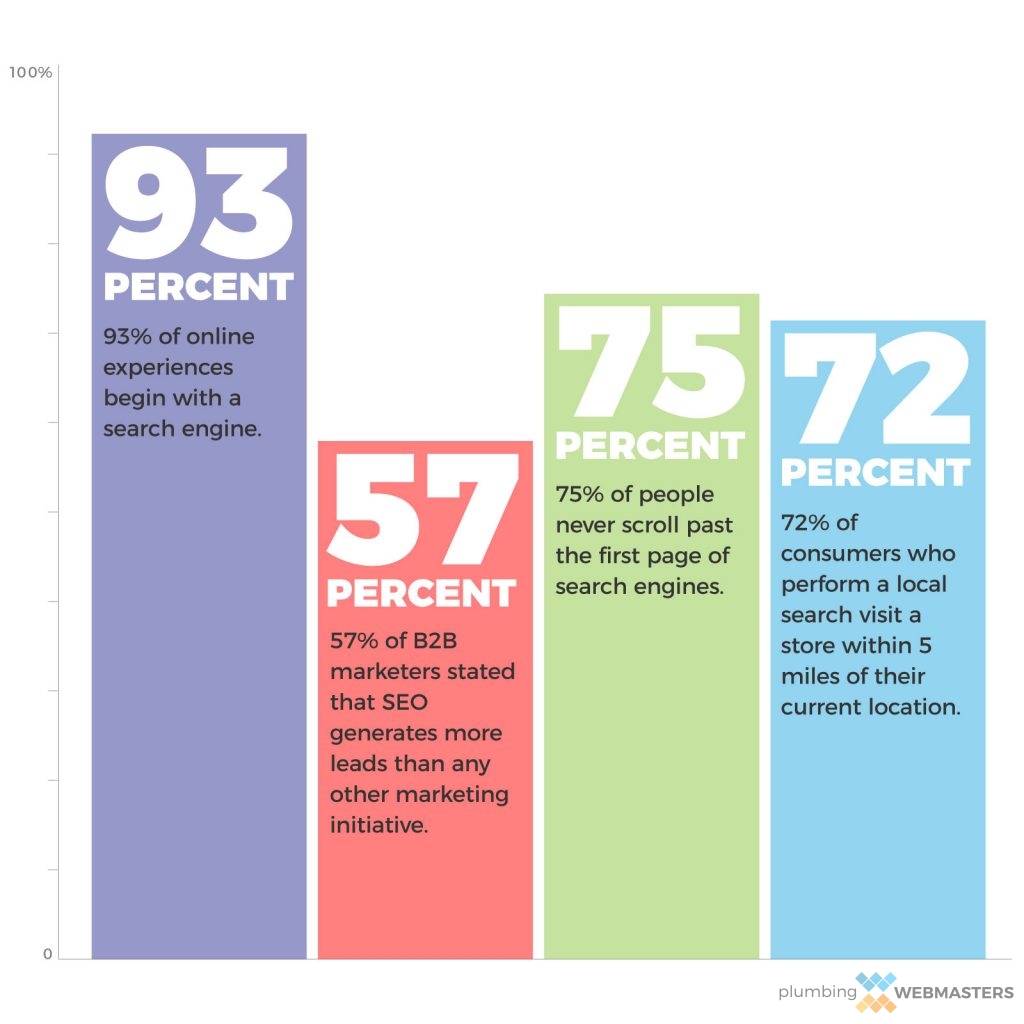 Plumbing Webmasters offers SEO marketing for water restoration companies, which includes:
Keyword Research: Identifying industry and local keywords
Local SEO: Optimizing for local search
On-Page SEO: Optimizing on-page content
Off-Site SEO: Optimizing off-page content
Internet traffic is driven primarily by Google and other search engines. Therefore, a failure to make your water damage website accessible to search engines can cost your company substantial business opportunities.
Plumbing Webmasters offers SEO marketing services to water restoration companies throughout the country.