Buy Air Duct Cleaning Leads
Plumbing Webmasters provides affordable air duct cleaning leads for companies throughout the United States. We offer two models: Pay Per Lead and monthly lead generation. The mont-to-month model provides better long-term ROI, but the PPL model proves that we provide outstanding services with no-risk.
How Much Do Air Duct Cleaning Leads Cost?
Air Duct cleaning leads typically cost between $35 and $65. An established web presence reduces costs to about $8 per lead (counting a digital marketing budget).
Exclusive Air Duct Leads
At Plumbing Webmasters, we know how to generate air duct cleaning leads. We are so confident in our ability to produce leads, that we offer our Pay Per Lead marketing plans, in which you pay only for results. If you are tired of paying for website design, SEO, PPC, and other marketing campaigns, only to generate zero leads at the end of each month, now is the time to shift course.
The Plumbing Webmasters' PPL services include:
Digital Marketing: We market your services via web design, SEO, PPC, and social media!
Exclusive Leads: Air duct cleaning leads for your company only
Risk Prevention: Don't risk negative ROI because you pay only for leads
Paying for shared leads can be frustrating, especially when you are not a fully established company. Often, you end up losing leads to competitors for reasons outside of your control. With Plumbing Webmasters, lead exclusivity is a part of our generation process. You will only pay for leads that are generated specifically for your company.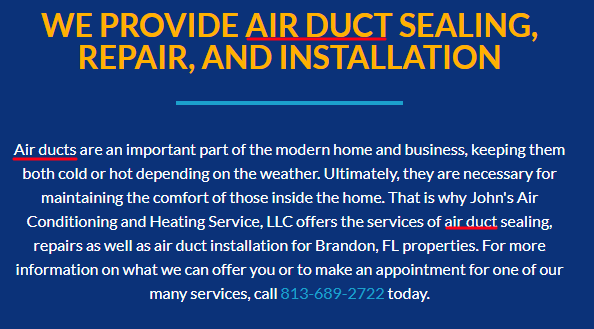 Valuable Ductwork Leads
Most lead services offer shared leads. While they are cheaper in price and higher in volume, they are significantly lower in value. Why? Because shared leads force companies to compete against one another for a single lead. Well-known brands win the competition because of their name alone. For companies not yet established, this can be very frustrating.
Investing in exclusive leads is a great way to grow your company. Air duct cleaning leads hold great value, and a minimal amount of them can yield a positive ROI for restoration companies. If you are looking for a service that will produce exclusive leads, look no further than Plumbing Webmasters.
Digital Marketing For Air Duct Cleaning Leads
There is no magic switch to produce leads. Instead, lead generation is the result of consistent and collaborative efforts involving a multitude of marketing channels. At Plumbing Webmasters, we believe in diversifying promotion, which is why we offer both organic and solutions and paid advertising for plumbers. Our history of success with companies like yours should give you the confidence to follow through. Our marketing services include:
SEO
PPC
Social Media
Web Design
Covering the full spectrum of online marketing, Plumbing Webmasters allows restoration companies to generate air duct cleaning leads. Unlike other lead generation companies, our leads are exclusive to your business, as opposed to the more common but less valuable "shared leads." As you might note from this on-page content, we don't use manipulative tactics like keyword stuffing, which runs rampant in the home service marketing community.